6 Reasons The iPhone 6 Might Disappoint Investors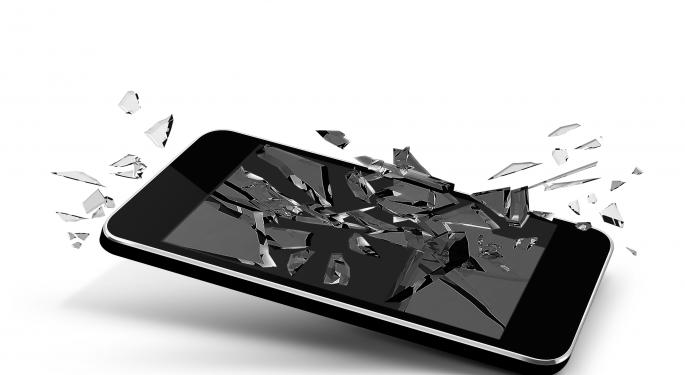 You've already read about the iPhone 6 and why it may not be a big deal to consumers and Apple (NASDAQ: AAPL) enthusiasts alike.
But that's not the only thing that investors have to worry about. There are six key reasons why Apple's next-generation iPhone will disappoint the investment community.
1. It Won't Help The Stock
Trip Chowdhry, the Managing Director of Equity Research at Global Equities Research, was a big fan of the iPhone 5S. But he told Benzinga that the iPhone 6 will not be able to improve the company's share price.
"iPhone 6 is not going to do it whether it's good [or] bad -- it's just more of the same," Chowdhry told Benzinga.
2. It Could Be Thinner, But Users Might Not Notice
The iPhone 5S is only 7.6 mm deep, making it one of the thinnest smartphones available.
Nonetheless, consumers always seem to want a thinner smartphone. But how much thinner could it get before it breaks just by sitting on it?
Related: Future iPhone Will "Without A Doubt" Feature Larger Display
And even if it gets thinner, consumers are likely to place their iPhone 6 inside of a thick, rugged case to prevent future damage.
With a case, the device might feel just as thick as last year's edition.
3. Trade-In Conundrum
Mark Bowles, the founder and Chief Marketing Officer of Outerwall's ecoATM, estimated that his company would see an increase in iPhone trade-ins when the iPhone 5S arrived.
"We will definitely see an [increase], but not before the new iPhone comes out," Bowles told Benzinga last September.
Trade-ins are likely to increase again when the iPhone 6 arrives, but at what cost?
Microsoft has previously offered big bucks to persuade iPhone users to switch to a Windows Phone. The same may not be true of retailers that are buying old iPhones in exchange for the iPhone 6.
4. Can't Upgrade Early - Unless You Pay
Two-year contracts can make it difficult for consumers to upgrade annually. They must either pay a fee to get out of the contract or sign up for a special service that allows them to upgrade more frequently.
Alternatively, consumers could choose to avoid a contract all together and purchase an iPhone at full price. But that (depending on the accompanying cellular plan) could still be very expensive.
5. Consumers Want The iWatch, Not Another iPhone
Chowdhry cannot find a single customer who wants the next-generation iPhone.
"Have you come across any customer…that has said, 'Oh gosh, give me an iPhone 6! I've been waiting for it!' No!" Chowdhry told Benzinga. "My research has been very comprehensive. I have not heard of any -- even diehard Apple fans -- saying that they are looking forward to or eagerly awaiting the arrival of iPhone 6. Every person that I've seen, they are saying, 'I have been waiting for an iWatch. I want an iWatch.'
6. Body Color Could Reign Supreme
Before the iPhone 5S and iPhone 5C arrived, the rumor mill was overflowing with reports and speculation about the colors that would accompany these devices at launch.
Related: Apple's 12.9-Inch iPad Rumored For October 2014
This was not a new phenomenon. In 2011, the media couldn't stop talking about the white iPhone.
Apple likes to change and tweak its color selection as often as possible, so expect another batch of rumors to focus on this element. Another color-specific ad campaign (like the one below) may also follow.
But remember: the color may be different, but that has no impact on the product that rests inside the shiny, metallic (or plastic) shell.
Disclosure: At the time of this writing, Louis Bedigian had no position in the equities mentioned in this report. He recently switched from Android and purchased an iPhone 4. He does not plan to upgrade or switch back to Android in 2014.
View Comments and Join the Discussion!
Posted-In: Apple comments Global Equities ResearchAnalyst Color News Rumors Analyst Ratings Tech Best of Benzinga