Is Apple VP Luca Maestri A Good Replacement For Peter Oppenheimer?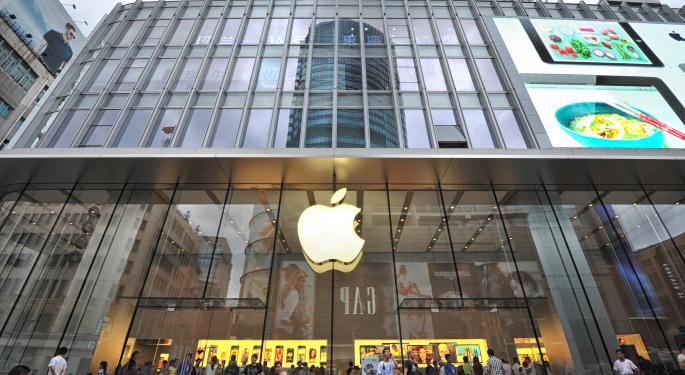 Apple's (NASDAQ: AAPL) finances are about to be placed in new hands.
The Cupertino, California-based tech giant has announced that its Senior VP and Chief Financial Officer, Peter Oppenheimer, will retire at the end of September.
Oppenheimer joined Apple in 1996 and became CFO in 2004. He succeeded Fred Anderson, who served as CFO for eight years.
At the time of Oppenheimer's appointment, Anderson had nothing but praise for his successor.
"We have been grooming Peter for this role for four years and he is going to be a great CFO," Anderson said in a company release. "Peter already has responsibility for almost all of Apple's financial departments and has done an excellent job leading them."
Oppenheimer did not have similar words of praise for his successor, Luca Maestri. Instead, he chose to focus on his retirement plans.
"I love Apple and the people I have had the privilege to work with and after 18 years here, it is time for me to take time for myself and my family," Oppenheimer said in a new release. "For quite some time, I have wanted to live on the central coast of California and get more involved at Cal Poly, my alma mater; spend more time with my wife and sons; travel to interesting parts of the world; and something I have wanted to do for years -- finish the requirements for my pilot's license."
Related: Apple's Botched Maps App Leads to Another Firing
Oppenheimer's comments could be nothing more than the words of a man who wants to retire and live a simpler life. But Global Equities Research analyst Trip Chowdhry wonders if the move was actually Oppenheimer's decision.
"You call it retiring or you call it firing or investor discontent," Chowdhry told Benzinga. "[It's] anybody's take."
Chowdhry has been a harsh critic of Oppenheimer ever since Tim Cook became the CEO of Apple more than two years ago. He feels that Cook and Oppenheimer have "created a mockery" at Apple.
"Under CEO Tim Cook, not a single new product has been launched," he said. "Under Tim Cook, Apple has lost the definition of what innovation is. And under the CFO, who claims to be retiring, Apple has destroyed more than $150 billion of shareholder value. The stock is down from $700 to $530."
Apple continues to set new sales records every quarter, but investors remain dissatisfied. The stock has fallen more than 24 percent over the last 18 months, and is down more than four percent year-to-date.
Chowdhry acknowledged that Apple has released a handful of refreshed items (new iPhones, new iPads, etc.), but does not believe they are enough. He wants to see new product categories -- such as the rumored iWatch and Apple Television -- come to fruition. He does not believe the stock will move until one of those new products is released.
Related: What if Apple's iWatch is Really a TV?
Under New Management
Chowdhry also reiterated his belief that Apple needs to replace Cook and Oppenheimer with Anderson and Jon Rubinstein, a former Apple engineer who played a key role in developing the iPod.
"This change needs to happen immediately," said Chowdhry. "It can't be like Microsoft (NASDAQ: MSFT), where they have waited for 10 years to figure out that Ballmer is ineffective and it's too late. Today Apple still has time to remove the CEO, to remove the CFO, but [Luca Maestri] is not right. They need to get Fred Anderson back in. They need to get Jon Rubinstein back in so that Apple can regain its full capability."
Chowdhry also pointed out that other tech companies -- Tesla (NASDAQ: TSLA), Google (NASDAQ: GOOG) and Facebook (NASDAQ: FB), to name a few -- are hitting 52-week highs. The same, however, cannot be said for Apple.
"Every indication that we have right now is that Apple is fast becoming the next Sony (NYSE: SNE) and the next HP (NYSE: HPQ), and that is very sad for the whole tech industry," Chowdhry concluded. "The only resolution is that they need to bring back the father of the iPod, Jon Rubinstein."
Posted-In: Apple Apple Television commentsAnalyst Color News Management Analyst Ratings Tech Best of Benzinga
View Comments and Join the Discussion!