Is Best Buy A 'Best Buy' Following Its Earnings?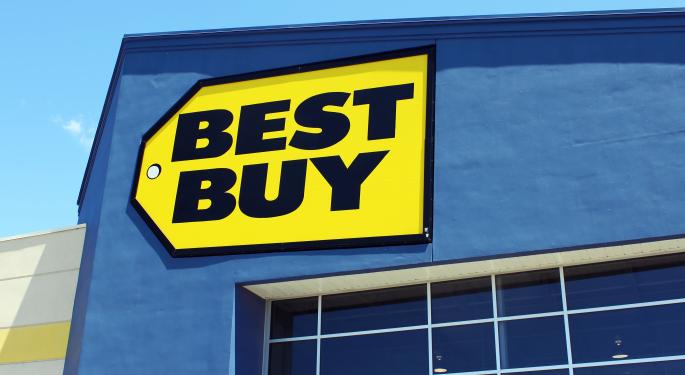 Best Buy (NYSE: BBY) on Thursday reported its fourth quarter results which investors and traders embraced.
Best Buy's EPS of $1.24 beat the consensus estimate by $0.23, while revenue of $14.47 billion fell short of the $14.66 billion consensus estimate. The company sung to a net profit of $293 million in the quarter compared to a net loss of $409 million in the same quarter a year ago.
Best Buy gained market share in the quarter due to its "strategy to be price competitive," but at the same time comparable store-sales declined 1.2 percent.
Best Buy's results could serve as an indication that its turn around strategy is showing signs of success and the company has successfully turned the page when shares dropped 28.6 percent on January 16, after the company reported that its holiday season comparable store sales fell 0.8 percent.
Related: Best Buy or HH Gregg: Which Is The Better Bet?
Buying the turnaround thesis
Mike Baker, analyst at Deutsche Bank felt that Best Buy's earnings were sufficiently positive enough to maintain a positive bias on shares.
Baker noted that comps came in a bit worse, but within a guideline of reasonable expectation. "While signs of a sales recovery would have been optimal, stabilization in a tough retail environment in the down very low single digits is reasonable for now," said Baker in a note to clients on February 27.
Baker noted that the gross margin decline from 22.3 percent in the same quarter last year to 20.2 percent is "significant," but with a 300 bps decline expected, a 230 bps decline "feels a bit better."
Cost savings remain an integral part of Baker's buy thesis, as Best Buy needs to lower its costs to emerge as not only a winner against Amazon.com but a profitable winner. Baker noted that the company re-upped its cost savings to $1 billion, which "will prove low." Baker thinks a more reasonable cost saving objective is half of $4.2 billion, the corporate G&A number the company mentioned in November 2012.
Shares are Buy rated with a $36 price target.
ISI: Mixed bag of emotions
Greg Melich, analyst at ISI Group noted that Best Buy's gross margin rate could prove to be "unsustainable" if sales continue to dip and also noted a reason for the company's strong EPS is partially due to a lower-than-expected tax rate.
Melich pointed out the good news that Best Buy's restructuring plan has already exceeded its objectives of $725 million, but the company re-upping its objectives to $1 billion was expected.
On the negative side, free cash flow declined to $570 million from $1.35 billion last year. Inventories fell 18 percent globally versus a sales decline of three percent.
Bottom line, Melich believes that bulls have enough conviction to believe that earnings could return to $2.50 per share, while the bears could just as easily make an argument that earnings could dip to $2 or less per share in another transitional year.
Shares are Neutral rated with a $28 price target.
Posted-In: best buy Deutsche Bank Greg Melic ISIAnalyst Color Earnings News Analyst Ratings Best of Benzinga
View Comments and Join the Discussion!