Should TiVo Still Be A Takeover Target For Apple Or Microsoft?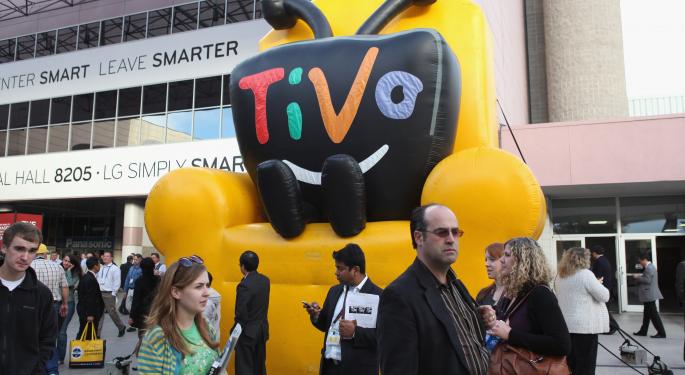 TiVo (NASDAQ: TIVO) was one of the hottest takeover rumors of 2011 and 2012.
The hype for a merger has since died down, but Albert Fried & Company's Rich Tullo thinks that TiVo is still worthy of being acquired.
"We still think somebody should take 'em over," Tullo told Benzinga. "Apple, Microsoft, Cisco -- those are the three kinds of ideas that we have."
Tullo believes that Apple should acquire TiVo because it fits into the "iStore" ecosystem.
"It makes a lot of sense," he said.
Comcast And Netflix - And How TiVo Fits In
Earlier this week, Comcast (NASDAQ: CMCSA) and Netflix (NASDAQ: NFLX) inked a deal to improve the quality of Netflix video streams. Per the agreement, customers who subscribe to both services (Netflix and Comcast's broadband Internet option) will no longer experience a drop in video quality.
The catch is that Netflix is paying Comcast for this benefit.
Tullo thinks that payment is justified since he believes that all broadband subscribers have subsidized Netflix, which commands a huge chunk of the Internet's overall traffic.
"You can't run an edge service and be responsible for 30 percent of Internet traffic in the United States and not have to pay for distribution," said Tullo. "To me that's an unsustainable model because what you're really saying is that every consumer, whether you get Netflix or not, has to subsidize Netflix -- maybe to the tune of $3 billion a year."
Related: Netflix Could Lose 'House Of Cards' And 'Orange Is The New Black' In 2015
By paying Comcast for smoother video streams, the two companies are unavoidably linked. This could lead to some cross-promotion between the firms -- and if it does, Tullo expects Comcast to push the Netflix app via TiVo Roamio.
"I don't think it's reflected in the stock, so I think as far as investors are concerned this is upside optionality," Tullo added. "We say this because the only two implementations of Netflix on a MSO set-top box in the world are on TiVo boxes. There's a reason for that -- it's the only box that can do it right now.
"Second point is, a company like Comcast might have 100 different types of set-top boxes in the field. So the Netflix app would have to be created and deployed on 100 different set-top boxes, which we don't think is likely. We don't think Netflix wants to pay for that and we don't think Comcast wants to pay for that."
Disclosure: At the time of this writing, Louis Bedigian had no position in the equities mentioned in this report.
Posted-In: Apple CiscoAnalyst Color M&A News Rumors Analyst Ratings Tech Best of Benzinga
View Comments and Join the Discussion!