JMP Securities: Survey With Surgeons Highlight Challenges For Intuitive Surgical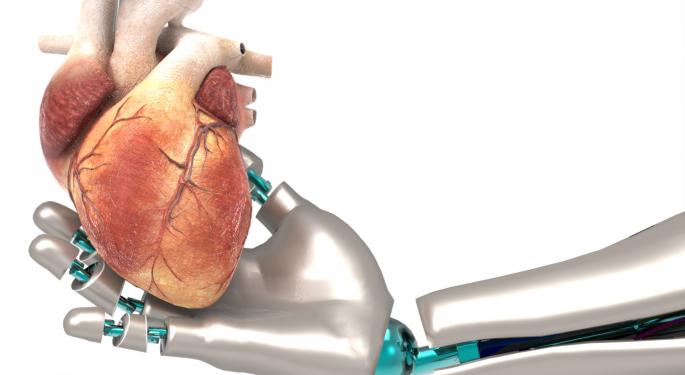 On February 19, Jose Haresco III, Ph.D. and analyst at JMP Securities, wrote a note to clients titled "General Surgery Survey Highlights Challenges Ahead."
The doctor conducted a survey of 50 surgeons who had at least two years experience of using Intuitive Surgical's (NASDAQ: ISRG) robotic surgery devices. The purpose of the survey was to "explore the current and potential penetration of robotic surgery in a variety of indications, as well as the penetration of more traditional open and laparoscopic surgery."
Dr. Haresco revealed two main findings from his survey, which may support a bearish case against the company.
Low utilization could signal lack of interest for future orders
Haresco asked respondents to determine system utilization assuming that the da Vinci robot at their institution can be used twice a day Monday to Friday.
Utilization rates remained low, as 64 percent of respondents indicated that robotic usages are at greater than 50 percent capacity, with only 12 percent of respondents indicating the robotic machines are used at full capacity.
"This may explain why 64 percent of respondents believe that their hospitals will not be acquiring another robot," he wrote.
Related: Investment Banks Facing A Difficult Environment In India
No substantial timing improvement
According to the survey, robotic surgical procedures take longer than standard procedures. In some cases, such as in thyroidectomy, the use of a robot results in a longer operation time.
Haresco wrote: "Regardless of the level of experience of the surgeon, or the indication, robotic surgery (standard robotic or single-site) offers no improvement in the length of stay over a laparoscopic technique. Additionally, robotic surgery takes longer than both laparoscopic and open surgery in every indication."
Final takeaway
Haresco concluded by stating, "although these findings add to our knowledge of surgeons' experiences and perspectives about the use of the da Vinci Surgical systems, respondents' perspectives may not represent the perspectives of all device users. Therefore, these findings represent only one piece of information."
Shares are Market Underperform with a price target of $320.
View Comments and Join the Discussion!
Posted-In: Doctor J.T. Haresco JMP Robotic SurgeryAnalyst Color News Analyst Ratings Best of Benzinga