Kraft Ends 2013 With Mixed Results, But Investors Are Buying It Anyway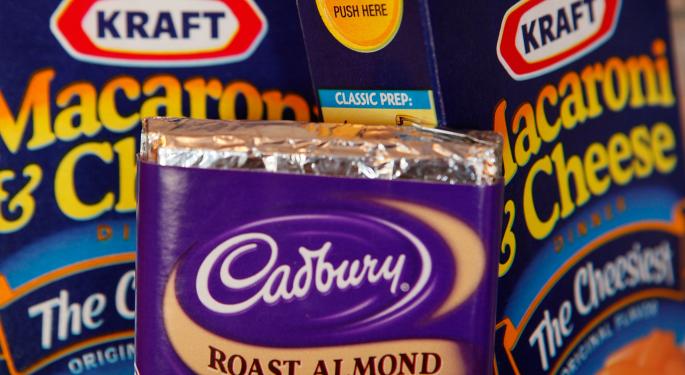 Kraft Foods Group (NASDAQ: KRFT) won't reach a new high tonight, but the company is up slightly after reporting its fourth quarter results.
The packaged foods manufacturer is one of many within the industry that has struggled to deal with an overall decline in consumer spending.
"Things are difficult out there," said Edward Jones & Co. analyst Brian Yarbrough, who spoke to Benzinga before the market close. "I think they will meet the earnings number -- or potentially beat -- just because I think there's some operating margin expansion and some opportunities there."
Kraft may have had opportunities, but it might not have gone after them fast enough.
The company reported a fourth quarter GAAP EPS of $1.54, which included a gain of $1.11. Without an official adjusted EPS, it looks like Kraft's earnings per share came in at $0.43 ($1.54 minus $1.11 equals $0.43), which is a bit shy of the $0.61 EPS that Wall Street anticipated.
Revenue arrived at $4.6 billion, which was slightly below the Street estimate of $4.63 billion.
"We made significant strides during our first full year as a public company," Kraft CEO Tony Vernon said in a company release. "Our focus on driving profitable growth while reinvesting in our brands and people has delivered solid results to date and will serve us well as we continue to remake Kraft into the best food and beverage company in North America."
Kraft said that its operating income from meals and desserts was partially offset by an increase in ad spend. The company also enjoyed "significant" overhead cost savings and productivity gains that offset the pricing net of commodity costs and a double-digit increase in advertising.
Industry Declines Are Still A Mystery
No one has been able to explain why the packaged food industry is under pressure. It is a problem that has stumped company execs for the last year, especially when other struggling sectors (such as restaurants) are factored in.
Yarbrough said that some have blamed it on consumers' reluctance to stock their pantries as fully as they might have in the past.
"Some people say, 'It's the lower income consumer that's struggling out there, so they're buying closer to need and they're not stocking up,'" said Yarbrough.
Others are concerned that Wal-Mart's struggling grocery department might be having a negative impact on food companies that rely on the retailer for greater sales.
Store Brands Aren't Having An Impact
Store brands -- like Wal-Mart's Great Value or Kroger's Simple Truth -- do not seem to be having a negative effect on their more expensive competitors.
"Private label gained a lot of share and there's a lot of people that moved to private label in the economic downturn," said Yarbrough. "But I think that tide has kind of shifted. I haven't seen the tide shift to where they're losing share, but I just don't think they're growing either."
This is all mostly speculation. Yarbrough said that if "these executives who run these companies don't know the reason behind [the decline], I sure don't know."
Rising Warrior
Kraft may not be soaring, but it's still up more than 18 percent over the last year and a half, and is up more than 14 percent over the last 12 months.
The last six months have not been overly kind to Kraft; the stock rose and fell more times than most investors could count.
Things have been looking up this month, however. The stock seems to be gradually moving away from its stagnation period and rose up more than four percent since February 3.
Kraft is currently up more than two percent in after hours trading.
Verdict: Kraft Is A Powerful (But Not Impervious) Food Producer
Investors seem to be happy with Kraft's results -- for now. But keep a close eye on how the market reacts over the next few weeks.
Disclosure: At the time of this writing, Louis Bedigian had no position in the equities mentioned in this report.
Posted-In: Brian Yarbrough Edward Jones & Co. Tony VernonAnalyst Color Earnings News Best of Benzinga
View Comments and Join the Discussion!