Whole Foods' Q1 Earnings Miss, Reduced Guidance Scares Off Investors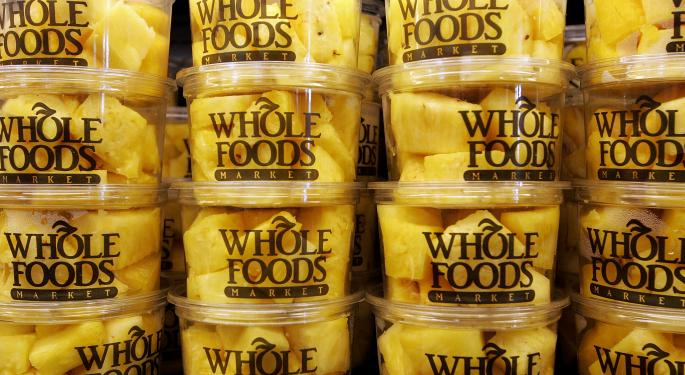 Whole Foods Market (NASDAQ: WFM) isn't getting the kind of investor attention it may have hoped for this afternoon.
The natural foods supermarket chain was hit hard by investors who were less-than-excited by the company's results.
"The stock moves around quite a bit, usually around earnings," Williams Capital analyst Marc Riddick told Benzinga before the market close. "And it usually has a lot more to do with guidance than earnings."
Unfortunately, Whole Foods reported an earnings miss for the first quarter and reduced its guidance for 2014.
Wall Street expected the company to report a Q1 EPS of $0.44, but Whole Foods could only muster $0.42. Despite the miss, earnings per share were up eight percent for the quarter.
Whole Foods' revenue ($4.24 billion) was also lower than the Street's estimate of $4.29 billion.
The company -- which is often referred to as "Whole Paycheck" by customers who are not enthused by the grocer's high prices -- also reduced its FY2014 EPS guidance from $1.65 - $1.69 to $1.58 - $1.65. Whole Foods will now likely miss the Wall Street consensus of $1.68.
On the upside, Whole Foods said that sales should increase 11 to 12 percent this year.
"With unparalleled quality standards, we are the leading retailer of fresh, healthy, natural and organic foods," Walter Robb, co-CEO of Whole Foods Market, said in a company release. "We are very confident in our future growth potential and are moving aggressively to take advantage of that opportunity."
Whole Foods currently operates 373 stores in the United States, Canada and the United Kingdom. The firm is developing 107 new stores and expects to cross the 500-store mark in 2017.
"Over the longer term, we see demand for 1,200 Whole Foods Market stores in the U.S. alone," Robb added.
Rocky Growth
At first glance, Whole Foods seems to be heading in the right direction. The healthy foods market has risen more than 16 percent over the last 12 months and increased more than 38 percent over the last two years.
Look a little closer, however, and investors will notice a troubling trend. While Whole Foods has successfully maintained some of its growth, the company typically experiences a significant dip after rising to new highs.
For example, the stock jumped more than 10 percent between June 28, 2013 and July 15, 2013 but fell 3.85 percent over the next nine days. Whole Foods continued to fluctuate, but the downward trend ultimately prevailed. By August 28, Whole Foods was down an additional five percent.
After that, Whole Foods began to rise again. The stock increased every day for the next two weeks. As of September 18, Whole Foods had gained more than 15 percent and traded at $51.48 a share.
The upward trend continued. On October 25, the market achieved a new all-time high of $65.24.
After that, Whole Foods headed downward again -- and lost more than 12 percent of its value by November 7.
That downward trend continued throughout most of January 2014.
In after hours trading, Whole Foods is currently down more than five percent.
Ongoing Expansion
Earlier this month Whole Foods announced that it had acquired seven leases from Safeway in the greater Chicago area. The company plans to remodel these locations and re-open them as Whole Foods stores in 2015.
These locations will add to the 19 existing stores that are already in Chicago and its surrounding cities. Separately, Whole Foods plans to open three all-new Chicago stores in 2017.
"We are incredibly excited about this opportunity to quickly and significantly expand our presence in the greater Chicago area," Michael Bashaw, Whole Foods' Midwest Regional President, said in a company release. "...We plan to remodel each store to reflect its community and look forward to offering fresh, natural and organic foods to a broader base of Chicago customers."
Verdict: Whole Foods Be Popular, But It's Not Invulnerable
Whole Foods is a successful supermarket chain, but it will take more than lofty, long-term goals to intrigue investors this quarter.
Disclosure: At the time of this writing, Louis Bedigian had no position in the equities mentioned in this report.
Posted-In: Marc Riddick Michael Bashaw Walter Robb Whole FoodsAnalyst Color Earnings News Analyst Ratings Best of Benzinga
View Comments and Join the Discussion!