Goldman Sachs: Aerospace And Automotive Demand 'Game Changer' For The Steel Market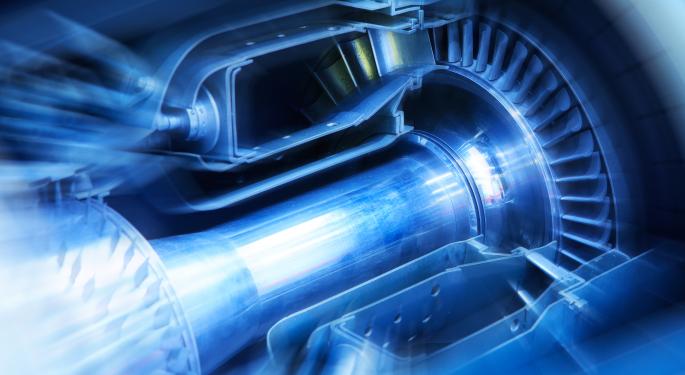 Analysts at Goldman Sachs on Tuesday released a specialty report on steel.
The analysts, led by Sal Tharani said that a growing demand from the automotive and aerospace industries will change the composition of the steel market. "We believe gradual conversion of automotive exposed body to aluminum (Body-in-White or BiW) will be a game changer for downstream aluminum use, with a growth rate higher than any other end market for specialty metals for the rest of this decade," said Tharani in the research note.
Ford Motors the auto industry's first mover
When Ford Motors (NYSE: F) unveiled its 2015 F-150 model at the Detroit Auto Show, the company set the new standard in automotive that several other major manufacturers will undoubtedly follow. The F-150 weighs 700 pounds less than its predecessor and has 30 percent better fuel economy due to its all-aluminum body.
.@Automotive_News: @Ford's #F150 establishes aluminum as a primary choice for mainstream auto. http://t.co/mMiccrIfD2 pic.twitter.com/s9c61Vs5xR

— Alcoa Inc. (@Alcoa) February 10, 2014
Tharani wrote that automotive aluminum sheets could be the fastest-growing commodity over the next several years. Aluminum auto sheets are expected to grow at 14 percent CAGR (compounded annual growth rate) from 2012 through 2025. Alcoa expects the market to grow more than 50 percent from 2012 through 2016. By 2025, Alcoa expects the average aluminum content per vehicle in North America to increase by 200 pounds to 550 pounds by 2025.
Related: Detroit Auto Show Unveilings Underscore Auto-Makers' Retooling Efforts
President Obama demands better fuel economy
Since 2007, fuel economy on average new car sales improved over 20 percent, but government standards require a further 43 percent improvement from current levels over the next five years. On May 19, 2009, President Obama proposed a new national fuel economy program to increase average fuel economy.
Ten auto producers and the United Auto Workers offered their approval. Obama's proposal will take average fuel economy standards to 35.5 mpg in 2016 from just under 25 mpg currently.
"In the past, an agreement such as this would have been considered impossible," said President Obama in a press release on May 19, 2009. "That is why this announcement is so important, for it represents not only a change in policy in Washington, but the harbinger of a change in the way business is done in Washington. As a result of this agreement, we will save 1.8 billion barrels of oil over the lifetime of the vehicles sold in the next five years. And at a time of historic crisis in our auto industry, this rule provides the clear certainty that will allow these companies to plan for a future in which they are building the cars of the 21st century."
In order to achieve further improvements, Tharani wrote that the majority of fuel improvements will come largely from weight reductions through the use of aluminum and advanced high strength steels (AHSS) and ultra-high strength steels (UHSS). In Ford's F-150, the transition to aluminum will also improve torque and durability.
The all-new @FordTrucks #F150. 700 lbs. lighter and still #BuiltFordTough. pic.twitter.com/slT5CFpLz6

— Ford Motor Company (@Ford) January 22, 2014
Aerospace growth at all-time high
Large commercial aerospace build rates are at historical all-time highs and have grown 8.1 percent CAGR since 2008. Aircraft deliveries rose 18 percent in 2012. Goldman Sachs Aerospace analysts expects 6.4 percent growth in 2014, 3.8 percent growth in 2015 and 1.7 percent growth in 2016.
"While we expect build rates to continue to grow, and to remain at historic highs, we expect growth rates to moderate over the next few years. We expect aerospace demand for materials to remain robust, and support high operating rates at aerospace material producers, but we expect inventory destocking to impact shipments for titanium and aluminum plate over the next 12-18 months with growth rising moderately beyond that," Tharani wrote.
Aerospace shift towards wide-body
Wide-body aircraft is expected to significantly outpace narrow-body planes. A wide-body aircraft is naturally larger, and will therefore require more materials. The Goldman Sachs Aerospace team expects growth in Boeing's (NYSE: BA) B-787 and Airbus' A350 to drive outperformance in wide-bodies over narrow bodies.
The Boeing aircraft has significant composite and titanium components, while the A350 requires aluminum lithium, a very high margin specialty aluminum product. Despite strong demand from the aerospace market, aerospace materials producers face inventory risks. Supply chain "destocking" is seen in almost all areas of the supply chain as suppliers and manufacturers plan for build rate increases, then normalize inventory levels once higher build rates are finalized and the amount of material needed is better understood. This places pressure on spot prices and volumes.
MT @BoeingAirplanes: This week, we start building our 1st 737 at increased production rate of 42 per month in Renton. pic.twitter.com/XGKNEF4w4B

— The Boeing Company (@Boeing) February 4, 2014
"We expect demand for aerospace aluminum plate to be below "real" demand for plate in 2014 as the industry adjusts its inventory position," said Tharani.
Analysts offer recommendations
The Goldman Sachs analyst team offered six names that will be affected by industry shifts over the coming years.
Related: Have Investor Sentiments Shifted In 2014?
Alcoa: Solid growth ahead
Tharani maintained a Buy rating on Alcoa (NYSE: AA) and increased the price target to $15 from $12.
"We expect Alcoa to see multiple expansion as investors gain more confidence in the demand growth for automotive aluminum sheet, growing aerospace demand, and its continued cost cutting initiative in the upstream businesses. We believe automotive aluminum will be the fastest growing market for metals over the next several years, where Alcoa has a leading position in the US."
Allegheny Technologies: Fundamental challenges
Tharani maintained a Neutral rating on Allegheny Technologies (NYSE: ATI) with a price target of $28.
"Titanium inventory destocking at aerospace OEMs is expected to continue through 2014 and the stainless steel market remains lackluster. While we expect both of these situations to begin to abate in 2015, we see better opportunities in automotive and aerospace aluminum levered names, where growth is expected to be stronger."
Carpenter: Benefits priced in
Tharani maintained a Neutral rating on Carpenter Technology (NYSE: CRS) with a price target of $61.
"While we remain constructive on Carpenter's aerospace exposure and growing energy exposure, particularly as the company expands market share for premium and ultra-premium products, we see these benefits as priced in. As Carpenter starts up its new Athens, GA facility, we expect the company's strategy to move unqualified production from SAO and Latrobe while Athens goes through qualification, to provide near-term growth in earnings by opening up capacity at SAO and Latrobe for greater high-margin, qualified production."
Constellium: Best positioned for auto demand
Tharani added Constellium (NASDAQ: CSTM) to the Americas Conviction List and raised the price target to $35 from a previous $27.
"While we believe the aerospace growth story for Constellium has been well understood, we believe investors have not yet fully appreciated the growth potential in automotive aluminum sheet. With the announcement of the 2015 Ford F-150 moving to an all-aluminum body, and the announcement of Constellium's 2 aluminum sheet capacity expansions, we expect investors to place more value on this significant opportunity for Constellium. Constellium will also benefit from stronger deliveries of aluminum-lithium, AIRWARE, for the A350 and Bombardier C-Series programs. This is the highest margin product across the aluminum supply chain and Constellium leads its peers in it by at least 2 years."
@Constellium Innovation Blackboard chalet B39 #PAS13 pic.twitter.com/421ZtpF9Yv

— Constellium (@Constellium) June 18, 2013
Kaiser: Inventory challenges
Tharani maintained a Neutral rating with a price target of $67 on Kaiser Aluminum (NASDAQ: KALU).
"While we view the company's significant exposure to aerospace and automotive as positive, we believe aluminum plate destocking will be a headwind through 2014 and see more value in names with greater exposure to automotive aluminum sheet and specialty aerospace products such as aluminum lithium."
RTI: Staying on the sidelines Tharani maintained a Neutral rating with a price target of $36 on RTI International (NYSE: RTI).
"RTI has indicated that while it expects earnings improvement in 2014, the company does not see significant acceleration in demand until 2015. Inventory overhang in the titanium market remains an issue and we expect it to continue through 2014."
View Comments and Join the Discussion!
Posted-In: Advanced High Strength Steel Airbus Airbus A350Analyst Color News Commodities Markets Analyst Ratings Best of Benzinga