Rackspace's In-Line Q4 And Lanham Napier Departure Frustrates Investors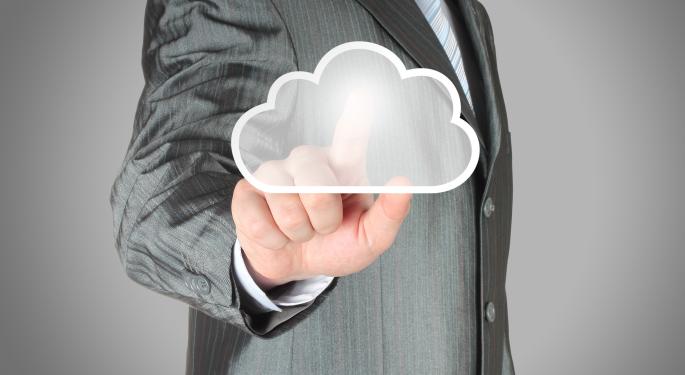 Rackspace (NYSE: RAX) is once again feeling the brunt of frustrated investors, plunging more than 14 percent Tuesday after news of its CEO departure overshadowed the company's inline results.
By all accounts, Rackspace has shown improvement over the third quarter. The total server count increased to 103,886 -- up from 101,967 servers in Q3 and 98,884 servers in Q2.
Before the market close, Evercore Partners analyst Jonathan Schildkraut told Benzinga that he thought the company had made some "decent progress" in the quarter.
"Rackspace is a very meaningful currency tailwind this quarter coupled with what we think is some pretty steady progress along the company's initiatives to transition from sort of a rack and stack company for dedicated servers to being a cloud provider," said Schildkraut.
"The stock is acting like they think it's going to be a good quarter," Stephens analyst Barry McCarver told Benzinga, noting the stock's increase earlier today. "I do expect a little bit of acceleration in revenue growth."
Rackspace retained its growth and closed up 2.15 percent this afternoon. But it quickly declined in after hours trading after the company reported its fourth quarter results.
Inline Results Just Weren't Good Enough
Rackspace fell short of meeting analyst expectations during the third quarter. In Q4, the company reported an EPS of $0.14, which was inline with the Street.
Earnings per share were down 33 percent from the year-ago period.
Revenue arrived at $408.1 million versus the Street estimate of $404.56 million. Sales were up 16 percent year-over-year.
"As we look into next year, based on that same tailwind, we feel like the numbers are not overly aggressive," said Schildkraut. "I think the challenges for the company are going to be about what they're going to point to for growth over the next year and how high capex is."
Capital expenditures rose nearly 40 percent to $465,314 in 2013 -- up from $337,682 in 2012.
Rackspace initially dropped more than 11 percent when the company's earnings were first released. It has recovered slightly and is currently down more than nine percent.
The Bigger They Are, The Harder They Fall
Rackspace performed extremely well in 2012, rising more than 71 percent between January 3 and December 31.
The stock had its share of ups and downs, rising more than 35 percent by May. Not long after that, Rackspace nearly fell apart. The company lost more than 26 percent of its value by June 15, pushing the stock nearly one percent lower than when the year began.
Rackspace eventually overcame its struggles and ended the year with impressive gains.
Once again, those gains were fairly short lived. In 2013, Rackspace lost more than 49 percent of its value.
Nonetheless, many analysts are confident that the company is headed in the right direction.
"They had a good quarter last quarter," said McCarver. "They missed on EPS because of…a little bit higher depreciation amortization."
While the Q3 earnings miss may have been justified, some investors didn't seem to care and decided to sell their shares anyway.
CEO Lanham Napier's Departure
Before announcing its fourth quarter results, Rackspace announced that its CEO, Lanham Napier, had stepped down.
Graham Weston, Rackspace's exec chairman (and a former CEO), will serve as the new chief executive until a more permanent replacement is found.
"Graham is the right person to step in and lead Rackspace since he's been with the company from the beginning and served us well previously as CEO for seven years," Napier said in a company release. "I am confident that Rackspace's future is brighter than ever and that Graham and Taylor Rhodes, as president, will continue to build on our success."
Verdict: Rackspace Is Down (Again), But Not Out
Prior to today's announcements (earnings and the CEO transition), analysts seemed to be generally positive on Rackspace. It is unlikely that their opinion has changed in light of these developments.
Disclosure: At the time of this writing, Louis Bedigian had no position in the equities mentioned in this report.
View Comments and Join the Discussion!
Posted-In: Barry McCarver Evercore PartnersAnalyst Color Earnings News Management Analyst Ratings Tech Best of Benzinga