Bright Idea: LED Technologies Expected To Light Up 2014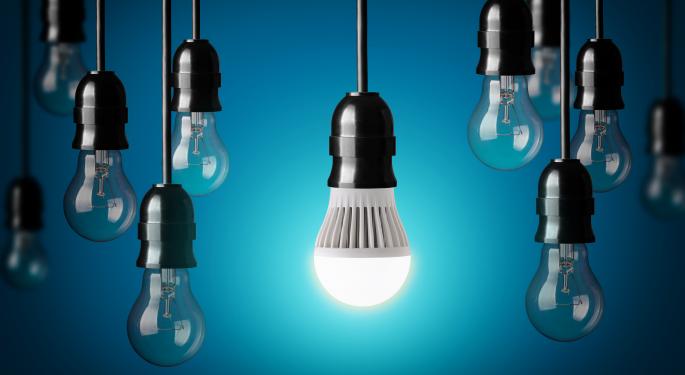 2014 might end up being remembered as The Year of the LED.
On New Year's Day, as part of the energy efficiency standards introduced by the Energy Independence and Security Act of 2007, the federal government enacted the final phasing out of incandescent lightbulb technology in the U.S.
The technology for these incandescent bulbs was patented more than 130 years ago by inventor Thomas Edison. And while they were a revolution in lighting, they're also known to produce more heat than light. And, according to the EPA, "many compact florescent light bulbs (CFLs) and many Light Emitting Diodes (LEDs) can meet (future government standards set for 2020), shaving energy usage compared to standard incandescents by 75 percent."
Related: Google Has Big Plans For Its Humble Chromecast Device
Many communities and businesses are already embracing the new lighting technologies. Last year, Los Angeles completed its program of switching out 140,000 of the city's street lights to LEDs – a move expected to save L.A. $10 million annually in energy and maintenance costs.
And while many Americans are still not taken by the new light bulbs, which can be relatively expensive compared to incandescents, some investors seem to be quite smitten by LED companies
"As LED bulb prices continue to come down significantly, while their quality in terms of output is further enhanced, LED will be the clear winner from 2014/15 onwards in our view," Alexandre Werbowy, an SRI (socially responsible investing) analyst at Alliance Trust Investment, wrote recently on the BusinessGreen website.
New research, meanwhile, suggests the global market for LED lighting will jump 12-fold over the next ten years – expanding to $25 billion by 2023.
And Taiwan's Digitimes Research says Japan is currently the world's largest LED lighting market – with an expected global share of 25.6 percent this year – followed by North America with 23.1 percent of the LED market, then Europe (20.3 percent) and China (16 percent).
Posted-In: Analyst Color News Emerging Markets Economics Markets Analyst Ratings Tech Media Best of Benzinga
View Comments and Join the Discussion!