General Motors Revs Ups Its Engines At Detroit's Auto Show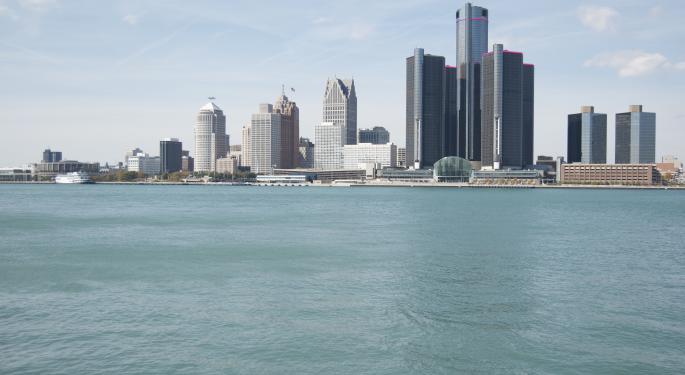 General Motors (NYSE: GM) is taking central stage at the North American International Auto Show with a plethora of news announcements.
Dividend announcement: investors should share in success
On Tuesday evening, General Motors announced that the company will issue a $0.30 quarterly dividend on its common stock. The announcement is consistent with the company's remarks from the beginning of the show in Detroit.
Related: General Motors Maintains, Announces $0.30 Quarterly Dividend
"It's clear to us that investors are anticipating a dividend," Dan Ammann, General Motors' executive vice president and chief financial officer told reporters on January 12. Ammann is set be promoted to the title of president.
"Our fortress balance sheet, substantial liquidity, consistent earnings and strong cash flow provide the foundation for an ongoing payout," Ammann said on Tuesday. "The board understands that our investors should share in this success."
The last time General Motors issued a dividend was back in July 2008.
The dividend is payable March 28 to all common stockholders of record as of March 18.
2014 outlook: modest rise
On Wednesday morning, General Motors offered investors its 2014 outlook.
According to a company press release, General Motors is forecasting "modest global industry growth in 2014 driven by the United States, China and Europe."
"Based on this outlook and the introduction of key vehicles globally, the company expects its total earnings before interest and tax (EBIT) adjusted to be modestly improved with improved underlying operating performance more than offsetting increased restructuring expense."
The company estimated its total 2014 restructuring costs total $1.1 billion. Additionally, the company is facing "significant" FX challenges in 2014 that will result in a softer EBIT in the first quarter, but will ease after the second quarter.
"We continue to perform well in the two most important markets in the world, the U.S. and China," said the company's newly appointed CEO Mary Barra. "We're taking advantage of our strength in these countries to restructure and make the investments necessary to grow profitably in other parts of the world."
The company plans to open four new plants in China through 2015, which will give the company capacity to produce five million units annually. The company is targeting 100,000 Cadillac sales in China.
The company will spend around $7.5 billion globally in capital expenditures throughout the year, which is lower than the "normal" $8 billion to $9 billion in spending. The company said that 2014's lower capex is due to product timing of its vehicles.
The company also said that it is on track for mid-decade targets that include a break-even goal in Europe. The company aims for a 10 percent EBIT margins, which should be achieved in part due to the company's logistic and material cost savings that kick-in in 2015 and 2016.
Related: GM Issues 2014 Global Industry Growth Forecast
Analyst reaction
Deutsche Bank: guidance is light
Rod Lache, Research Analyst at Deutsche Bank wrote that General Motors' guidance is below the consensus and his estimates.
"Our estimates were for EBIT to improve from estimated $8.0 billion in 2013 to $10.7 billion in 2014. We believe that Street estimates will adjust to reflect underlying growth of ~$1.0 billion in 2014 versus 2013," said Rod Lache in a research report released on January 15.
Lache wrote that the company's guidance is "clearly light versus expectations and likely results in 2014 EPS estimates coming down to the $3.85-$3.95 range (versus consensus of $4.55)."
Lache wrote that there are positives in the company's guidance, which include a non-recurring $0.40 hit due to restructuring costs.
Shares are Buy rated with a $55.00 price target.
Morgan Stanley: General Motors? More like "Generous Motors"
Adam Jonas, analyst at Morgan Stanley wrote that General Motors' $0.30 quarterly dividend payments is higher than market expectations.
"The divy puts GM on par with Ford's yield, exceeding all major global auto manufacturers with the exception of Daimler," Jonas wrote in a research report on January 15. "The [3 percent annual] yield helps put a floor on the stock near $4."
Related: Ford's Alan Mulally Talks Aluminum, His Future & His Favorite Ride
According to Jonas, a generous dividend will temper expectations over the timing and size of a potential share buyback. "It is our assessment that most GM investors prefer dividends to buybacks anyways."
Shares are Overweight rated with a $49.00 price target.
Bank of America: GM's dividend a sign of its balance sheet strength
John Murphy, analyst at Bank of America wrote that General Motors dividend announcement is a testament to its balance sheet strength and commitment to shareholder value and 2014 will prove to be a good year for shareholders of both General Motors and Ford.
"We expect GM and Ford to continue executing in 2014 and beyond and believe investors will be rewarded with stock price appreciation and additional shareholder friendly initiatives," Murphy wrote in a research report on January 14.
According to Murphy, General Motors will benefit from many upcoming catalysts that will "have a material positive impact on investor sentiment." These catalysts include the continued recovery in U.S. industry sales, the Canadian Government sale of its GM stock and return of capital to shareholders.
Shares are Buy rated with a $56.00 price target.
View Comments and Join the Discussion!
Posted-In: Adam Jones Bank of America Dan AmmanAnalyst Color News Events Economics Analyst Ratings Best of Benzinga