Analysts at FBR Take a Bullish Stance on 3D Printing Companies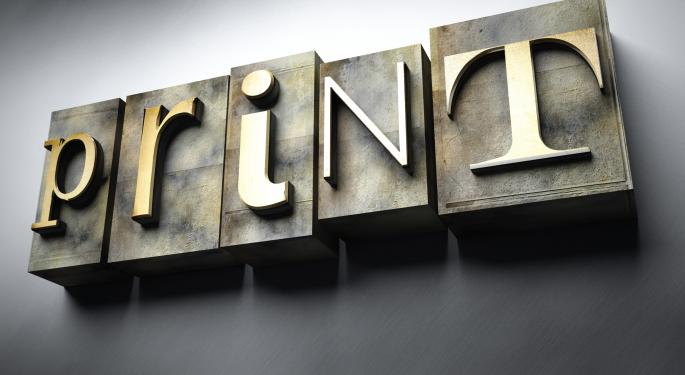 3D printing companies have been among the best performing sector in the market this year. 3D Systems (NYSE: DDD) has risen over 150 percent year-over-year, while Stratasys (NASDAQ: SSYS) has returned around 75 percent in the same time period.
Bullish investors believe that 3D printing companies represents a growing industry that can transform the way we live our lives and how companies can conduct business more efficiently.
Ajay Kejriwal, analyst at FBR Capital released two separate reports as coverage is initiated on 3D Systems and Stratasys.
Kejriwal has taken a bullish stance on both companies with an Outperform rating and $85.00 price target on 3D Systems. Stratasys has also been given an Outperform rating and an $155.00 price target.
3D Systems: Forget About Valuation, It's All About High Growth
Kejriwal began his bullish note acknowledging some of the bearish arguments. "No doubt, the company has had its share of controversies, and valuation is by no means cheap," he wrote in an analyst report. He continued: "However, we like 3D Systems' solid and diversified portfolio of patented technologies, proprietary materials, and software solutions that should not only help address rising customer demand but also drive penetration and the adoption rate of 3D printing as a whole."
There are two fundamental points Kejriwal noted to support his bullish stance and superior valuation.
3D industry growth
Kejriwal noted that the 3D industry growth will be "strong for longer" based on technological improvements in the company's ecosystem that have uses in various industries, such as production parts in healthcare and consumer markets. Kejriwal estimates a growth rate of 25 percent could be sustainable for the next several years. Such a large growth rate certainly represents one of the best in class and above the average industry growth.
The company's diversified portfolio of patented technologies (SLA, SLS, SLM, FTI, PJP, MJP and CJP), proprietary materials and software solutions should help expand the industry more rapidly in many different market segments.
Related: 3D Printers: What The Analysts Are Saying
Acquisition strategy and R&D spending a game changer
3D Systems has elevated its name to the highest ranking in the 3D printing industry because of its aggressive acquisition strategy. One such example is the company's recent purchase of Phenix Systems for less than $20 million, which gives the company exposure to a highly attractive metals market. Kejriwal believes that the company can see a benefit from the acquisition in the medium term over the next 12 to 18 months.
Valuation
Kejriwal rightly so questioned the stock's valuation and offered his take as to what is and is not priced in to the stock's current valuation.
Kejriwal examined historical stock performance and valuation of companies with similar fast-growth characteristics and then performed long-term discounted cash flow analyses using a set of multiple growth scenarios.
High valuations (defined as price/sales ratio of 10x-plus) are not uncommon and can even appreciate further as investors and analyst change their models to "look much further out into the future."
Google (NASDAQ: GOOG) had a price/sales ratio of 14.6x over the 2004-2007 period when the tech company was in a phase of high growth. As the company's future prospects became clearer, a high valuation became accepted and aligned with higher investor expectations. As growth slowed down, the ratio naturally declined to a "normal" level that a larger group of investors were confident with.
Kejriwal based his $85 price target on a weighted average of the firm's discounted cash flow analysis and 11.5x the firm's 2014 revenues estimates.
Stratasys: Compelling Story in a High-Growth Sector
Kejrwial began his analysis on Stratasys using some of the same factors that contribute to 3D Systems growth, such as the "stronger for longer" thesis.
Kejrwial noted two key points that should also provide the company with superior, above-industry growth over the years.
Increased penetration and synergies
The company's merger with Object in the fourth quarter 2012 expanded the company's technology portfolio with the addition of PolyJet Technology. Key features included the ability to use multiple materials, increased speed and no post-curing.
The newly-formed company provides a stronger opportunity for cross-selling opportunities. "The combined company has spent significant time and resources training and integrating the two channel networks and has already strated seeing benefits," Kejrwial wrote in an analyst report. Kejrwial added "We would expect the integrated channel to continue to deliver strong growth in the next several quarters."
Dominance in the "prosumer" market
Stratasys has a leading market share in the consumer/professional segment following a recent acquisition of MakerBot. MakerBot has developed the largest installed base of 3D printers by making high-quality 3D printers at reasonable prices. MakerBot is expected to continue to drive 30 percent to 50 percent growth rates over the next several quarters.
Metal space coming soon
Stratasys, much like 3D Systems, has also been active in its mergers and acquisitions in recent years. Management has indicated that it intends to enter the metal segment in a "very serious way." A move in to the this space will greatly improve the company's already impressive portfolio.
Valuation
Using a similar discounted cash flow analysis, the firms $155 price target was derived on a DCF analysis and 9.5x 2014 sales.
Posted-In: 3D printers 3D Systems Ajay Kejriwal DCF analysis FBR CapitalAnalyst Color News Analyst Ratings
View Comments and Join the Discussion!