Home Depot Versus Lowe's: What Three Analysts Are Saying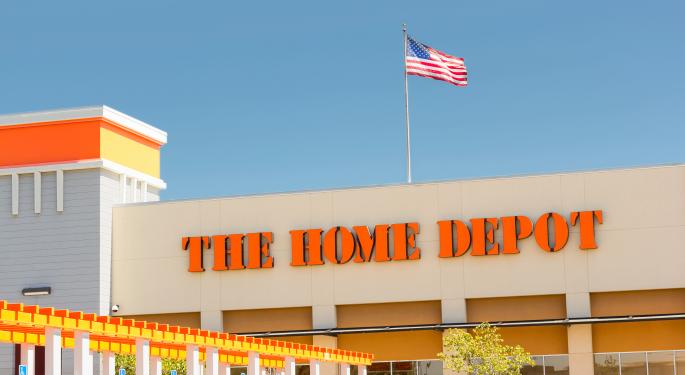 Both Home Depot (NYSE: HD) and Lowe's (NYSE: LOW) continue to benefit from a strengthening U.S. housing market that is boosting sales at the "do-it-yourself" home improvement retailers.
Home Depot, America's largest home improvement retailer, reported its third quarter 2013 results on Tuesday. The company's EPS of $0.95 came in six cents above consensus. Revenue also came in above consensus at $19.47 billion, while the Street was looking for $19.17 billion.
Lowe's, the nations' second-largest home improvement retailer, reported its third quarter 2013 results a day later on Wednesday. The company reported an EPS of $0.47, a penny below estimates. Revenues came in higher than expected at $12.96 billion, while the Street was looking for $12.72 billion.
Related: Who Would You Rather...Facebook or Twitter?
At first glance, Home Depot is the clear winner delivering both an EPS and revenue beat. Many analysts at leading firms tend to agree with this statement.
Oppenheimer: Lowe's results are good, just not as good as Home Depot
Analysts at Oppenheimer singled out a key metric which would favor Home Depot's investment suitability over Lowe's. Lowe's reported a 6.2 percent comp growth. In any normal situation these numbers would be impressive, but when put in context, it falls short of Home Depot's 8.2 percent reported.
Oppenheimer lowered Lowe's Fiscal 2013 estimates "to reflect today's results and slightly higher expense assumptions in Q4." Shares are Perform rated with a $48.00 target. Home Depot, on the other hand, is Outperform rated with an $86 price target.
J.P. Morgan: Home Depot is "confident"; Certain aspects at Lowe's are "disappointing"
Christopher Horvers, analyst at J.P. Morgan described Home Depot as "confident" and has "long runway ahead." Horvers sees the company growing same-store sales by four percent in fiscal 2014 and 2015.
Shares of Home Depot are Overweight rated with an $88 price target.
Horvers was less impressed with Lowe's results regarding certain aspects as"disappointing," such as the margin flow-through with gross profit up 30bps, which trailed the firm's internal estimates.
Horvers noted that the stock should "trend lower baring new information on the call" given the company's EPS coming in below the Street's estimates.
Shares of Lowe's are rated Overweight with a $54 price target.
Goldman Sachs: Home Depot's results were distinctively strong
Matthew Fassier, analyst at Goldman Sachs described Home Depot's quarter as "distinctively strong and (straightforward) numbers in a retail backdrop."
Related: Which is the Better Investment...Honda or Toyota?
Fassier noted that Home Depot's same-store sales increase to 8.2 percent, noticeably higher than the Streets 5.6 percent estimates. Home Depot's achievements were labeled as one of the strongest in retailing, an achievement that shouldn't go unnoticed given the company's scale.
Fassier raised the price target to $90 for the company.
In a separate report, Fassier described Lowe's same store sales at 6.2 percent being only "solid." Fassier noted that the gap between Home Depot and Lowe's same store sales re-opened to 2.0 ppts, which is more than expected.
Fassier concluded by raising doubt "about the likelihood that Lowe's can deliver consistent performance versus Home Depot and Street numbers, rather than isolated moments of excellence versus consensus."
Fassier does not have a price target and rating on Lowe's, as it is "under review."
Posted-In: Christopher Horvers housing recovery Matthew FassierAnalyst Color Earnings News Price Target Analyst Ratings Best of Benzinga
View Comments and Join the Discussion!