Twitter IPO Has A 'Complete Lack Of Transparency And Disclosures' (TWTR)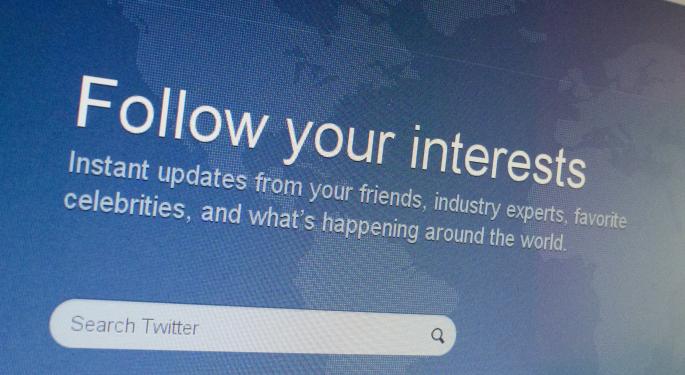 Investors might want to reconsider their plans for Twitter.
Trip Chowdhry, the Managing Director of Equity Research at Global Equities Research, is not satisfied with the information that Twitter has provided before its initial public offering.
"I think the S-1 filing has done a very poor job," Chowdhry told Benzinga. "It is more about propaganda rather than giving insight."
Chowdhry said that there are several key questions that should have already been addressed by the S-1:
Q1. "What percentage of your current advertisers are also your investors? What percentage of total Twitter revenue are coming from advertisers who are also investors?"
Q2. "Photos and Sharing of Photos play a very important role in creating an Interest Graph. Yahoo's (NASDAQ: YHOO) Flickr, Google's (NASDAQ: GOOG) Picasa, Facebook's (NASDAQ: FB) Instagram are huge, when compared to Twitter's Twitpic. How is Twitter Twitpic going to compete and win against Flicker, Picasa, Instagram?"
Q3. "How is Twitter going to address the user backlash with its video sds? 76% of users access Twitter through a mobile device and video ads take up a lot of bandwidth and majority of Twitter users are not on unlimited mobile data plans."
Q4. "How will Twitter grow its Monthly Active User's in an environment where specialized 'Celebrities' social networks are getting popular and eating into Twitter share? E.g. LinkedIn (NASDAQ: LNKD) is for Professional Celebrities, Google + is for Technological Celebrities, Facebook for Personal Celebrity, Tumblr for Creative Celebrity, Pinterest for Fashion & Design Celebrity and Twitter of course for Entertainment Celebrity."
Related: Twitter Could Help Investors Profit Long Before The IPO
Q5. "Activity on Twitter reaches its peak in the morning, while activity on Pinterest and LinkedIn reaches its peak during the afternoon and evening respectively. What specific plan does Twitter have to take the Afternoon and Evening activity market share away from Pinterest and LinkedIn?"
Q6. "What specific plans does Twitter have to take back the user engagement that is now happening on WhatsApp, SnapChat, Skype IM and Apple (NASDAQ: AAPL) iMessage, and bring the conversations back to Twitter?"
Q7. "The shelf life of the Tweet continues to decrease, probably now it is 15 minutes, which could be because of the combination of popularity of new hyper-segmented Celebrity Platforms like LinkedIn, Google +, Facebook, Tumblr, Pinterest and Emergence of mobile short messaging services like WhatsApp, SnapChat, SkypeIM and Apple iMessage. What specific plans does Twitter have to protect against the declining time spent on Twitter?"
Q8. "Twitter will need to catch up to Google, Yahoo and Facebook to deliver photos and videos. What is your best guess on what is the cost of catch up?"
Related: Jack Dorsey Doesn't "Like" Facebook Hashtags
Chowdhry said that these questions were "critical" for anyone who wants to invest in Twitter. He encourages investors to ask these and other questions during the IPO road show.
"We don't want social media -- as an industry -- to be the next dot-com era," said Chowdhry. "It has legs, but a lot of rationalism is needed. Based on S-1, you can't make any decisions.
"Basically, you can't compare Twitter to any other company -- Facebook or LinkedIn or Google because they were following very strict accounting laws, whereas Twitter, we don't know that the numbers they put in are 100 percent accurate."
Further, Chowdhry said that Twitter should not be trading at a premium to its peers.
"The stock should be trading at massive discounts to its peers because there's a complete lack of transparency and disclosures," he said.
On Saturday, the New York Stock Exchange conducted a test run of Twitter's IPO to see if it could avoid the massive technical issues that plagued Facebook's IPO on the Nasdaq last year. That test was successful.
Disclosure: At the time of this writing, Louis Bedigian had no position in the equities mentioned in this report.
Louis Bedigian is the Senior Tech Analyst and Features Writer of Benzinga. You can reach him at louis(at)benzingapro(dot)com. Follow him @LouisBedigianBZ
Posted-In: Apple FacebookAnalyst Color News IPOs Analyst Ratings Tech Interview Best of Benzinga
View Comments and Join the Discussion!