Wii U Sales Hurt By Retailer Confusion, Misinformation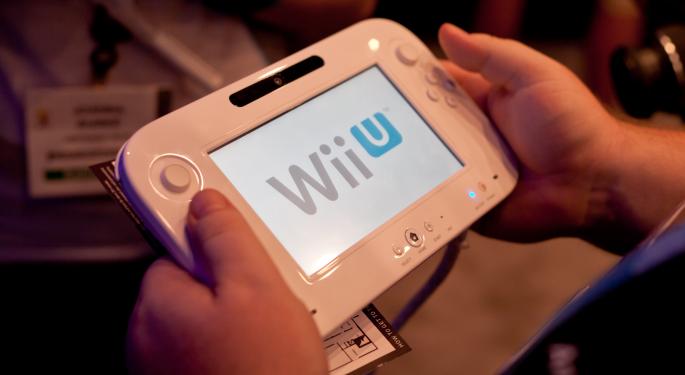 Uninformed retail employees may have contributed to the sales problems afflicting Nintendo's (OTC: NTDOY) latest console.
Christine Arrington, the Senior Games Analyst at IHS Electronics & Media (NYSE: IHS), told Benzinga that she realized that Wii U was in trouble when she became an unofficial secret shopper.
"There was nothing that you could put in front of everybody that said, 'This is what the experience is,'" Arrington said of the difficulty that Nintendo has faced in promoting the Wii U GamePad. "I think one of the things that was a real indicator of that was just, anecdotally, if you went into a retailer and you talked to somebody in the games department, they didn't even understand what it was.
"I did the secret shopper kind of thing, and they would say, 'Well, there's no difference between the Wii and Wii U.'"
Arrington was stunned. While Wii U features the "Wii" name, it is not the same as the original Wii. The new console features a number of unique elements, which Nintendo has illustrated on its official website. The most obvious is the inclusion of a tablet-inspired controller that features a 6.2-inch touch screen. No such controller is available for the original Wii.
Related: Nintendo Drops Wii U Price, Unveils 2DS Handheld Game System
Despite these differences, multiple retail employees told her to buy the seven-year-old Wii instead of Wii U because there was no difference between them.
"I'm standing there, looking at them, going, 'Wow!'" Arrington said in disbelief. "I think that right there was an anecdotal piece of evidence [showing] that people didn't get it."
When the original Wii arrived in 2006, Nintendo successfully used Wii Sports to demonstrate why the remote and nunchuk controllers were important. Arrington believes that Nintendo needed a comparable game -- one that explained why the Wii U GamePad was cool and innovative -- for Wii U.
"There should have been a Wii Sports-type game that let everybody get it," she said. "Those huge franchises would have gotten the loyal Nintendo person, but it was Wii Sports that got all the people outside the Nintendo world to look and say, 'This is a really, really neat, fun thing to do.'"
Even if Nintendo had delivered a game on that level, it may have been unable to match Wii's success.
"I think it would have definitely fallen below Wii," said Arrington. "I think there was something really special about the Wii and the way that whole thing happened that they didn't even know was going to happen."
Related: PlayStation 4 Already More Popular Than Xbox One, Reuters Poll Shows
Unlike Wii U, the original Wii was very successful with mainstream consumers. It outsold Microsoft's (NASDAQ: MSFT) Xbox 360 and Sony's (NYSE: SNE) PlayStation 3 by more than 20 million units. Wii was also the first game console to become popular with seniors in nursing homes.
"I don't think there was the possibility that the Wii U was ever going to repeat that," said Arrington. "I'm not sure they expected that [either]."
Additional Wii U sales numbers are expected to be revealed on Wednesday, October 30 when Nintendo releases its second quarter earnings results.
Disclosure: At the time of this writing, Louis Bedigian had no position in the equities mentioned in this report.
Louis Bedigian is the Senior Tech Analyst and Features Writer of Benzinga. You can reach him at louis(at)benzingapro(dot)com. Follow him @LouisBedigianBZ
View Comments and Join the Discussion!
Posted-In: Christine Arrington HIS Microsoft Nintendo PlayStation 3Analyst Color Analyst Ratings Tech Best of Benzinga