Amid Sequestration, Aerospace ETFs Gain Favorable Calls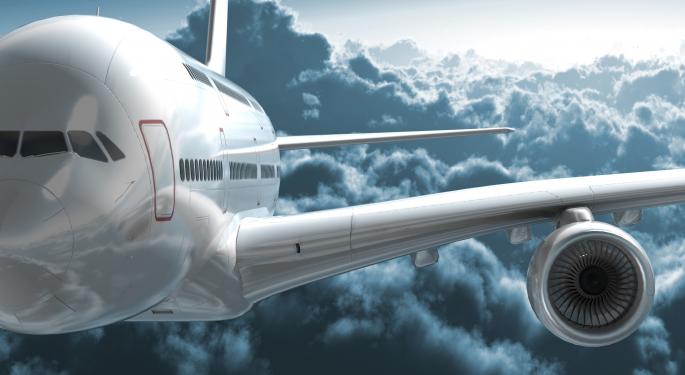 In March, President Obama signed legislation that mandated federal agencies begin trimming $85 billion in spending.
As several European nations have shown the world, austerity is not a popular concept, although some belt-tightening on Capitol Hill, arguably the reckless spending center of the world, was long overdue.
And although politicians warned about the adverse impact of the spending cuts, known as sequestration, U.S. stocks have, until recently, been solid performers. That includes some of the sectors believed to be most at-risk of feeling a sequestration pinch.
At the top of the sector list for presumed sequestration pain were aerospace and defense ETFs, but those funds have proven resilient and some analysts are bullish on the sector.
"S&P Capital IQ has a positive fundamental outlook on the commercial aerospace cycle. We believe the underlying drivers of the commercial aerospace industry, improving global economic growth, an emerging global middle class, persistently high energy prices and an aging fleet of commercial aircraft, combined with recovering aftermarket growth, will provide lift to these stocks on the back of potentially record 2013 new aircraft orders and strengthening earnings growth," said the research firm in a new note.
S&P Capital IQ has a four-star rating on Dow component Boeing (NYSE: BA). Shares of the Chicago-based company are up nearly 37 percent this year.
Related: These ETFs Are Trumping Capitol Hill.
"Despite rising fuel costs, global airline profitability continues to improve, increasing the airline industry's financial stability and its ability to invest in fleet renewal and expansion. In June 2013, the International Air Travel Association increased its global airline profitability forecast to $12.7 billion (versus $7.6 billion in 2012) from its March forecast of $10.6 billion, citing improved structural changes in the industry. IATA's initial 2013 forecast, published in September 2012, called for industry profitability of only $7.5 billion," said S&P Capital IQ.
Boeing is usually one of the top holdings in aerospace ETFs and that is the case with the iShares U.S. Aerospace & Defense ETF (NYSE: ITA), where the stock is the second-largest holding (weight of 8.2 percent) behind fellow Dow component United Technologies (NYSE: UTX).
S&P Capital IQ has an Overweight rating on the $151.2 million ITA, an ETF that has jumped 27.4 percent this year. Other top-10 holdings in the ETF include Lockheed Martin (NYSE: LMT), General Dynamics (NYSE: GD) and Raytheon (NYSE: RTN). ITA's top-10 holdings combine for 56.1 percent of the fund's weight.
The $67.5 million PowerShares Aerospace & Defense Portfolio (NYSE: PPA) earned a Marketweight rating from S&P Capital IQ, which almost seems a tad unfair given PPA's 26 percent gain. That performance proves once again that small ETFs can generate big returns.
PPA allocates about a quarter of its combined weight to Lockheed, United Technologies, Boeing and Honeywell (NYSE: HON).
"In an effort to meet the rising demand for aircraft and reduce large multi-year backlogs, we expect Boeing and Airbus to continue to increase production rates. We project Boeing and Airbus aircraft deliveries will increase 5% in 2013 to around 1,250, and then grow another 8% in 2014 to around 1,350. While we expect production to expand around 4% in 2015, much depends on the timing of the A350XWB, which is still in flight testing," said S&P Capital IQ.
An overlooked reason as to why ETFs like ITA and PPA have remained durable in the face of sequestration is that the industrial sector historically performs well when interest rates rise.
Going back to May 22, the day Federal Reserve tapering chatter really got going, PPA has jumped 10.3 percent while ITA is up 11.6 percent.
S&P Capital IQ also has a Marketweight rating on the $20.8 million SPDR S&P Aerospace & Defense ETF (NYSE: XAR). XAR uses more of an equal-weight approach as none of the aforementioned aerospace names account for more than 4.7 percent of the ETF's weight. Boeing is not even a top-10 holding in XAR, but that has not stopped the fund from gaining nearly 29 percent this year.
For more on ETFs, click here.
Disclosure: Author owns none of the securities mentioned here.
View Comments and Join the Discussion!
Posted-In: Analyst Color Long Ideas News Sector ETFs Short Ideas Politics Intraday Update Markets Best of Benzinga