Netflix's $6.3 Billion Debt To Hollywood Could Cause Hostile Studio Takeovers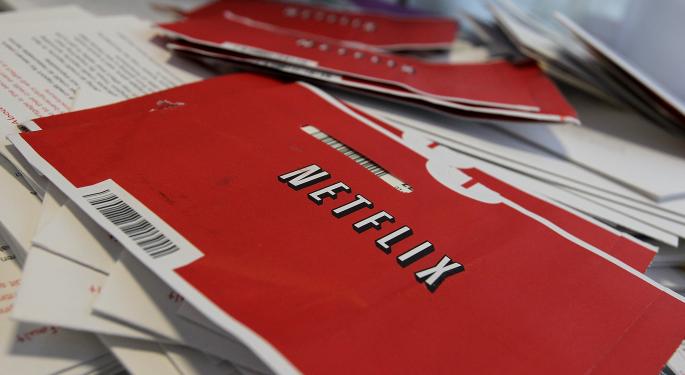 What will happen if Netflix (NASDAQ: NFLX) is unable to pay back its $6.3 billion debt to Hollywood?
Rich Tullo, Director of Research at Albert Fried & Company, fears the worst.
"The only way Hollywood gets its money back is either [Netflix goes] bankrupt and Hollywood owns Netflix, which is bad for the shareholder, or it generates cash flow," Tullo told Benzinga.
Tullo, who is bearish on Netflix, is very concerned about the company's rising debt.
"They keep saying they're gonna spend less," he said. "Then they announce a deal with Harvey Weinstein. Meanwhile, the content liability goes from $5.7 billion to $6.3 billion [quarter-over-quarter]."
Tullo estimated that if The Weinstein Company delivered 300,000 subscribers that lasted for two years, Netflix would earn an additional $56 million. Those earnings may not pay for the deal it signed with Harvey Weinstein, however.
Related: Sony's PlayStation TV Could Score Viacom Content After Netflix Loss
In addition to the money Netflix is spending to acquire pre-existing content, the streaming video giant has also spent more than $150 million on original content.
According to Variety, House of Cards, Orange is the New Black and Hemlock Grove may have cost roughly $50 million each.
In March, Wired reported that Netflix spent as much as $3 million per episode for the fourth season of Arrested Development. At that rate, the company may have spent $45 million ($3 million x 15 episodes = $45 million) to revive the old sitcom.
These investments -- and the fact that Netflix trades at roughly 300 times earnings -- is very troubling to Tullo. He also takes issue with the fact that, unlike AMC (NASDAQ: AMCX) and other networks, Netflix does not own the production studios behind its original programs.
Bye Bye, DVDs
Tullo believes that by signing a streaming video deal with The Weinstein Company, Netflix has provided another sign that DVDs are not going to be around much longer.
The company lost 450,000 DVD subscribers last quarter and 2.5 million DVD subscribers over the last year.
In theory, this shouldn't be a problem for Netflix. The company has more than 30 million streaming subscribers worldwide. But the margins on streaming video are much lower than they are for DVDs.
Despite the benefits of DVDs, Netflix has tried to distance itself from disc-based rentals.
"Why would you leapfrog your own business with better margins unless you think DVDs aren't going to be around?" Tullo questioned.
"This deal [with The Weinstein Company] signals that they don't believe very much in the DVD business," he added. "Just as them closing up the Connecticut DVD distribution center signals that they don't care very much about the DVD business' prospects on a go-forward basis. It all signals it. That's a big problem. This company is talking about content and all this other jive. Meanwhile, they owe Hollywood $6.3 billion."
Disappearing Formats, Nonexistent Profits
Tullo estimated that DVDs could disappear in five to 15 years.
"Probably close to five," he said.
Related: Netflix Breaks New Ground with 14 Emmy Nominations
In analyzing Netflix's overall prospects, Tullo said that the company "looks more like Napster than anything else because a large percentage of Netflix's user population is not paying for Netflix."
While Netflix has yet to reveal how many people use the service by sharing accounts or by stealing access from those who pay, Tullo's estimates are scarily high.
"Depending on the demographic, four out of five people watching [Netflix] may not be paying," said Tullo. "How crazy is that!?"
Netflix may be moving away from DVDs, but Tullo believes that consumer habits were destined to destroy the format anyway. Instead of paying for the best picture and sound possible, consumers often turn to the second screen (tablets, smartphones, notebooks, etc.) for incidental viewing. Netflix streams are perfect for that. DVDs are not.
Disclosure: At the time of this writing, Louis Bedigian had no position in the equities mentioned in this report.
Louis Bedigian is the Senior Tech Analyst and Features Writer of Benzinga. You can reach him at 248-636-1322 or louis(at)benzingapro(dot)com. Follow him @LouisBedigianBZ
Posted-In: Albert Fried & Company AMC Arrested Development Harvey Weinstein Hemlock GroveAnalyst Color Analyst Ratings Tech Best of Benzinga
View Comments and Join the Discussion!