Tesla Could Be Worth $9 (TSLA)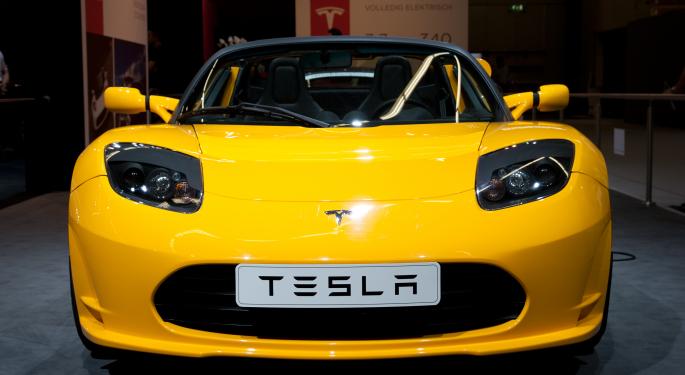 Tesla Motors (NASDAQ: TSLA) shares have sold off of intraday highs heading into the close Thursday, but still traded sharply higher on the session.
Shares rose over 14 percent to $153.30 per share after making a new all-time high of $158.88 following its second consecutive quarterly profit.
However, one investor's models say that the stock could be worth as little as $4 or $9 per share.
Valuation Well Below Price
Kai Petainen, Adjunct Finance Lecturer at the University of Michigan's Stephen M. Ross School of Business, Forbes Contributor and one a few investors profiled in The Warren Buffetts Next Door, spoke to Benzinga following Tesla's earnings release. He said that the stock could be overvalued based on a fundamental basis when using a discounted cash flow analysis, however he also argues that the valuation may not matter.
Petainen said that, of his various discounted cash flow models, he gets a price target of between $4-11 dollars with one of his favorite models giving a price target of $9. However, he noted that, "What makes valuation so difficult for Tesla, is that there is so much volatility with the earnings. The earnings were negative, now they're positive and so when you make a forecast... one has to wonder will it stay positive or fall back to negative levels?"
"But Tesla is really not a 'value' stock, and I'd argue that funds are holding it due to the growth and not the value. Courtesy of FactSet (NYSE: FDS), most of the funds that hold it are either Growth, [Growth At Reasonable Price], or Index funds," he continued. "So the question you have to ask yourself, if you're shorting the stock, is when will they sell?"
Shares Overvalued
"Is it overvalued? I think so, yes," he said. "And I hate to compare Tesla to Apple (NASDAQ: AAPL), but I remember looking at Apple many years ago from a valuation perspective and it looked awful. But I made a crucial mistake with Apple: I ignored the earnings growth." Petainen famously got into a war of valuation with CNBC's Jim Cramer, a war which he later lost only to be vindicated as of late as shares nearly halved from record highs above $700 per share.
He notes that the market is still pricing in earnings growth, but if earnings growth slows, then the stock could begin to fall; similar fates have been seen in Apple, Netflix (NASDAQ: NFLX), and Green Mountain Coffee Roasters (NASDAQ: GMCR), momentum stocks that all eventually faced sharp declines as earnings momentum slowed.
"In Q3, 2012 the earnings for Tesla were at $-0.92 while forecasts call for the EPS to be between $-0.30 and $0.29 in Q3, 2013. Even if you take the bearish estimate of $-0.30, that is still higher than $-0.92," he said, noting that the market is expecting sequential growth in earnings. "I'm concerned most about Q1, 2014," he continued, "as the Q1 2013 earnings were at $0.12."
Notably, Petainen's models represent a very contrarian take on the stock with many other analysts raising price targets today and calling for more upside.
Have Your Say!!!
Would you like to voice your opinion on Tesla? Then take the survey below and let us know!!!
Posted-In: Analyst Color CNBC Jim Cramer Short Ideas Price Target Analyst Ratings Movers Media Best of Benzinga
View Comments and Join the Discussion!