EXCLUSIVE: The Shorts Are Taking A 'Wait And See' Approach With Tesla (TSLA)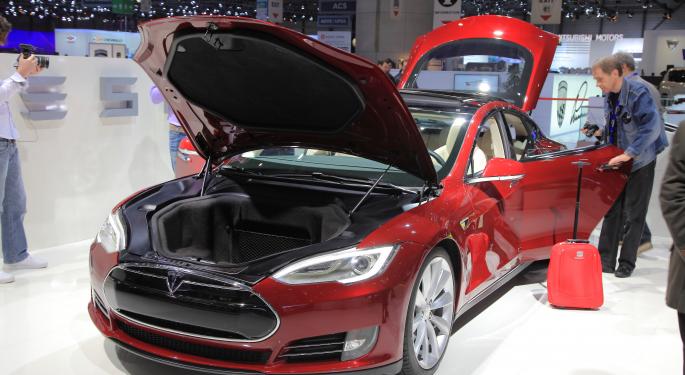 Tesla Motors (NASDAQ: TSLA) have been on a tear for the past year and have added to gains Thursday morning following a blowout second quarter earnings report.
Tesla reported second quarter EPS of $0.05 when adjusting for some items compared to the estimate of a loss of $0.17 per share on revenue of $405.14 million vs. $393.67 million.
Securities Lending Data Shows Shorts Pulling Back
Tim Smith, Executive Vice-President at SunGard's Astec Analytics, spoke to Benzinga following the earnings beat. His firm tracks real-time securities lending data, which correlates extremely well to short interest data.
"Tesla is one stock that we have been following quite a lot over the past year," said Smith. In fact, he noted that Tesla was the second-most scrutinized stock in his company's system today, showing massive interest among many large clients for data on the securities lending in Tesla.
"On the flip side," he continued, "there is not a lot of activity [in the securities lending market for shares of Tesla]. There has been a slight up-tick in borrowing recently, but not much in the last few days."
Related: EXCLUSIVE: Investors Remain Bullish On Tesla Ahead Of Earnings.
Shorts Hesitant
Normally, after a gain such as Tesla's both since the beginning of the year and just intraday, traders would potentially enter short positions to scalp a small profit on any retracement of the share price. However, Smith believes that traders are taking a "wait and see approach" before entering new shorts.
Further, Smith noted that only 14.5 million shares of Tesla were currently lent for shorting compared to the peak of around 27 million at the prior peak, showing that at least some of the shorts have been squeezed out. "What's even more significant is the rate at which people are willing to pay to borrow the stock has collapsed."
At one point, as the chart below shows, it cost traders between 30 and 40 percent annualized to borrow the stock and some were even willing to pay over 80 percent; now the rate is between 1 and 2 percent, showing a sharp drop in demand to borrow the stock amongst traders.
Smith concluded by saying that "there appears to be a steady basis of demand [to borrow the stock] but no massive spike," indicating that, as he said, traders are simply waiting for the momentum to phase out.
Have Your Say
Want to have your say on Tesla? Are you a Tesla bull or tesla bear? Let us know by taking the survey below. And if you want to receive news updates from Benzinga on Tesla, be sure to fill in your email address in the last question.
Stock chart: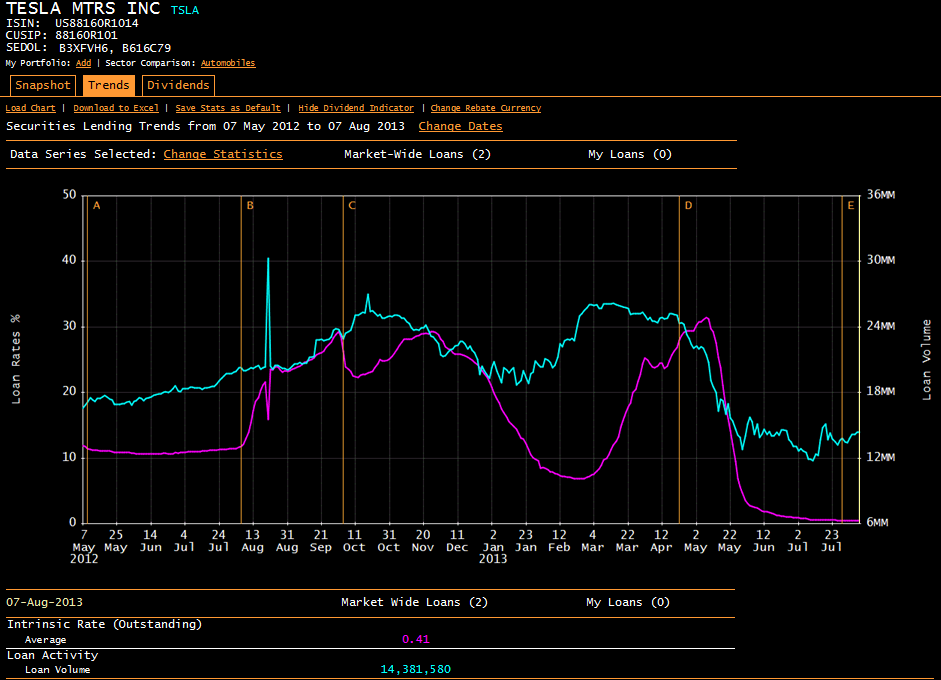 Posted-In: Astec Analytics Elon Musk Tesla Tim SmithAnalyst Color Earnings News Analyst Ratings Best of Benzinga
View Comments and Join the Discussion!