Herbalife Shares Rise Despite Reported Ackman SEC Complaint, Bob Chapman Is Astounded (HLF)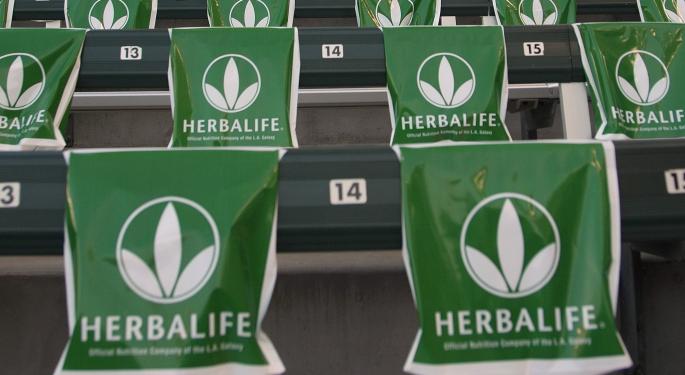 Reports circulated Monday that activist investor Bill Ackman has filed a complaint to the Securities and Exchange Commission over comments made by George Soros which reflected his intent to acquire a stake in nutritional supplement company Herbalife (NYSE: HLF).
Ackman alleges that Soros broke insider trading rules by alerting other funds about his large investment.
Soros Takes a Large Stake
On Wednesday, July 31, CNBC's Scott Wapner reported that legendary hedge fund investor George Soros had taken a "large" stake in Herbalife. The stock jumped nearly three percent in the imminent aftermath of the news and closed up more than nine percent on the day.
David Faber of CNBC weighed in later Wednesday, noting that Soros has no intention of getting involved in the activist war over the stock. Rather, he sees a short squeeze in the stock due to the ongoing dutch tender for the stock.
Ackman vs. Icahn
Ackman has become more and more isolated in his short Herbalife position as the stock rallies and other investors bet against him. Carl Icahn has notably gotten into a war with Ackman over the stock, one which peaked with an on-air debate between the two aired on CNBC a few months ago.
Also, Dan Loeb of Third Point Capital and Robert Chapman of Chapman Capital, LLC have notably taken long positions and sided with Icahn in Herbalife.
Herbalife Is a Stock You Should Own
Chapman told CNBC on Wednesday that Herbalife is an attractive investment "even in the low 60's." He noted that Herbalife is his largest position across his portfolios and voiced his opinion that Herbalife is definitively not a pyramid scheme, as alleged by Ackman.
Chapman also strongly believes that Herbalife is a prime target for a leveraged buyout, a move he sees in the next five to 10 years. He also noted that if the stock stays public, it could reach $300 per share over that period.
Chapman Weighs In On Accusations
"This assertion against Soros of illegal manipulation is preposterous and the ultimate of hypocrisy," Robert Chapman told Benzinga Monday on news of the accusations. "The hutzpah of Ackman just astounds me – these accusations are coming from a guy who quietly communicates his activist activities to various, select other investors before making them sensationally public, a guy who without precedent and unapologetically just months ago corralled hundreds of soon-to-be-terrified Herbalife current and prospective shareholders into a PT Barnum style circus/horror show, and only after leaking his "new, best idea ever" to CNBC the day before."
"Is there anyone on the planet who exerts more private and public effort attempting to influence other investors that his investment thesis is correct and that those opposed to it are wrong? Seriously, give me a break."
Have Your Say!!
Who do you think is right? Vote here for either #TeamAckman or #TeamIcahn.
Posted-In: Analyst Color CNBC News Rumors Price Target Legal Insider Trades Analyst Ratings Best of Benzinga
View Comments and Join the Discussion!