Biotech to Watch: Alnylam Pharmaceuticals Soars on Drug Data (ALNY)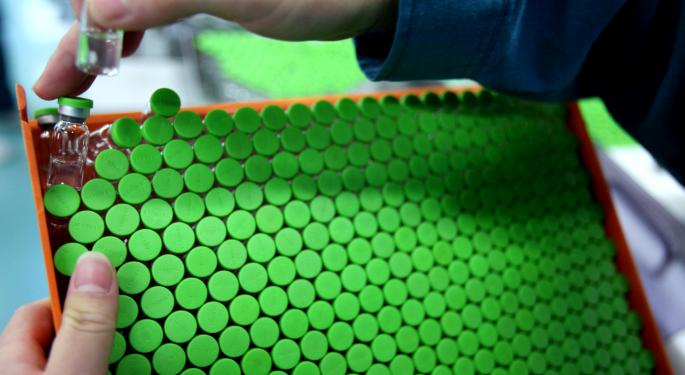 Shares of Cambridge, Mass-based biotech firm Alnylam Pharmaceuticals (NASDAQ: ALNY) soared more than 32 percent last week on the back of strong drug data in a Phase I trial.
The stock has now jumped more than 174 percent in 2013 as of Friday's close and is one to watch as the company's drug, ALN-TTRsc, continues to move through early-stage trials.
The company's compound is a subcutaneously administered RNAi therapeutic targeting the transthyretin (TTR) gene for the treatment of TTR-mediated amyloidosis (ATTR), a rare genetic disorder. The subcutaneous injection cut 80 percent of a protein called TTR in study volunteers. In some people, this particular kind of protein can cause organ and nerve damage and trigger degenerative diseases.
Analysts Bullish on Alnylam's Future
"These data validate Alnylam's platform technology," said Aletha Young, a Deutsche Bank analyst in a client note. "We think 80 percent knockdown is an efficacy home-run, though our checks have suggested that 50 percent knockdown may be enough also."
Related:Earnings season is here. Check out Benzinga's exclusive preview for the upcoming week.
Both Piper Jaffray and JPMorgan were also impressed by the data and turned even more bullish on the stock. Piper Jaffray analysts raised their price target from $42 to $60 and reiterated their Overweight rating. In addition to last week's positive top-line Phase I data, Piper Jaffray also cited positive Phase II data released several weeks ago for ALN-TTR02, which provided "proof-of-concept for Alnylam's orphan transthyretin (TTR) amyloidosis franchise."
JPMorgan analysts also aggressively hiked their price target in the wake of the news (from $28 to $55) and reiterated their Overweight rating. The analysts wrote that the worldwide peak market opportunity for ALN-TTRsc could "exceed" $2 billion and that the peak market potential for the entire ATTR franchise could be around $3 billion. JPMorgan is modeling a late 2016 launch for ALN-TTRsc.
They put the chances of ALN-TTRsc making it to market at 55 percent and believe that ALN-TTR02, which is in Phase II trials, has a 70 percent chance of becoming a marketed product. The company said that it expects to take ALN-TTRsc into a Phase II trials later this year and a Phase III trial could begin in 2014. The treatment will be tested in patients with familial amyloidotic cardiomyopathy, a very rare degenerative heart disease.
Wall Street analysts were also pointing to the launch of Phase I trials for ALN-AT3 in the treatment of hemophilia as an upcoming catalyst for the stock. Analysts expect the Phase I hemophilia trial to begin by year-end 2013.
Related: A Look Ahead: This Week's ETFs to Watch
The Technology Behind Alnylam - "Gene Silencing"
The technology behind Alnylam's pipeline is known as "gene silencing." Reuters reports that the process "works by 'switching off' the genes that cause disease, while its potency derives from an ability to reproduce itself - meaning a small dose can eliminate multiple targets."
The challenge for the company is delivering the treatment effectively. People know this mechanism works in a laboratory, but in humans there is the challenge of delivering it to the appropriate cell," said Marko Kozul, a Leerink Swann analyst. "The question isn't one of mechanism. It's one of delivery," he added.
In an interview, CEO John Maraganore said that Alnylam has been in talks with the FDA about streamlining the clinical trial process for the ATTR franchise. "There is recognition by the authorities of the significant unmet need in this disease," said Maraganore.
Can Alnylam Become the Next Regeneron or Alexion?
The company said on Thursday that in light of its latest data showing the efficacy of subcutaneous delivery, this method would now be the primary approach for developing its pipeline. Alnylam is partnering with other companies including Arrowhead Research and Tekmira Pharmaceuticals to further explore delivery mechanisms.
Speaking to Reuters, Maraganore said that he hopes his company can follow in the footsteps of biotech superstars such as Regeneron Pharmaceuticals (NASDAQ: REGN), which has risen better than 1,660 percent over the last 5 years, and Alexion Pharmaceuticals (NASDAQ: ALXN), which has soared more than 500 percent over the same time period.
Given the company's exciting pipeline and revolutionary approach, such an outcome appears possible, if not likely. Currently, Alnylam has a market cap of around $3 billion compared to Regeneron's $26 billion market-cap and Alexion's roughly $22 billion valuation. While Alnylam may have a long way to go before it achieves this kind of success, last week's developments have both analysts and investors very excited and the company's future looks bright.
Posted-In: Analyst Color Long Ideas News Short Ideas Price Target Technicals Reiteration FDA Best of Benzinga
View Comments and Join the Discussion!