S&P Takes the Axe To Banks; Shares Drop (CS, DB, BCS)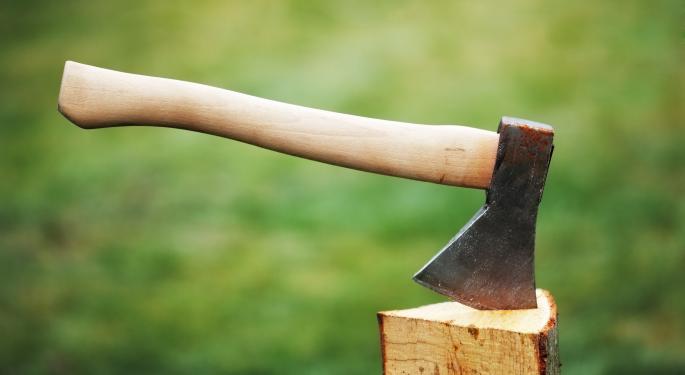 S&P cut the debt ratings of three of Europe's largest banks late Tuesday as new rules and "uncertain market conditions" threaten business across the continent.
Barclays (NYSE: BCS), Credit Suisse (NYSE: CS), and Deutsche Bank (NYSE: DB) all had their credit ratings cut one notch.
Downgrades
The long-term counterparty credit ratings were cut to A from A+ at Barclays and Deustche Bank while Credit Suisse was cut to A- from A. S&P also affirmed UBS (NYSE: UBS) at A on its long-term rating and A-1 on its short-term rating and said the outlook for all four companies was neutral.
New regulations and legal probes that have come to arise in the wake of the global financial crisis have crimped profits for the world's largest banks and have weighed on their respective credit ratings. S&P warned that the four banks in the report are the most exposed to new rules and regulations that are set to limit the profitability of their lucrative investment banking and trading operations.
Related: ECB Expected to Shy Away From Stimulus Measures in July.
"We consider that these banks' debtholders face heightened credit risk owing to the industry's tighter regulation, fragile global markets, stagnant European economies and rising litigation risk stemming from the financial crisis," S&P said. "A large number of global regulatory initiatives are increasingly demanding for capital market operations."
Regulation Risks
One regulation identified as a real negative for the four banks was the Volcker Rule, the rule that limits the banks from wagering on trades with shareholders' cash. Also, new European Union rules on bonuses and proposed U.S. rules for foreign banks also were factors in the downgrade.
Britain's third-largest lender by market value Barclays was cut in part to its dependence on investment banking revenue. S&P also pointed out that the U.K. banking authorities are leading the charge in banking regulation and that Barclays could be among the first of the big banks to feel the pain from regulation on profits.
Meanwhile, rising investment banking risks to Deutsche Bank were key in its downgrade, S&P said. More strict capital and liquidity requirements for foreign banks operating in the U.S. will be tough to adjust to and will require the foreign banks to continue to raise capital, which will hurt profits and keep share prices depressed.
Credit Suisse, the second-biggest Swiss bank, gets about half of its revenue from investment banking, S&P said. While the Zurich-based firm has taken steps to improve its risk and increase capital, it faces a "volatile revenue and earnings stream," the ratings company said. "Barclays, Credit Suisse, Deutsche Bank, and UBS are among the most exposed in Europe to a combination of regulatory initiatives being undertaken globally on capital market-related businesses," S&P said in the statement.
Shares Drop
Shares of the three banks in question declined in the pre-market but were off of the lows heading into the open. Barclays shares traded lower by 1.35 percent pre-market after trading lower by more than 2 percent while Credit Suisse and Deutsche Bank both fell nearly 2.8 percent after dropping more than 3 percent earlier.
Financials were broadly some of the worst performing stocks in the STOXX 50 Index of the biggest European companies. Unicredit, Société Générale, and BNP Paribas all fell more than 3 percent Wednesday on renewed fears of a flare up in the European debt crisis.
View Comments and Join the Discussion!
Posted-In: Analyst Color News Downgrades Events Global Pre-Market Outlook Markets Analyst Ratings Best of Benzinga