Apple Employees Are Leaving for Google, LinkedIn, Facebook and Hewlett-Packard (AAPL, FB, GOOG, HPQ, LNKD)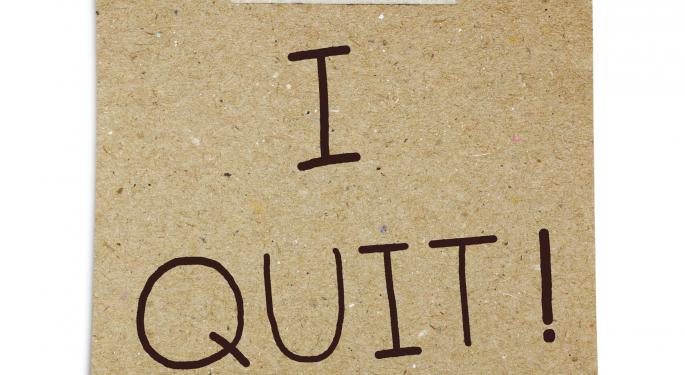 Apple (NASDAQ: AAPL) is on the verge of an employee retention problem.
Trip Chowdhry, the Managing Director of Equity Research at Global Equities Research, has found that a growing number of Apple employees have left the firm for Google (NASDAQ: GOOG), Facebook (NASDAQ: FB), LinkedIn (NASDAQ: LNKD) and Hewlett Packard (NYSE: HPQ).
"The employees are looking at the stock price and judging whether the company has a future or not," Chowdhry told Benzinga. "They're looking at the products that the companies are launching and seeing that there's a lot of excitement in all the companies.
"Facebook is interesting. The stock is not good, but these people that we spoke to who had joined Facebook, [it] is because there are a lot of good, innovative products."
Chowdhry said that employees are going "where they feel the future is bright." Thus far, he has interviewed as many as 25 individuals who have left Apple for one of the abovementioned firms.
"Currently we have an Overweight rating and $650 Price Target on Apple," said Chowdhry. "If they continue to lose their employees at the rate they are losing right now, we will have to revisit our rating and Price Target.
"People are wondering, what happened to the cash? 'Your balance sheet is weak and the stock is down, what happened?'"
Never mind the products that could turn Apple around. Chowdhry said that employee morale is down and that the $100 billion share buy back and dividend deal did nothing to turn things around.
If Apple rebounded and rose to $800 or more per share, the firm "might be able to attract smart employees," Chowdhry said.
In the meantime, "Many employees from Apple are applying for open positions at HP."
"The world has changed," Chowdhry added. "When you talk to any recruiter in Silicon Valley and ask them where are people applying from, it is a known fact that many of the open positions in HP, Google, Facebook and LinkedIn, one of the most [frequent] companies that these guys are receiving [applications from] is Apple. That is a serious, serious problem for Apple."
It could be a problem -- but investors may not have to worry just yet.
Cole Wilcox, the Portfolio Manager, CEO and CIO of Longboard Asset Management, told Benzinga that he does not expect this issue to escalate.
"They're all kind of competing for the same talent, so there are talent wars going on constantly [in Silicon Valley]," said Wilcox. "It wouldn't surprise me if you saw talent leave Apple to go to other places, but not in a way that Apple is gonna have sort of a mass exodus.
"I think culturally, a lot of times what you find is people who are a part of the team and doing something [together]. When the team matures, then maybe it becomes less interesting to them and they maybe want to go back to the startup days or some other entrepreneurial-type thing. But I don't view that as, '[Apple] has somehow lost innovation or lost their way and therefore there's a large talent exodus.' I think that would be an incorrect view of things."
Even so, Chowdhry spoke to as many as 500 individuals at roughly a dozen different conferences and could not find a single existing Google employee who expressed interest in leaving the firm for Apple.
But Apple employees continue to express interest in leaving the Cupertino, California-tech giant for Google.
Louis Bedigian is the Senior Tech Analyst and Features Writer of Benzinga. You can reach him at 248-636-1322 or louis(at)benzingapro(dot)com. Follow him @LouisBedigianBZ
Posted-In: Apple Cole Wilcox FacebookAnalyst Color News Success Stories Analyst Ratings Tech Best of Benzinga
View Comments and Join the Discussion!