Could Movie Tickets Rise to $150?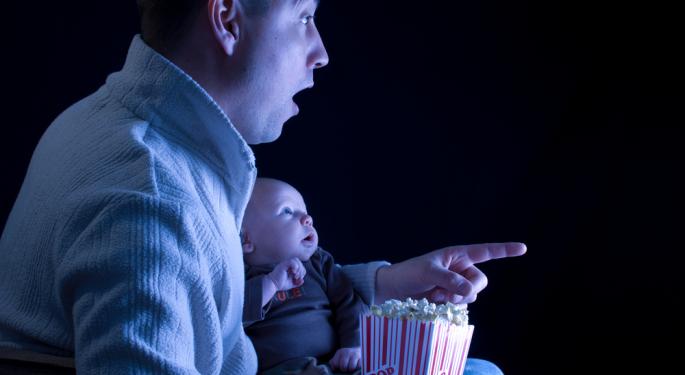 Famed movie directors George Lucas and Steven Spielberg painted a bleak picture of the film industry this week when they announced that movie studios will implode and ticket prices will rise to $150.
"What you're going to end up with is fewer theaters," said Lucas, as quoted by The Verge. "Bigger theaters, with a lot of nice things. Going to the movies is going to cost you 50 bucks, maybe 100. Maybe 150."
Is Lucas crazy? Or is the Star Wars visionary onto something big?
Rich Tullo, Director of Research at Albert Fried & Company, told Benzinga that movie tickets could double in price. But before they can skyrocket, a few changes will have to be made.
"The wraparound of the content has to change," Tullo told Benzinga. "There will be some events…if it's never gonna be on DVD or streaming and the window is a year, and it's only available geographically in a few locations and it's only on IMAX (NASDAQ: IMAX). Yeah, you could get $25 for a movie. If I'm gonna see Iron Man 3, it's only available in theaters and it's never gonna be on TV, it's never gonna be on streaming… I'll spend $25 for Star Wars. I'll spend it."
When asked if studios would have the guts to only sell a movie through theaters -- a massive risk by any measure -- Tullo said that it could be possible for content-specific films. He used Life of Pi (which had a very specific audience) as an example.
"Something along those lines where the audience to begin with will be limited," he said. "The audience will have a high income."
While Lucas and Spielberg did not give a timetable for when the studio implosion and ticket price increase will occur, Tullo thinks it will begin this summer.
"They're not talking 20 years from now," he said. "They're talking this summer's movie schedule. It's very crowded. Viacom (NASDAQ: VIA) moved Iron Man 3 to May…because the summer movie schedule was really crowded. We're seeing a lot of films pushed back and brought forward. There's a plethora of blockbusters coming in the July/August timeframe."
Between Despicable Me 2, The Smurfs 2, Grown Ups 2, Red 2, Kick-Ass 2 and The Wolverine, those months are quite crowded. But only Kick-Ass 2 is scheduled for August -- the rest are currently slated for July.
Unfortunately, the industry may not be big enough to sustain one blockbuster per week.
"Clearly there are folks saying no," said Tullo, who pointed to Star Trek Into Darkness as one of the latest box office disappointments. "Otherwise Iron Man 3 would have been released in July [up against other films]."
Hollywood's business model -- which is to spend as much money as possible making big-budget films -- is not very profitable. But it's not losing enormous amounts of money either, Tullo noted. Studios have yet to produce 10 John Carters -- but they aren't producing 10 Avengers either.
"What you are seeing is a gentle slope downward of what you would expect U.S. box office to be on the first weekend," said Tullo. "That's a negative. This is something I've been thinking about.
"Great Gatsby cost [$105] to produce. Generating [$280 million] at the box office is not a profitable gain for them. Movie theaters take about 40 percent of that. You're talking about a lot of movies coming out right now are breaking even. They're talking about, what happens to Hollywood if the movies, because the schedule is becoming more crowded, lose money."
Louis Bedigian is the Senior Tech Analyst and Features Writer of Benzinga. You can reach him at 248-636-1322 or louis(at)benzingapro(dot)com. Follow him @LouisBedigianBZ
Posted-In: Albert Fried & Company George Lucas Rich TulloAnalyst Color News Rumors Analyst Ratings Tech Best of Benzinga
View Comments and Join the Discussion!