Nikkei Plunges Five Percent Thursday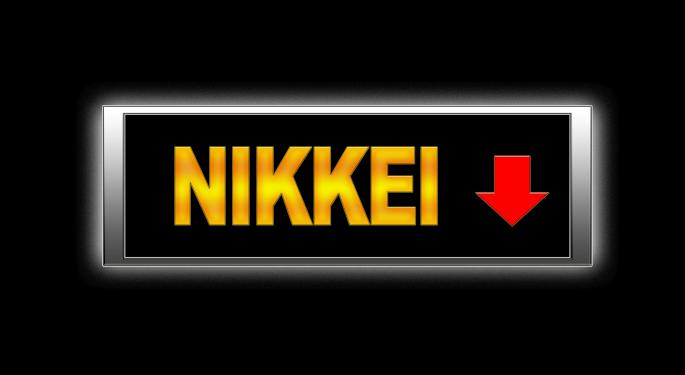 It happened again.
On Thursday, the Nikkei plunged 737.43 points to close at 13,589—five percent lower and well below the psychological 14,000 mark that investors were eyeing. In total, Thursday's move represents an 11.94 percent loss since the index's top of 15,432 on May 22.
To add some perspective. If the Dow fell 11.94 percent from current levels, that would be a loss of more than 1,820 points bringing the index down to 13,482. It's a massive move in a market that has been in bull mode all of 2013.
What caused the selling? It's the reason that may put the most fear into the minds of the longs. There was essentially no reason at all but speculation abounds. In an overnight CNBC article, jitters over key U.S. data coming out today as well as a strengthening yen were cited but in an early CNBC report, a Japanese reporter said that the only reason found for the sell off was technicals.
The U.S. data being referred to are weekly jobless claims and a preliminary estimate of first quarter GDP—hardly data points that would cause a massive market to sell off five percent.
The yen seems more plausible. The yen is sitting at 100.92 against the dollar after reaching a low of 100.54 earlier.
Of the U.S. data that might be important to Japanese traders, the U.S. 10 year treasury yield has risen of late and that has made U.S. markets nervous as investors react to what could be a change to U.S. QE.
Strategists are pointing to profit taking. Since Japanese Prime Minister Shinzo Abe announced a QE program that makes the U.S. program look insignificant, the Nikkei trade has represented easy money for global investors but as the market continued moving to the upside and profits on those trades soared, it didn't take much for investors to take profits and run.
"We think the Nikkei will end the year higher, but there're just lots and lots of profit taking right now," said Kelly Teoh, markets strategists at IG Markets.
The question that world markets are asking is, will the Nikkei act as contagion for other markets Thursday? So far, European markets are mixed with the FTSE close to unchanged, the German DAX up 0.21 percent and the S&P 500 and Dow also sitting around the unchanged level suggesting that Japanese investors may have been reacting to Wednesday's bad day in the U.S. markets more than U.S. markets will react to the Nikkei.
Posted-In: Analyst Color CNBC News Bonds Futures Forex Events Global Best of Benzinga
View Comments and Join the Discussion!