Ford and Fellow U.S. Automakers Winning Market Share Battle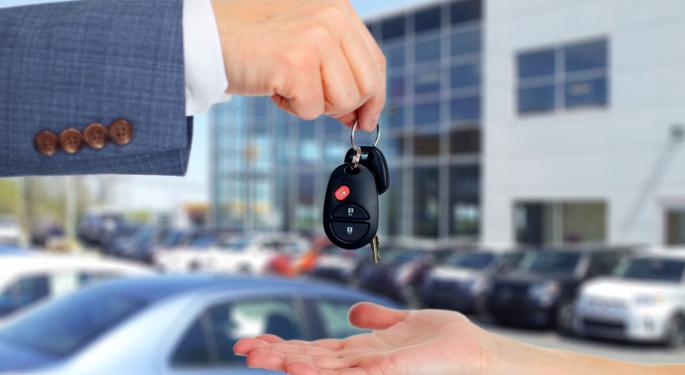 Demand for cars and trucks is up. U.S. automakers have noticed and are responding. Bloomberg noted Wednesday that number two U.S. automaker, Ford Motor Co. (NYSE: F), will add the capacity to build 200,000 more vehicles a year in North America. All this based on increased demand for Ford's F-Series pickups and Fusion sedans.
In addition, most Ford North American assembly plants will be idle for one week this summer instead of two. That, alone, will increase production by about 40,000 cars and trucks.
Ford Motor Co.'s F-Series pickups are no stranger to strong sales, having led sales of U.S. full-size trucks the past 36 years. F-Series trucks, in fact, have been the country's best-selling vehicle of any type for more than 30 years according to Bloomberg.
On the sedan front, Ford's Fusion is seen as the company's best chance to overtake Toyota Motor Corp. (NYSE: TM)'s reign in that segment. The Ford Taurus was the last U.S. model to best the Japanese automaker in sedan sales.
Jim Tetreault, vice president of North America manufacturing for Ford, told Bloomberg, "The sales and marketing guys are obviously very confident, because they've asked for additional capacity, and we're providing it."
All told, this latest expansion means Ford will have added 600,000 units of capacity over two years, bringing its total capacity to approximately 3.4 million. In 2009, CEO Alan Mulally cut output to 1.86 million, a 27-year low for the company. Since then Ford has turned things around the old-fashioned way – by building what the customer wants.
Ford isn't the only U.S. automaker to respond to growing demand by ramping up production. The Wall Street Journal reported that, in addition to Ford, General Motors Co. (NYSE: GM) and Chrysler Group LLC are keeping their factories going full speed in the face of increased sales.
Annualized U.S. automotive sales hit 14.9 million in April and auto company officials expect sales for all of 2013 to reach 15 million vehicles, a half million above last year's numbers.
Best of all, Detroit had 45.9 percent of U.S. market share through April, ahead of the 44.9 percent share held by Japanese and South Korean automakers. This reverses positions from a year ago when U.S. automakers had 44.4 percent versus Asian automakers with 46.3 percent.
Morgan Stanley (NYSE: MS) analyst, Adam Jonas put it succinctly. "The Japanese can feel the hot breath on the back of their necks from the Detroit Three and they don't like it," Jonas told The Wall Street Journal.
At noon, Thursday, Ford shares were trading at $14.86, down $0.10 on the day. General Motors was selling for $32.88, down $0.36, and Toyota shares were selling for $123.04, down $4.74, or almost 4 percent on the day.
At the time of this writing, Jim Probasco had no position in any mentioned securities.
Posted-In: Analyst Color News Wall Street Journal Retail Sales Topics Events Media General Best of Benzinga
View Comments and Join the Discussion!