Weekly Preview: Focus Shifts from Earnings to Economy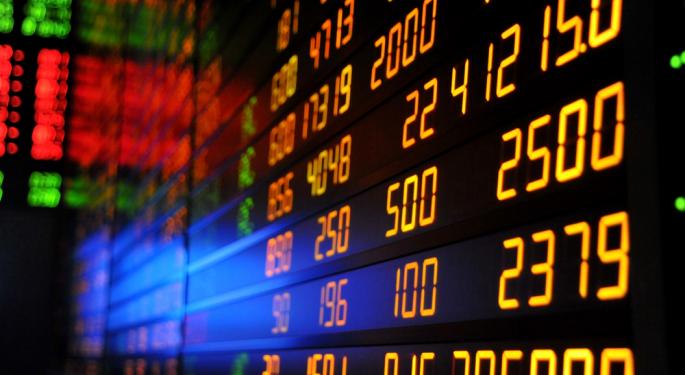 In the upcoming week, the focus of markets will gradually shift from earnings to the economy, especially later in the week, as key reports including the ECB rate decision and the U.S. Non-Farm Payrolls report are expected to be released.
Key Earnings
In the coming week, key earnings from Facebook (NASDAQ: FB), Time Warner (NYSE: TWX), MasterCard (NYSE: MA), Visa (NYSE: V), and Newmont Mining (NYSE: NEM) will be in focus.
</p>
Facebook
Facebook is expected to report first quarter EPS of $0.126 vs. $0.09 a year ago on Wednesday, May 1. Revenue is expected to come in at $1.44 billion for the quarter compared to $1.058 billion in the same period a year ago.
Analysts at Wedbush weighed in on the stock ahead of the release. "We expect Q1 results at or above consensus. Our current estimates are for revenue of $1.43 billion and EPS of $0.10, compared to consensus of $1.44 billion and $0.12, respectively. The company did not provide guidance."
"We expect top- line growth to be driven by mobile ad revenue (up 100% q-o-q to over $300 million in Q4:12) and a slew of targeted ad initiatives, including Custom Audiences and Facebook Exchange ("FBX"). After launching last September, FBX served nearly 1 billion impressions from over 1,300 advertisers per day by December. EPS growth will likely be driven by operating expense below the levels implied by management."
"We do not expect management to provide additional FY:13 guidance. On its Q4:12 results call, management cautioned investors to expect opex to increase by ≈ 50% in FY:13. We have modeled slightly below this level, as we believe the company has more control over expenses than revenues. By providing such high- level guidance, management provides itself with the flexibility to still deliver a positive earnings result through opex control even if revenue lags expectations."
"Maintaining our OUTPERFORM rating and our price target of $35. Our price target reflects a value of $60 per MAU at Facebook's peak MAU level with a conservative monetization assumption of $1 per MAU per month for five years."
Time Warner
Time Warner is expected to report first quarter EPS of $0.744 vs. $0.682 a year ago on Wednesday as well. Revenue is expected to come in at $7.126 billion compared to $6.979 billion in the same period a year ago.
The analysts at Wedbush also weighed in on this stock ahead of the earnings. "For 1Q, we maintain our $0.75 (Street: $0.74) estimate, as we believe a solid ad market performance at least offset mild box office disappointments. Although we trim our 1Q film estimates, we expect any resulting EBIT shortfall to be offset by Networks, where we believe ad trends have been fairly good."
"We expect TWX to reaffirm 2013 guidance of low-double-digit EPS growth. For 2013, we remain comfortable with our assumption that Turner can gain share in a U.S. cable ad market tracking to be up ~4%, and maintain our subscription revenue growth estimate of 6%."
"Raising 12-month price target to $63 from $60 on updated sum-of-the parts valuation; risks. Our revised SoTP analysis, reflecting a reduced conglomerate discount on account of TWX's plan – announced in March - to split off publishing by year-end, supports our PT."
Mastercard
Mastercard is expected to report first quarter EPS of $6.17 on Wednesday vs. $5.36 a year ago. Revenue is expected to come in at $1.933 billion compared to $1.758 billion in the same period a year ago.
Analysts at Sterne Agee weighed in ahead of the earnings. "With intra-quarter data points trending largely as anticipated, we are expecting in- line results for 1Q13. Our EPS estimate of $6.12 is $0.06 below consensus. Foreign currency could have a slightly higher impact than we are modeling, but overall, we are not expecting any major surprises with the results."
"We will be watching MA's debit volume closely as it appears that Visa is starting to win back some of its lost share. We will also be interested to hear MA's views on the Visa/Chase partnership."
"We recently downgraded MA shares to Neutral from Buy based on: 1) the valuation, which we now view as fair (21x 2013E EPS) and in line with where we expected the stock price to reach, and 2) a general lack of positive catalysts in the business."
"On the margin, we believe that some relative momentum has shifted to Visa and MasterCard faces tougher comps over the next few quarters as it grows over prior debit wins. In addition, we do not see any substantial upside to consensus EPS expectations."
Visa
Visa is expected to report EPS of $1.81 for the first quarter on Wednesday vs. $1.49 a year ago. Revenue is expected to be $2.852 billion compared to $2.547 billion in the same period a year ago.
The analysts at Sterne Agee also weighed in on Visa ahead of its earnings as well. "Visa is scheduled to report F2Q13 (March) results on May 1 after the close with a call at 5:00 pm EST. With card volume data points largely as anticipated during the quarter, we are expecting generally in-line results and believe that Visa will reiterate its FY13 guidance."
"We forecast F2Q13 EPS of $1.81, in line with consensus, and revenue of $2.846bn, just below consensus of $2.852bn. We forecast some margin compression from stepped-up advertising and marketing spend."
"March quarter card data trends appear in line, showing a little catch-up in March after a weaker than expected February, but strong January. Major card issuers reported average volume growth of 8% y/y in the quarter, down from +11% in the December quarter. We had anticipated some slowing at the start of the year due to the increased payroll taxes this year and the delay in Federal tax refunds."
"We recently downgraded Visa to Neutral from Buy as shares approached our prior $175 price target. We now view the shares as fairly valued and expect the shares to perform in line with the S&P 500 over the coming months. Our positive fundamental view on Visa remains unchanged as we still view the stock as the single best long-term way to play the secular growth in electronic payments."
Newmont Mining
Newmont Mining is expected to report first quarter EPS of $0.77 vs. $1.14 a year ago on Monday. Revenue is expected to fall to $2.29 billion from $2.683 billion in the same period a year ago.
Analysts at Deutsche Bank commented on the stock ahead of the earnings. "We expect Newmont to report 1Q13 adjusted diluted EPS of $0.75 (-32% QoQ, -35% YoY) on lower volumes (both gold and copper), lower gold prices and higher cash costs. DBe EPS is 4c below FactSet consensus of $0.78 (-10c in past 2 weeks). However, we estimate a potential miss to DBe EPS of 8-10c based on production and sales figures released by Newmont on April 17th, with gold sales volume of 1.1m oz which were ~7% lower than DBe."
"Newmont recently announced next quarterly dividend of $0.35/share (-18% QoQ) payable on June 27th. If gold prices average $1400-1499/oz in 2Q13, dividend for 3Q13 would decline further to $0.25/share (-29% QoQ), implying annualized yield of <3%. Key will be management updates on cost cutting initiatives, projects and measures to strengthen B/S in current gold price environment."
"Focus will likely be on: 1) construction milestones at Akyem (late 2013 start- up), 2) already announced divestment of final 7% stake in Batu Hijau (agreement until April 2013), 3) developments towards finalizing mineral agreement for Merian project with the government of Suriname, and 4) update on Conga project in Peru."
Deutsche Bank currently has a sell rating and $24 price target on the stock, representing nearly 31 percent downside from Thursday's close.
Key Economics Releases
Next week, the economics calendar heats up once again with many integral reports set to be released. On Monday, pending home sales data and the Dallas Fed Manufacturing Index are followed by German unemployment data, the Case-Shiller Home Price Index, and the Chicago PMI on Tuesday. Wednesday brings MBA Mortgage Applications, the ADP Employment Report, and the final Markit U.S. PMI as well as the ISM Manufacturing Index as well as the FOMC rate decision and vehicle sales.
On Thursday, eyes will turn to foreign data as the ECB rate decision is due out as well as manufacturing PMI's from major European economies. Also, the Bank of Japan is to report on its monetary base and foreign buying of assets. Later, initial jobless claims in the U.S. and the ISm New York are due out.
Friday brings more key data, led off with Italy's budget report overnight. The U.K. services PMI is also expected to be released followed by the latest round of updates to the European Commission's growth forecasts.
Once U.S. markets wake up, eyes will quickly turn to the monthly employment report. Economists surveyed by Bloomberg are looking for the economy to add 145 thousand jobs compared to March's 88 thousand disappointment. The range of estimates is from 98 thousand to 200 thousand with the standard deviation of estimates being 22 thousand jobs and the most estimated number being 150 thousand, with nine economists forecasting 150 thousand jobs added.
Private payrolls are expected expand 165 thousand jobs compared to March's 95 thousand with the standard deviation of estimates coming in at 23 thousand. Estimates range from 124 thousand to 220 thousand for private payrolls. The mode of the estimates is 176 thousand. Also, the unemployment rate is expected to remain flat at 7.6 percent.
Later, factory orders data is expected to be released followed by the ISM Non-Manufacturing Index.
Daily Schedule
Monday
Earnings Expected From: Roper Industries (NYSE: ROP), Masco (NYSE: MAS), Newmont Mining (NYSE: NEM), Express Scripts (NASDAQ: ESRX), General Growth Properties (NYSE: GGP), Buffalo Wild Wings (NASDAQ: BWLD), Riverbed Technology (NASDAQ: RVBD), and Loews Corp. (NYSE: L).

Economic Releases Expected: Italian business confidence, eurozone consumer confidence, German inflation, U.S. personal income and spending, pending home sales, and the Dallas Fed Manufacturing Index.
Tuesday
Earnings Expected From: Avon Products (NYSE: AVP), Tenet Healthcare (NYSE: THC), Pfizer (NYSE: PFE), Valero (NYSE: VLO), Aetna (NYSE: AET), Sirius XM Radio (NASDAQ: SIRI), TRW Holdings (NYSE: TRW), McGraw-Hill (NYSE: MHP), Vertex Pharmaceuticals (NASDAQ: VRTX), US Steel (NYSE: X), 3D Systems (NASDAQ: DDD), and Marathon Petroleum (NYSE: MPC).

Economic Releases Expected: German unemployment rate, Italian unemployment rate, eurozone unemployment rate, Canadian GDP, S&P Case-Shiller Home Price Index, Canadian industrial production, Chicago PMI, and consumer confidence.
Wednesday
Earnings Expected From: Clorox (NYSE: CLX), CVS Caremark (NYSE: CVS), Merck (NYSE: MRK), Time Warner (NYSE: TWX), Chesapeake Energy (NYSE: CHK), Humana (NYSE: HUM), Knight Capital (NYSE: KCG), Phillips 66 (NYSE: PSX), Metlife (NYSE: MET), Facebook (NASDAQ: FB), Visa (NYSE: V), Yelp (NASDAQ: YELP), and IntercontinentalExchange (NYSE: ICE).

Economic Releases Expected: U.K. home prices, U.K. Manufacturing PMI, MBA Mortgage Applications, ADP Employment Change, Markit U.S. Final PMI, Construction Spending, ISM Manufacturing PMI, U.S. Total Vehicle Sales, and Japanese reports on foreign capital flows.
Thursday
Earnings Expected From: International Paper (NYSE: IP), Cardinal Health (NYSE: CAH), Beazer Homes (NYSE: BZH), Monster Worldwide (NYSE: MWW), Nu Skin Enterprises (NYSE: NUS), HCA Holdings (NYSE: HCA), Fortress Investment Group (NYSE: FIG), Kellogg (NYSE: K), Kraft Foods (NASDAQ: KRFT), Gilead Sciences (NASDAQ: GILD), AIG (NYSE: AIG), Arena Pharmaceuticals (NASDAQ: ARNA), LinkedIn (NYSE: LNKD), and General Motors (NYSE: GM).

Economic Releases Expected: Eurozone Manufacturing PMI (along with Italy, France, and Germany individually), Italian PPI, U.K. Construction PMI, U.S. Challenger Job Cuts, ECB Interest Rate Decision, U.S. Trade Balance, Initial Jobless Claims, ISM New Car Registrations, and the Italian budget statement.
Friday
Earnings Expected From: Newell Rubbermaid (NYSE: NWL), Moody's (NYSE: MCO), Berkshire Hathaway (NYSE: BRK-A) (NYSE: BRK-B), and First Solar (NASDAQ: FSLR).

Economic Releases Expected: U.K. Services PMI, Eurozone PPI, European Commission Economic Growth Forecasts, Non-Farm Payrolls, Private Payrolls, Manufacturing Payrolls, U.S. unemployment rate, Factory Orders, and the ISM Non-Manufacturing PMI.
View Comments and Join the Discussion!
Posted-In: Analyst Color Earnings News Guidance Dividends Price Target Previews Reiteration Best of Benzinga