Netflix Should Stop 'Giving Entitlement to Movie Producers' and Buy AMC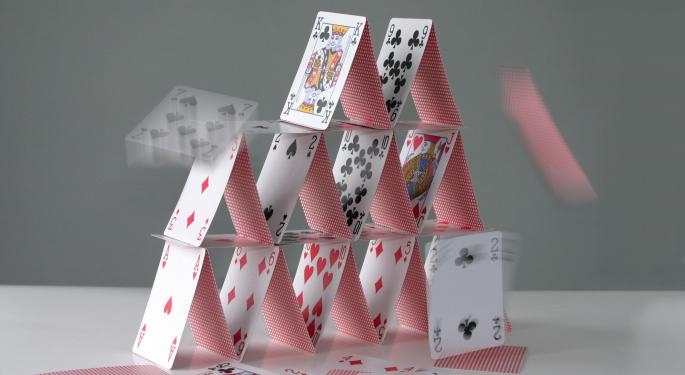 When Netflix (NASDAQ: NFLX) decided to buy House of Cards, the new hit drama starring Kevin Spacey, it did not scoff at the hefty price tag.
According to CNNMoney and numerous other publications, the streaming video giant agreed to pay $100 million for the first two seasons.
While this might sound like a decent investment (and seems to have paid off), $100 million is an awful lot of money to spend on a show.
"When you're Netflix and you just give carte blanche to these producers, they don't give a s***," Rich Tullo, Director of Research at Albert Fried and Company, told Benzinga. "You're giving entitlement to a movie producer to do whatever they want. Sometimes it works out great because it's creativity. Other times it works out horribly because you're paying $50 million for someone that's collecting product placement on the other end."
Indeed, House of Cards received a bit of negative press for interjecting a number of products into the show, including a blatant advertisement for Sony's (NYSE: SNE) PS Vita.
"When you get something like a George Lucas license, I have a lot of trust in him that he will do his best," said Tullo. "His best may not be good. But I have a lot of trust in him. When you give a license to someone like Kevin Spacey, I don't know what I get. He's not a producer. He's just kind of in league with a producer."
Tullo does not know the full details of the Netflix/House of Cards deal, but he said that the process of building a show is no picnic. He thinks that Netflix is giving producers too much power.
"Dealing with producers is not fun," said Tullo. "They're very smart, most of them are attorneys, and they kind of live from hand-to-mouth to get funding for their [project]. It's kind of like the IPO market. Once they get the funding, the few that work after the IPO are few and far between."
On the other hand, Tullo praised AMC (NASDAQ: AMCX), which he believes Netflix should acquire.
"AMC has 96 million cable subscribers," said Tullo. "That provides the cash flow in order to develop original content programming. Then when they do develop new, original content programming, you get a show like The Walking Dead, which demands $350,000 to $600,000 in advertising for a 30-second spot.
"I think that kind of model for original content works better [than Netflix's model] because you get the 10 million viewers monetized every week. We think there's a synergy there between a company like Netflix and AMC."
Tullo said that he feels Netflix overpaid "somewhere between 20 to 40 percent" for House of Cards.
"I don't think the show should have cost $50 million a year to produce," he added. "To put this into perspective, Downton Abbey is $40 million to produce. That's an expensive show to produce because it's a period piece on location. That's gonna drive the cost up quite a bit."
That said, Tullo is a fan of some of Netflix's original projects -- including Turbo F.A.S.T., the exclusive DreamWorks (NYSE: DWA) series coming in December. However, that animated series is based on a film due this summer. If that film flops, it could have a detrimental impact on the series before it arrives.
"If it works, it succeeds -- if it doesn't, it's not a big hit to the shareholder," said Tullo.
With few options in Netflix's arsenal, Tullo said that he keeps "pounding the table that they should buy AMC."
"AMC's stock keeps going up -- now it will cost them 25 percent more to execute on a strategy that we think will work for them," he said. What Netflix does in buying new content is creating losses. What AMC does in buying original content is making gains."
Louis Bedigian is the Senior Tech Analyst and Features Writer of Benzinga. You can reach him at 248-636-1322 or louis@benzingapro.com. Follow him @LouisBedigianBZ
Posted-In: albert fried AMC dreamworksAnalyst Color News M&A Analyst Ratings Tech Best of Benzinga
View Comments and Join the Discussion!