Investors Might be Overreacting to Today's Zynga News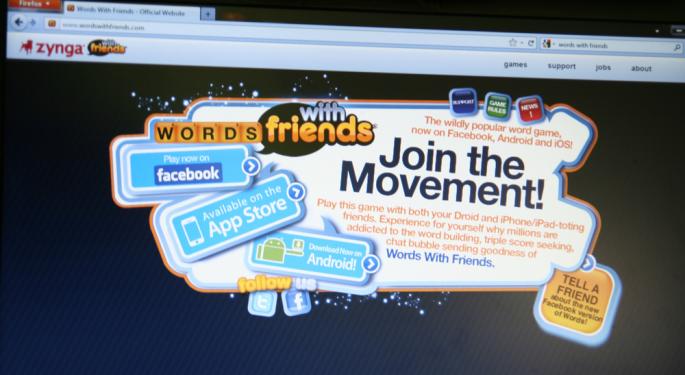 Nobody likes a naysayer, but when there's real money involved, don't follow the herd or the hype. On Wednesday, shares of Zynga (NASDAQ: ZNGA) are up more than 14 percent after the company launched two real-money casino games in the U.K.
That cute little farm animal company is entering "sin stock" territory and by the looks of it, investors couldn't be happier.
But investors might be overreacting. In a research note today, Jefferies lays out some reasons why.
The U.K. Isn't Exactly a Cash Cow
Jefferies estimated that only six to nine percent of the company's revenue comes from the U.K. That's somewhere between $77 and $115 million in 2012. That number could rise with the addition of real money gambling but for now, it's not doing much to fuel the company's growth.
You Can Only Play the Games on the Zynga Website
Zynga is all about Facebook (NASDAQ: FB). It's true that it's putting a lot of work into ramping up the website but revenue coming from Zynga.com accounts for less than one percent of revenue. Facebook accounts for 81 percent and its mobile games, 18 percent. The company faces the challenge of driving traffic to its website to play the new games.
What about Cannibalization?
Zynga Poker is currently the second most popular of its online games with global revenue of $243 million or $15 to 22 million annually in the U.K. It's too soon to know if the real money games will cannibalize Zynga Poker but investors should watch closely.
Zynga Doesn't keep all of the Profits
The sharing agreement between Zynga and its U.K. partner, Bwin.party is unclear but sharing revenue on what will be a low revenue venture, at least in the short term, probably won't leave enough to get investors excited.
Can't Do it in America
A few states allow online gambling, but Jefferies believed that Zynga will wait until it's legalized at a national level. Until then, it's too much of a headache for what would be too little revenue.
According to CNN, the gaming industry is lobbying hard for legalization. The CEO of Caesars Entertainment (NASDAQ: CZR) Wallace Barr said, "I can say with tremendous confidence that people will be able to play online legally in the United States in many places very soon."
He might be right and if he is, this could be a major revenue driver for Zynga since it will have already figured out the formula in the U.K. Others would likely take time to catch up.
Maybe that's what has the stock up today but if you believe Jefferies, a new revenue stream is bullish but don't "bet" on big profits just yet.
Posted-In: Analyst Color News Legal Events Global Hot Analyst Ratings Tech Best of Benzinga
View Comments and Join the Discussion!