Medicare News Sends Health Care Stocks Higher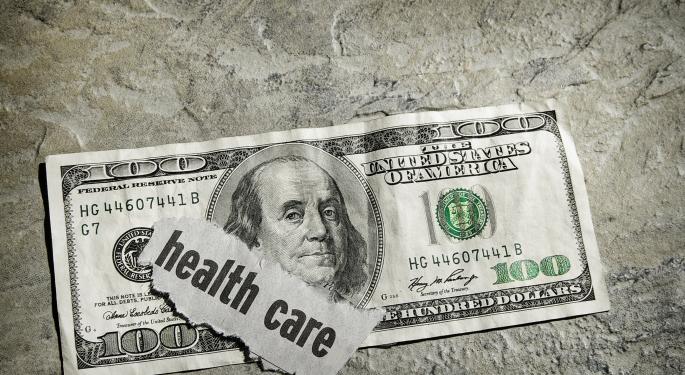 Shares of major health insurers, including Humana (NYSE: HUM), Universal American Corp. (NYSE: UAM), UnitedHealth Group (NYSE: UNH) and Aetna (NYSE: AET) rose sharply in after-hours trading Monday, following news of a reimbursement rate reversal by the Centers for Medicare & Medicaid Services.
Shares of Humana rose eight percent, UnitedHealth Group was up four percent, Universal American Corp. shares jumped more than seven percent, and Aetna Inc. rose 2.6 percent.
The impetus for this after hours rally, according to Reuters, was an announcement by CMS that it will increase Medicare Advantage reimbursement rates 3.3 percent in 2014. In February, the CMS had said it would decrease rates by 2.3 percent.
The proposed decrease was due to efforts by the Obama administration to reduce how much money it pays private insurers.
Monday's reversal follows weeks of intense lobbying of the government from both the health insurance industry and members of Congress.
Some insurers even hinted they would discontinue their Medicare Advantage plans for 2014 if the government continued to insist on the reimbursement decrease.
In March, a bipartisan group of senators expressed concerns about insurers dropping out of the Medicare Advantage market and "The Coalition for Medicare Choice" launched a media attack against the cuts through television and social media.
In announcing its change of heart, CMS said the decision came "after careful consideration of public comments."
BMO Capital Markets analyst Jennifer Lynch, in a note to clients said, "We believe this final rate notice provides insurers with enough flexibility to produce adequate margins for participation."
According to The Associated Press, Sheryl Skolnick, an analyst for CRT Capital Group said, "That's a huge positive for the industry," referring to the new reimbursement rates.
Insurers who offer Medicare Advantage plans receive about $10,000 per member to provide customers with basic Medicare coverage plus vision or dental coverage, or reduced premiums.
There are literally hundreds of different Medicare Advantage plans around the country, and TV airwaves are flooded with advertising each fall during the annual open enrollment period.
Despite the reimbursement rate reversal, many Medicare Advantage plans will still see a reduction next year due to several other variables such as a premium tax that is part of the health care overhaul. Even without the tax, analysts expect lower insurer profits due to the growing cost of medical care.
However, President of Avalere Health Dan Mendelson believes CMS has effectively stabilized the Medicare Advantage program. "Most beneficiaries will not see dramatic changes going forward into next year," Mendelson said.
Posted-In: AetnaNews Legal Management Events After-Hours Center Analyst Ratings General Best of Benzinga
View Comments and Join the Discussion!