Peregrine Pharmaceuticals Soars 80% on Study Review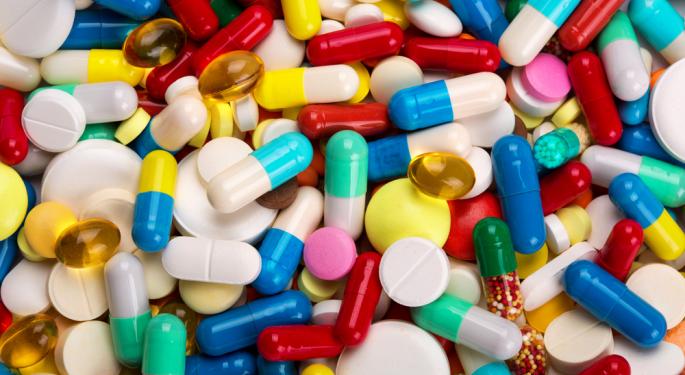 Small-cap biotech firm Peregrine Pharmaceuticals (NASDAQ: PPHM) was the leading gainer on the Nasdaq on Monday after the company updated investors on data problems with its Phase II clinical trial of its lead cancer drug bavituximab.
The stock closed the day up 80 percent to $2.43.Shares gapped higher at the open, but most of the gains came on an intra-day basis as PPHM traded in a range between $1.70 and $2.55. Volume was extremely heavy with around 62.6 million Peregrine shares trading hands on the day compared to a 3-month daily average of under 4 million.
On September 24, 2012 Peregrine revealed discrepancies within a study of bavituximab, an experimental lung cancer treatment. Prior to the news, the stock had risen from $0.50 in mid-June to a high of $5.37 on September 21 as overall survival data from the company's randomized Phase II trial of bavituximab to treat second-line non-small cell lung cancer appeared very promising. Subsequently, when the company revealed the discrepancies it had uncovered in the trial on September 24th, Peregrine shares plummeted back under $1.00.
The company said that "during the course of preparing for an end-of-phase II meeting with regulatory authorities and following recent data announcements from its randomized, double-blind placebo-controlled Phase II trial of bavituximab in second-line non-small cell lung cancer, it discovered major discrepancies between some patient sample test results and patient treatment code assignments... A subsequent review of information has determined that the source of these discrepancies appear to have been associated with the independent third-party contracted to code and distribute investigational drug product."
Peregrine also said that "investors should not rely on clinical data that the company disclosed on or before September 7, 2012 from its Phase II bavituximab trial in patients with second-line non-small cell lung cancer or any presentations or other documents related to this Phase II trial." At the time, investors were fearful that the trial, which Peregrine initially said showed "a doubling of overall survival," would be completely invalidated. According to Peregrine's update on Monday, however, this is apparently not the case.
The company said that the data problems are limited to the 1 milligram dose of bavituximab. After conducting a review of testing procedures at various trial sites, Peregrine said that there is no evidence that the problems affected the results of the 3 milligram treatment. That study showed that patients lived an average of 13 months after beginning treatment, or twice as long as patients who received only chemotherapy in a clinical trial.
In the wake of the update from Peregrine, which vindicates the results of the 3 milligram arm of the drug trial, Roth Capital Partners analyst Joseph Pantginis upgraded the stock to "Buy" from "Neutral." In a client note, Pantginis said, "We believe this is a major step forward for Peregrine in getting bavi back on track, though the company is still faced with a bit of an uphill battle." Due to the data problems, Pantginis added that the study results will "still be viewed as 'tainted,' representing a key risk, though we believe the 3 milligram arm data remains impressive."
Over the last six months, Peregrine Pharmaceuticals has been unbelievably volatile. Investors and traders involved in this name have been given numerous opportunities to either make or lose vast sums of money. In fact, many have probably done both at different times. After Monday's big rally, Peregrine is trading around $2.00 above its 52-week low and $3.00 below its 52-week high.
At current levels, PPHM is sitting at its best levels since its nearly 80 percent plunge on September 24. In light of Monday's good news, there is certainly the possibility of more upside in the stock but investors should expect continued volatility going forward as the outlook for bavituximab remains murky.
Posted-In: Analyst Color News Upgrades Small Cap Analysis Small Cap Management Events Hot Best of Benzinga
View Comments and Join the Discussion!