EM Bond ETF Sees Amazing Inflows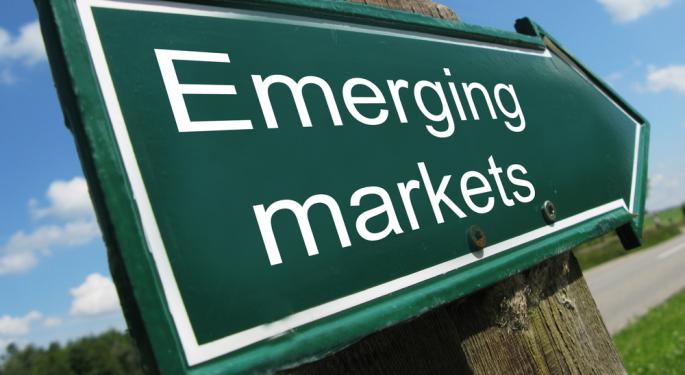 Add the iShares Emerging Markets Local Currency Bond Fund (NYSE: LEMB) to the list of emerging markets bond ETFs that are home to robust inflows this year. LEMB, which is just 13 months old, had about $207 million in assets under management as of October 29.
That number now rests at $363.2 million after what has been a spectacular week of inflows. In just over a week, LEMB has raked in $150 million in fresh investments, according to a research note published today by Street One Financial.
LEMB, which has returned three percent since its debut and nearly five percent in 2012, is not going to win any volume contests. With average daily turnover of just over 28,300 shares, LEMB fits the bill as a new ETF that some money managers would avoid based solely on the lack of volume. However, the inflows and LEMB's decent yield indicate otherwise.
"Yielding 3.74% (30 day SEC Yield) at the moment, this fact is also likely a draw to institutional managers whom are looking for 'risk on; type exposure in sovereign bonds via an ETF," said Paul Weisbruch, Street One Financial vice president of ETF and options sales and trading, in the note.
LEMB is home to 65 holdings with an effective duration of 4.17 years and a weighted average maturity of 6.19 years. On the Moody's Investors Service ratings scale, 18.4 percent of LEMB's holdings are not rated, but only 11 percent of the fund's rated holdings reside in junk territory. The bulk of LEMB's holdings are rated Aa3 or Baa1 by Moody's.
LEMB's top country weights are South Korea and Brazil. Sovereign bonds issued by those nations account for over a third of the fund's weight. Other countries represented in the ETF include Mexico, Poland, Turkey, Thailand and Malaysia.
Surging inflows to LEMB are indicative of a prominent trend in 2012. Amid anemic interest rates in the U.S., declining credit quality for some European sovereign issuers and improving credit quality in the developing world, investors are increasingly turning to emerging markets bond ETFs for diminished credit risk and higher yields. As highlighted by LEMB, that theme has not been limited to the dollar-denominated ETFs.
In early May, the Market Vectors Emerging Markets Local Currency Bond ETF (NYSE: EMLC) had $743 million in AUM. That number was over $1.1 billion at the start of trading on November 21. The WisdomTree Emerging Markets Local Debt Fund (NYSE: ELD), the first actively managed ETF to eclipse $1 billion in assets, has added nearly 25 percent to its AUM total this year. The WisdomTree Asia Local Debt Fund (NYSE: ALD), another actively managed product, has nearly $439 million in assets and that fund has been trading for less than two years.
For more on emerging markets bond ETFs, click here.
Posted-In: Analyst Color Long Ideas News Bonds Short Ideas New ETFs Emerging Market ETFs Currency ETFs Best of Benzinga
View Comments and Join the Discussion!