Wedbush Downgrades Best Buy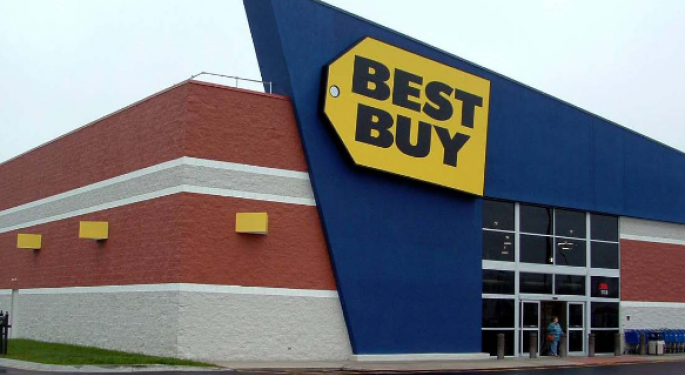 Electronic retail giant Best Buy (NYSE: BBY) was downgraded from Neutral to Underperform by Wedbush Wednesday amidst calls for the company to take a deal being put together by former CEO Richard Schulze.
Schulze bid $9.5 billion to take Best Buy private last week, but that bid was spurned. Schulze has not taken that lying down though, and he has hired a firm to stir up investor support to upset the board.
According to MSN Money, new Best Buy CEO Hubert Joly should take the deal. "Even if Joly brought tremendous skills to the table, it's hard to see his hiring as anything more than too little, too late," wrote Suzanne McGee. "The days when Best Buy's showrooms were a novelty; a place that shoppers visited to survey the hottest new consumer electronics offerings, are long gone."
Joly, who will take over CEO duties in early September replacing interim CEO Mike Mikan, will immediately have some tough choices to make. Wedbush expects a transition period, saying that, "We expect new CEO Hubert Joly to take some time to learn the business and to formulate a turnaround strategy. In the meantime, we expect comps and profits to continue their downward trend."
At the end of June, it became apparent that Schulze was assembling an A-team of executives as he looked to move towards a buyout. Schulze reportedly approached former Chief Executive Officer Brad Anderson about joining him as well.
Those moves came to a halt on Monday though, with Schulze rejecting a proposal that would have allowed the formation of an investment group.
Schulze said that, "I am disappointed and surprised by the Best Buy Board's abrupt termination of our discussions. For the record, we engaged in good-faith negotiations with Best Buy's Board and its advisors over the weekend and expected to conclude this matter before the company's earnings announcement early this week."
So the question is, will Joly have time to settle in and learn the business? Most likely, he is going to have to hit the ground running. Sink or swim, the saying goes.
In downgrading the company, Wedbush said that, "We are downgrading our rating to Underperform from Neutral, and lowering our 12-month price target to $14.50 from $20 to reflect lower visibility, lack of FY:13 guidance, reluctance to entertain acquisition overtures, and our skepticism about the company's new CEO. We believe Best Buy has been unable to stem sustained comps declines and eroding margins, and remains at a significant disadvantage to its lower-priced and lower-cost peers."
That is the negative tide that Joly has to step in and has to put a stop to.
On Wednesday, Best Buy traded at about $17.90, down roughly 1.4 percent.
Posted-In: Analyst Color News Downgrades Contracts Retail Sales Management Markets Analyst Ratings Best of Benzinga
View Comments and Join the Discussion!