South Bend Real Estate Market Getting a Boost from Slow, But Sure Sales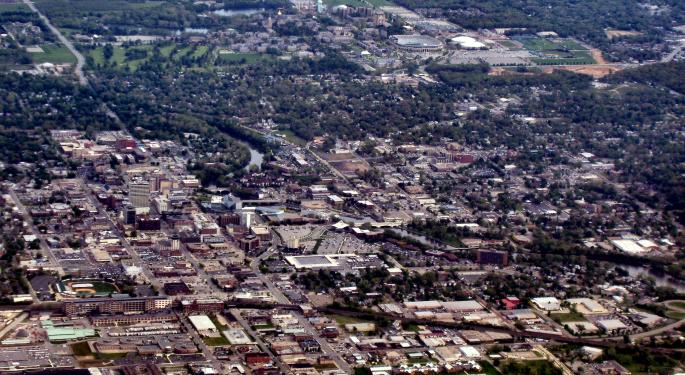 South Bend's real estate market is rising steadily despite mixed results in the first half of the year, according to a report on The South Bend Tribune.
"It's still moving generally upward, but it's not at prerecession levels yet by any means. And at some price points, it's even lagging," the report said.
One agent, Roger Pendl of Cressy & Everett noted the market is "okay" and is doing "better than last year."
Another agent, Myron Larimer, of the Greater South bend-Mishawaka Association of Realtors, believes the market has the ability to recover to its prerecession state due to stronger sales.
"Our economy tends to grow by nature," Larimer told the newspaper. "I think at some point we'll get back to that volume. I anticipate a slower, more traditional growth to the housing market rather than that exponential growth we had between 2000 and 2006."
Larimer estimates that in terms of volume and market, the local real estate industry has "probably 10 percent" more to go.
Sales took a beating from the harsh winter during the first quarter of this year, but new listings and transactions have represented "modest growth" of some two percent in June, the report said.
For instance, St. Joseph County median sales prices were up 8.7 percent to $112,000 during the first half of the year.
Elkhart County prices, meanwhile, were up by 7.3 to $118,000 from just $111,689 (4.7 percent) during the previous year.
Real estate sales may be hard to come by for South Bend agents, but sentiments in general seems positive as the market recovers. But online real estate technologies focused on SEO (search engine optimization) and virtual tours could be the shot in the arm agents need to close a sale.
Fort Lauderdale-based Realbiz Media Group, Inc. (OTCQB: RBIZ) is one company that creates disruptive marketing platforms for real estate agents to improve the visibility of their listings and reach more customers.
Nestbuilder.com, one of the company's premier marketing platforms, is listings site that hosts over 1.6 million videos and virtual tours. The website uses Nestbuilder Agent, a marketing software that allows agents to create professional agent profiles and virtual tours out of listing photos. Agents can cross-post these profiles and virtual tours to their social media pages in real time.
This month the company released a new mobile app called EzFlix, which real estate agents can use to promote their listings. EzFlix is a smartphone app optimized for HTML5 and mobile viewing, which agents can use to create, edit and share their property videos through their tablets or mobile phones. The app appears like a social network and features a timeline that keep all agents' listing photos and videos in one place.
Agents from large real estate companies like Keller Williams, Era Real Estate, Century 21, and Prudential Select Properties use Realbiz Media's marketing platforms to gain and follow new leads and widen their reach.
For more information on the company's products and services, call Realbiz Media's hotline at 1.888.REAL.BIZ (888.732.5249) or email at support@rbm.zendesk.com.
The preceding article is from one of our external contributors. It does not represent the opinion of Benzinga and has not been edited.
View Comments and Join the Discussion!