Things to get Worse for Portfolio Recovery Associates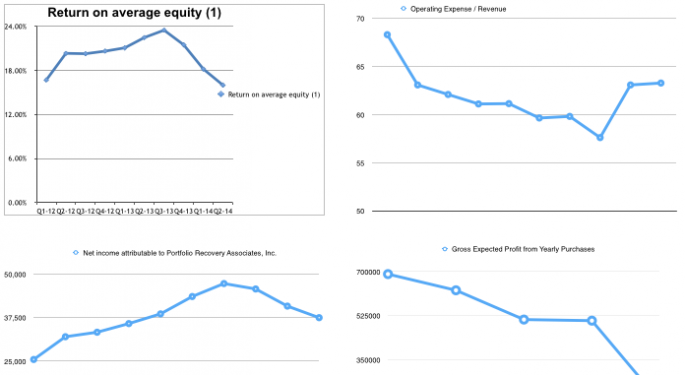 Things to get Worse for Portfolio Recovery Associates
PRAA is facing the pressure of a strong economy. As I explained in a previous article (link here) prior to this quarter's earnings report, PRAA is already primed for disappointing earnings in the quarters and years to come. Data from the last few quarters has pointed out the inevitable: profit margins are decreasing, expenses as a fraction of revenue are increasing, recent finance receivables purchases are becoming more expensive even relative to the last few years, and fewer purchases are being made. All of these factors spell out short term and long term problems for PRAA. To be clear, PRAA is not a bad business, it is simply over-valued. The current and future decline in profitability couples with fundamentals suggesting overvaluation, thus a great opportunity to sell PRAA. As explained in my previous article, income recognized on finance receivables is bound to come down in future quarters and years. On top of that fact, increasing expenses and decreasing profitability have already created a negative slope in PRAA's quarterly earnings. In this phase of the economy, PRAA should be reducing expenses in order to survive lower profitability. Instead, they have steadily increased expenses and later will experience losses on the more expensive and smaller debt pools they have been purchasing.
PRAA's portfolio is over-valued. The recent acquisition of the Aktiv portfolio at face value mitigates the extremity of the over-valuation.
See graphs below of trends over the last 10 quarters; however, do not view the last 10 quarters in a vacuum. The trend is a hill on a longer-spanning downward trend noted in the previous article. All financial data was retrieved directly from PRAA's public filings available here.
The preceding article is from one of our external contributors. It does not represent the opinion of Benzinga and has not been edited.
View Comments and Join the Discussion!