Did Social Media Chatter Signal the Rally in The Men's Wearhouse, Inc.?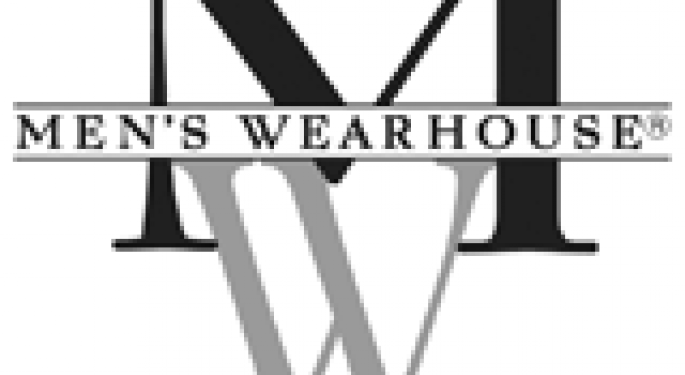 This week, Social Market Analytics (SMA) looks at The Men's Wearhouse, Inc. (NYSE: MW), a specialty apparel retailer operating in the United States and Canada. The company provides suits, sport coats, slacks, sportswear, outerwear, dress shirts, shoes, and accessories for men. The week of September 3 saw shares in The Men's Wearhouse soar 19% after the company reported quarterly earnings results and projected guidance that topped Wall Street expectations. The company's fiscal second-quarter earnings rose 4.1% as same-store sales grew and margins strengthened. Per-share profit beat the apparel retailer's expectations as the company increased its forward looking fiscal guidance. The Men's Wearhouse appeared on SMA's morning Flash Report, which identifies stocks, in the pre-market, with extreme sentiment levels that are likely to trade with high activity during the upcoming session. In the pre-market of September 6, our analytics engine identified MW as the stock with the most extreme positive sentiment from the universe of stocks tracked by SMA. At the beginning of the week, SMA's sentiment metrics provided early indication of developing, favorable price movement. As the week progressed, SMA's metrics confirmed positive market sentiment for MW as the market integrated the company's outstanding Q2 financial performance.
Beginning on August 31 ahead of the Labor Day holiday, SMA's S-Score for MW experienced a sharp upward trend into positive territory. As the week unfolded, this level was sustained and then increased in the pre-market of September 5 to 1.55 (Positive). MW's stock opened up moderately and closed trading at $ 31.84, for a gain of 1.02%. The behavior of SMA's S-Score measures market trading sentiment and can provide actionable signals for upcoming price movement. In the pre-market of September 6, MW's S-Score soared to 4.22 (Extreme Positive), coincident with an 8-fold increase in its S-Volume metric indicating unusually high social media activity for the stock. The stock gapped up 10% at the open and rallied to end the session at $37.79, a gain of 18.7%. A high level of positive market sentiment persisted for MW in the pre-market of September 7, with an S-Score level of 2.55 (High Positive), along with continued unusual social media activity. MW's stock experienced some profit taking, closing at $37.59, but up 19% net for the week.
Social Media data are noisy and complex. A single metric is insufficient to understand sentiment behavior over time. Our S-Factors are a family of metrics, including volatility, trend and volume measures, designed to provide a complete view of social media signature for each security tracked in SMA's databases. SMA's processing engine continuously updates our S-Factors, capturing overnight and pre-market sentiment activities. Clients receive sentiment reports prior to the U.S. market open and intra-day sentiment estimates for tracked stocks, on-demand. We invite the reader to visit our website; investigate our market sentiment metrics for MW, other stocks, industry sectors, and market indices; participate in our FAQ forum; and sign up for our Flash Report and Newsletter.
View Comments and Join the Discussion!