PreMarket Prep Stock Of The Day: DraftKings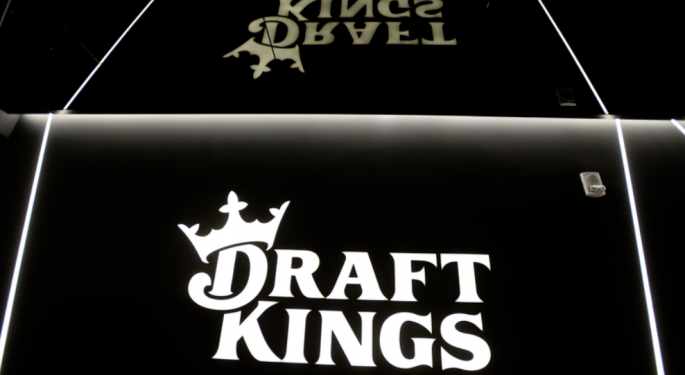 Benzinga's PreMarket Prep airs every morning from 8-9 a.m. ET. During that fast-paced, highly informative hour, traders and investors tune in to get the major news of the day, the catalysts behind those moves and the corresponding price action for the upcoming session.
On any given day, the show will cover at least 20 stocks determined by co-hosts Joel Elconin and Dennis Dick along with producer Spencer Israel.
When an issue has a magical run and then retreats, it's always difficult to determine whether to buy the dip or if there's been a change in trend. That's the exact scenario facing investors of DraftKings Inc. (NASDAQ: DKNG), which is the PreMarket Prep Stock of the Day.
The Magical Rally: In April, DraftKings completed a reverse merger valued at $3.3 billion and became a publicly-traded company. The merger involved Diamond Eagle Acquisition Corp., a special-purpose acquisition company that went public in May 2019, as well as SBTech Global Ltd. The combined company kept both DraftKings' name and its executive management.
The new company commenced trading on April 24 and immediately found buyers rallying from its previous day close of $17.53 to $19.35. The issue didn't peak until Oct. 2 at $64.19 and posted its all-time closing high on that day at $63.78. That added up to a return of 267% from its first official day as DraftKings.
The Dreaded Offering: The day following its peak, the company jammed investors with a 32 million share offering. Without knowing the price of the offering, many investors decided not to wait it out. On the day of the announcement, it sank from $63.78 to $60.55 and the selling was just getting started. Two days later on Oct. 7, it cratered to $53.33 on the day the offering price of $52 was announced.
The buyers that went long from the offering had only two chances to flip the issue for a decent profit. On Oct. 7, it peaked at $54.88 and the following day at $54.78 before cratering to end the session at $51.13. It briefly traded just over $52 on a few other occasions but left that area for good on Oct. 14, when it fell from $51.18 to $47.56.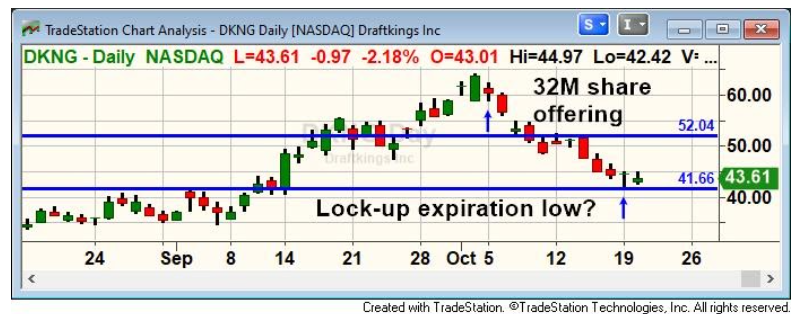 More Sellers On The Horizon: When a new issue comes to the market, there is a lock-up period that insiders are not allowed to sell shares. For DraftKings, the lock-up expiration (180 days) for 2% of the 378 million shares outstanding was today.
Obviously, savvy traders that were aware of the lock-up expiration have been shorting shares in anticipation of large blocks of stock being available for sale. Before the open, a block trade of 1.7 million shares swapped hands at $42.15, according to Bloomberg. Interestingly, that's below the current low of the session, which stands at $42.42.
Not Always A Sure Thing: Dennis Dick noted this trade wasn't always a sure thing.
"Sometimes the expiration is overanticipated and the trade becomes crowded to the short side," he said. "You can actually see stocks reverse on days of their expiration."
Dick called the move correctly. After a lower open, it bottomed at $42.42, which was ahead of Monday's low ($41.70) and has rallied into the mid-$44 handle.
Moving Forward: Assuming the issue is still in an uptrend, if one was tempted to try a long entry in the $44-$45 area, a possible exit on weakness would be at or under Monday's low ($41.70). For those looking for a lower entry point, there is a trio of lows from $40.33-40,55 that were made from Sept. 10-14. If that area fails to hold he decline, the next daily does not come into its Sept. 9 low ($37.10).
The full discussion on the issue from today's show can be found here:
View Comments and Join the Discussion!
Posted-In: Technicals Trading Ideas Best of Benzinga