Chart Warnings For Two Tech Giants
The earnings season took over the market last week as there have been a number of big winners and losers. General Electric (GE) was looking very weak technically two weeks ago and it was down another 2.5% in early Friday trading.
Shoemaker Sketchers U.S.A. (SKK) on the other had exceeded expectations on earnings and was up over 37% just after the open. Two of the largest tech companies Amazon.com (AMZN) and Alphabet Inc. (GOOGL) report earnings after the close on Thursday, October 26th.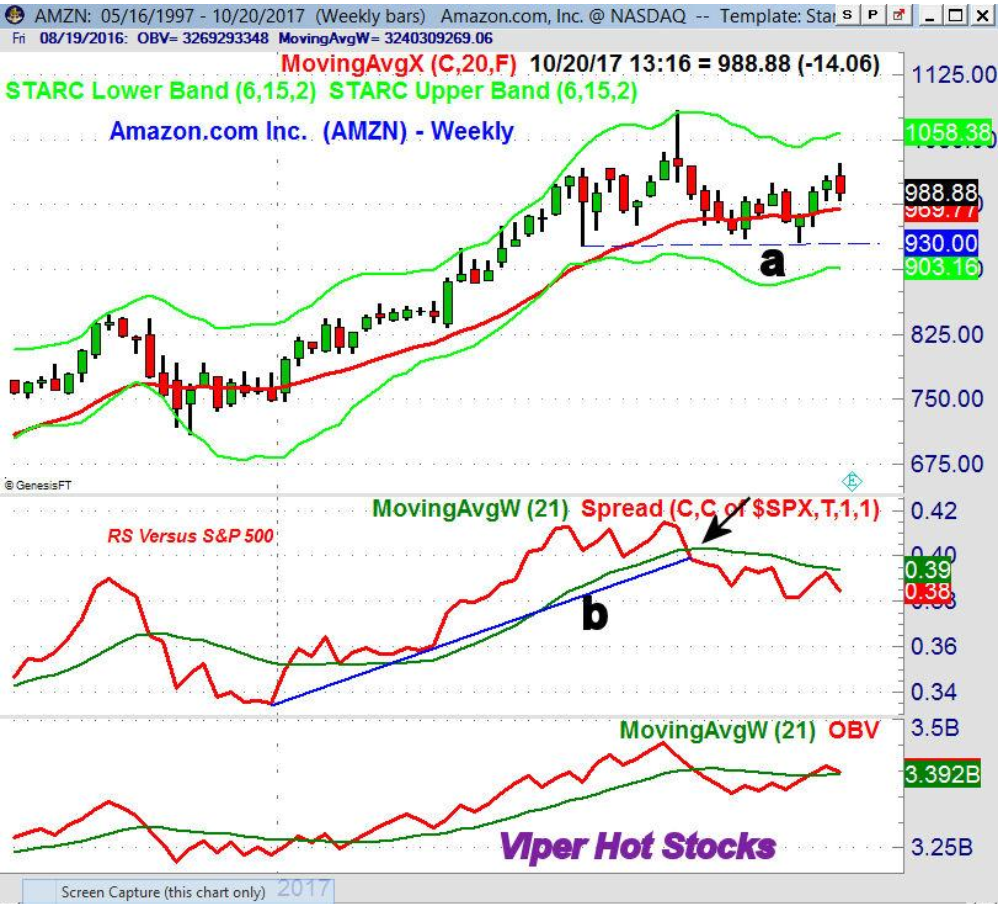 As of Friday afternoon Amazon.com (AMZN) is down 1.4% versus a 0.70% gain in the Spyder Trust (SPY). The weekly starc+ band is at $1058 which coincides nicely with the quarterly pivot resistance at $1052.53. There is more important chart support now at $930, line a. The weekly starc- band is at $903.07.
The weekly relative performance (RS) measures the performance of a stock or ETF versus the S&P 500 and it's one of my favorite technical tools. When it is rising and above its WMA it signals that the stock or ETF is outperforming the S&P 500. Conversely, a declining RS is a sign of weakness
The weekly RS dropped below its WMA and the support at line b, in early August. It turned lower last week as it failed to move back above its WMA. Such a failure is often a bearish sign. The weekly OBV has turned down this week but is still above its WMA. It will turn negative with a lower close this week.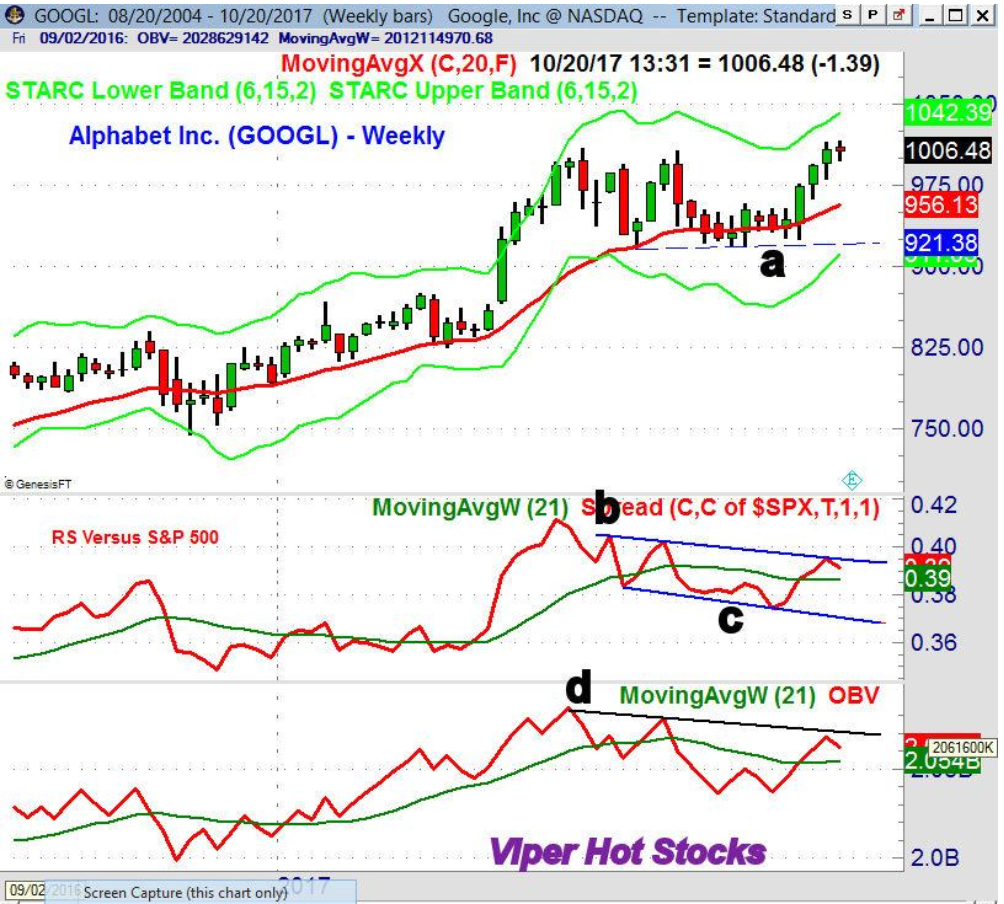 Alphabet, Inc. (GOOGL) closed the week just barely lower. The close was very close to where it opened the week, which would form a candlestick formation called a doji. These are often signs of indecision. A close next Friday below $997.30 will trigger a weekly doji sell signal.
The rising 20-day EMA is at $988 which i an initial support while there is more important support at $965, which is the quarterly pivot. There is more important chart support at $921.38 (line a) and the quarterly pivot support is at $923.95. There is initial resistance now at $1022.
The weekly RS has turned lower after reaching the downtrend, line b. It is still above its WMA and therefore positive. The on-balance-volume peaked in June and has since formed lower highs, line d. It turned down last week and the pattern of lower highs suggests that the volume has been declining which reflects decreasing buying pressure.
What to do? For Amazon, the daily technical studies are currently neutral, so any rally back to the $996-$1009 should be watched closely before their earnings. Should the daily studies generate strong sell signals this week, then there would be warnings from both time frames.
On Alphabet, the daily studies are positive and a move above the $1015 levels could signal a move to the $1030 area. However given the weekly technical readings, a rally ahead of the earnings should be treated with caution given the warnings from the weekly technical indicators. opportunity to hedge or sell part of your position in GOOGL. Either stock is vulnerable to a 10% or more decline in reaction to their earnings reports.
I think that over the next several months the markets are likely to become more difficult and you might benefit from a one-month investment of just $34.95 for either the Viper ETF or Viper Hot Stocks service. Both services include two in-depth reports per week and subscriptions can be cancelled online at any time.
For those who want to learn more about my tradingstrategies you can download a copy of my eBook. This will add you to the email list for the free Viper Reports. I send out market commentary and technical tips
several time a week. Additional market comments are often posted on the Viper Report Facebook page.
The preceding article is from one of our external contributors. It does not represent the opinion of Benzinga and has not been edited.
Posted-In: Technicals Trading Ideas
View Comments and Join the Discussion!