This Week In Stocks: More Downside Risk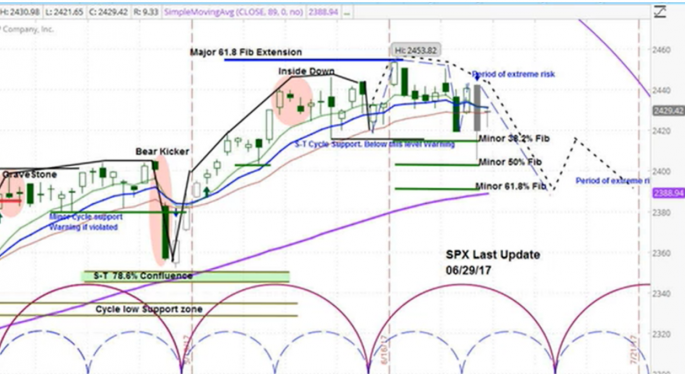 The price action in the stock market was again choppy last week, with daily ranges increasing, especially in the NASDAQ. The S&P 500 (SPX) closed at 2438, which was 15 points lower, or 0.6%, from the previous week's close. But volatility picked up with the VIX closing at 11.18, up by 1.2 points, or 11.6%. On Thursday, last week, the VIX moved beyond 15, over 50% above where it closed the previous week.
The bond market was down last week, with the 30-year futures falling by nearly 3 points, as US central bankers continuing their chorus about forthcoming rate increases. On Monday, gold futures suddenly fell $12 within a minute, as one market participant liquidated a large position.
The SPX fell 20 points on Tuesday, as the European Union levied a $2.7 billion fine on Alphabet (GOOGL) related to anticompetitive business practices. And Senate majority leader Mitch McConnell postponed the vote on healthcare bill, as Republicans faced challenges in finding the necessary support for their policy agenda.
While investors bought the dip in stock prices on Wednesday, the SPX fell again by 21 points on Thursday, with the market at one point trading down to 2405. This was driven by selling pressure in the technology sector, as the NASDAQ was down 100 points for the day, which is 1.7%.
However, on Friday, the market again recovered part of its losses, as the nature of the stock market remained very choppy from day to day.
For this week, it is notable that the SPX is entering into the latter part of its short-term market cycle, which is represented by the half circles on the bottom of the accompanied chart. Additionally, the SPX has traded lower than when it started the cycle. Both of these factors are negative occurrences, which should exert downward pressure on the market later in the week.
Based on these cyclical patterns, the SPX could again test the 2400 level and might even trade as low as 2388. This downward pressure will increase as the SPX approaches the end of its intermediate market cycle in August.
Watch the askSlim Market Week for more a more detailed look at my short-term view on the SPX for the coming week.

Posted-In: Technicals
View Comments and Join the Discussion!