Did Silver (Finally) Bottom?
Right now, the silver chart looks like this: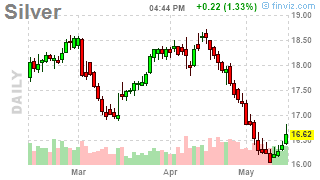 Silver (SLV) was recently down 17 days straight.
Since the last leg of the prior rally that began mid-March into early April and peaked in the $18.60 region, silver futures have experienced several 17 consecutive daily red candles, dropping below $17 all the way down to $16.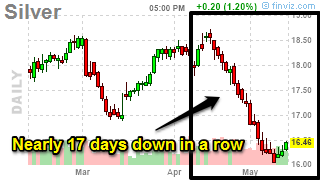 I don't know the exact historical records of how this compares to other records, but this definitely feels noteworthy of any silver trader's or investor's attention. These 17 (almost) consecutive daily red candles represent three weekly red candles, which is not that much as we have easily seen more than three weekly red candles in the last few years.
However, in terms of consecutive daily red candles, this steady drop in silver is certainly unusual and noticeable.
On the one hand, shorting silver after it has gone down, say, 10 days in a row and holding for another seven days is easier said than done. On the other hand, buying silver after 10 red days is like catching a falling knife, because who knows how many more red days we could see before a single green day?
How, then would one best guess when to buy?
Consider the down trendline technique, a technique that we used with our members to help us in sending a buy alert in silver this past week.
The Down Trendline (May 5)

Using a standard hourly chart of the Silver futures (SI), we can see a continued move to the downside that staye below the pink trend line. As of May 5th, silver was still below the pink trend line, but we were anticipating a crossover soon.
This is what the silver chart looked like going into the weekend with the French election pending results.
My thoughts then were:
"Of course, there's event risk with the French election over the weekend, but once this pink trendline gets taken out - I would expect the following day to fall back down into the pink trendline before it continues up." (source)
So first a cross of the trend line, then a backtest of that trendline. Let's see if that price action is what happened.
Crossing the Down Trendline (May 10)

It almost looked as if silver would cross that trend line the weekend between May 5 and May 8 -- but it didn't happen until overnight between May 9 and May 10.
Silver did the following:
1) Cross the pink trend line
2) Came back to test it.
On May 10, silver spiked towards $16.38 but then pulled ack towaards $16.18, just touching the pink line from behind.
Silver then spent the rest of May 10 consolidating above that line.
Hitting the Trigger Button on May 10

Toward the end of the trading day on May 10 is when we issued a recommended buy alert on silver, with silver at around $16.20. The corresponding leveraged ETF for silver is USLV, which we purchased at around $11.25.
Now it still remains to be seen whether this was the optimal time to enter into silver or whether there are further immediate lows to be seen. Catching a falling knife is not easy, but following this trendline strategy is one method we used to give us a best educated guess for a decent entry with minimal downside pain.
Combining Down Trend Line with Elliott Wave For Conviction
Besides the down trend line, we want to see at least some kind of recognizable pattern that would increase our confidence in our position after make our purchase. After all, even though silver spiked the very next day on May 11 it also dropped quickly and wiped out the the entire spike up.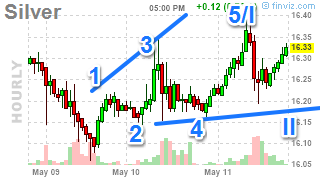 Does one panic on such a drop or hold on?
Recognizing patterns as they relate to Elliott Wave Theory is not easy, especially as they are forming. Our best guess was that an expanding diagonal as labeled above with the expanding blue lines to the upside.
The Expanding Diagonal Pattern
Below is a theoretical diagram of an "expanding diagonal," except to the downside. This same diagram maps to the above Silver chart, just flipped down versus up.
Theoretical Expanding Diagonal Diagram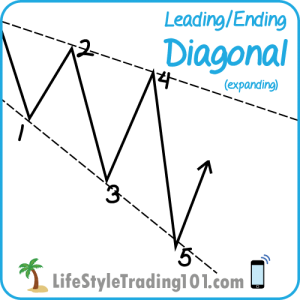 Since our purchase of Silver was at $16.20, effectively where the blue "4" is labeled, as long as silver stays above that region, then some pattern to the upside should develop.
Leading expanding diagonals are, by definition, patterns that "lead" larger patterns. If that is the case, this should be the beginning of a larger pattern to the upside.

Where Silver Is Now?
Silver ended last week around $16.46, up slightly frmo the $16.20 entry. Now it is around $16.60.
It's very possible that silver could turn back down and a gain could become a loss, or flat if stops placed at break even.
So far, recognizing the potential expanding diagonal pattern has given us some confidence to hold on to silver even on a sharp drop. Near term resistance lies in the $16.55 region and $16.65 region.
Zooming Out

In terms of where silver lies from a bigger picture, we are just leaving the 16 region where we have previously rallied from. The last two major rallies in silver during the past year came originated with rallies coming out of this region.
COT REPORT
The Commitment of Traders (COT) open interest from last week May 9 was 196,083 and on May 12 it was 214,229 - a 9.3 percent gain.
This could represent a change in sentiment by big money as commercial banks may have been covering end of last week or maybe even initiating new long positions.
However, these are preliminary numbers, and we will know more next week.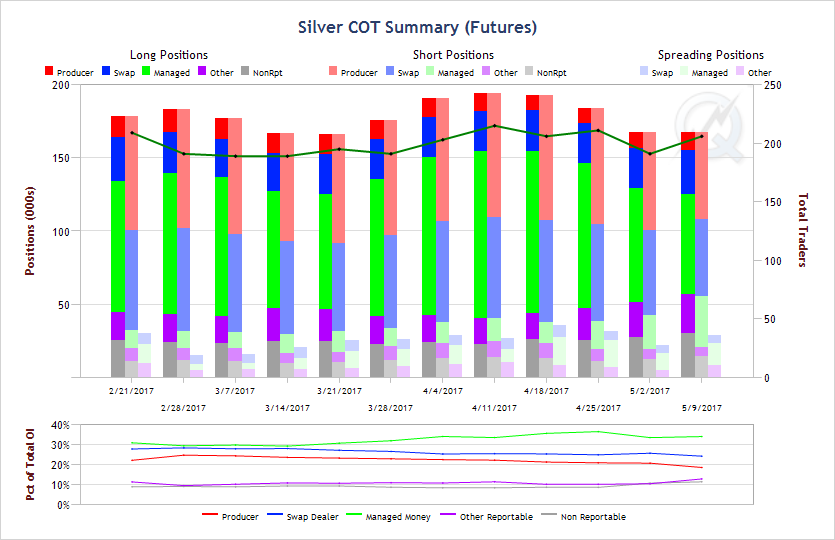 Source: CME Group
This fundamental data is also supportive of technical picture painted here.
Conclusion
So while silver has dropped way further than I had originally expected with some 17 consecutive red candles, there are a few noteworthy points for the bulls:
1) We crossed over a down trend line, backtested it, and have so far drifted upwards —a first series of 3 green candles — something that has not happened in a while.
2) We are coming off of that historical $16.00 region in silver, the possible start of a longer rally
3) We recognized a possible leading expanding diagonal pattern formation as the start of this rally so far.
4) Other names in the metals complex — such as the gold miners (GDX) — have already started rallying, something that typically happens first before gold/silver themselves rally.
So while there definitely appeared to be blood in the streets for much longer than expected, there are some rising indications that silver may have finally bottomed.
If you enjoyed this article, please consider following me so you can get notifications of future articles. I am new to this site with this first article and would welcome the connection.
Posted-In: contributorTechnicals Commodities Trading Ideas
View Comments and Join the Discussion!