What's Michael Kors Worth Post-Collapse?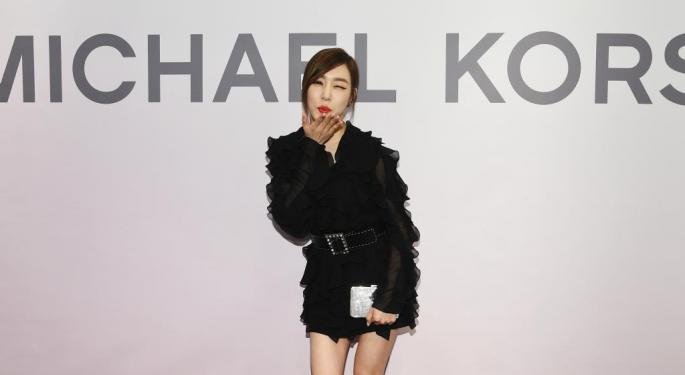 Michael Kors Holdings Ltd (NYSE: KORS) reported Q4 fiscal year 2015 earnings on Wednesday, May 27. Total revenue grew 17.8 percent year-over-year to $1.08 billion, in-line with analyst consensus. On a constant currency basis, revenue grew more than 23 percent. EPS of $0.90 narrowly missed analyst estimates of $0.91.
North American same-store sales declines of 6 percent and weaker-than-expected guidance fostered negative reactions from analysts, and share prices tumbled more than 24 percent during the day following the earnings release. The market is concerned that Michael Kors has over-expanded, which dilutes the brand and compromises luxury appeal.
Prudena's models indicate that KORS valuation at $45.93 is on the bullish end of appropriate, but there appears to be substantially more upside potential than downside risk, even if such outcomes are less likely given the uncertainty the most recent quarter has created in the narrative.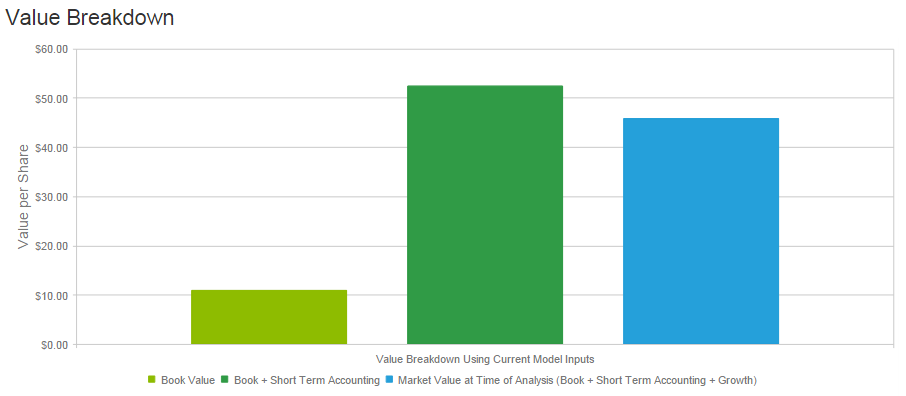 Volatile performance and the nature of the fashion apparel industry lead to substantial uncertainty regarding future financial results for Michael Kors. Prudena's models reflect this wide range of possible outcomes. If long term EPS growth approaches GDP's growth rate, then the residual earnings growth rate will drop below -7.0 percent, assuming an 8.6 percent required rate of return.
Related Link: What's Agilent Worth Now?
A more modest deceleration in growth could lead to residual earnings growth closer to -2.9 percent. If the company can sustain recent growth trends, long term residual earnings growth will exceed 2.2 percent. This range of outcomes implies a range of intrinsic share values from $33.50 to $64.80, reflecting the uncertainty dominating the narrative. The current market price of $45.93 implies -1.78 percent long term residual earnings growth.
Using a simple set of inputs reflecting the most likely earnings growth, Prudena's models estimate value per share of $51.36. Prudena's Monte Carlo simulation allows users to introduce more uncertainty to the simplified model, which is appropriate given the current state of Michael Kors' outlook.
The value distribution from the Monte Carlo simulation suggests that the most likely price for KORS shares is between $44.00 and $44.50, with a number of other likely outcomes 5-15 percent below the current price of $45.93. However, the distribution is asymmetric, and the simulation indicates that shares could be worth as much as $70 given the upper bound of growth assumptions.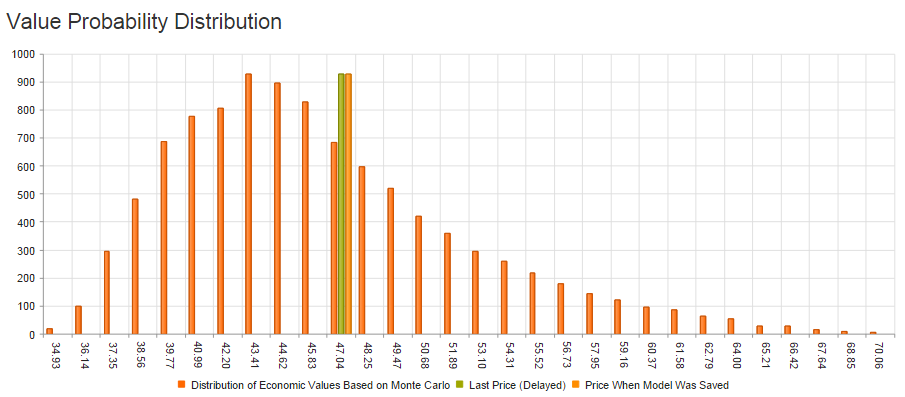 The Bull Case
Despite outlook being shaven, Q4 fiscal 2015 revenue rose 17.8 percent year over year, and 23.2 percent on a constant-currency basis. While same-store sales figures are negative, an increasing amount of Michael Kors products are being sold. Net income climbed 13.4 percent year over year to $182.6 million, and 15.4 percent on a per-share basis to $0.90.
Although brand dilution is a serious problem, even detractors confirm that the brand still has strength in Europe. The company's e-commerce site is gaining traction, which is has been a major strategic concern for a number of retailers in recent years. The strong dollar substantially impacted operations in the most recent quarter.
This trend may continue into the next fiscal year, but the headwind will abate at some point. Finally, the company increased its stock buyback plan by $500 million, bringing the total amount remaining in the program to $1 billion. This will buoy EPS in the event that net income growth slows.
The Bear Case
Michael Kors' brand is not as popular as it was a few years ago. Fashion industry experts say the company may have diluted the brand enough that it has lost its luxury appeal. If a product is too ubiquitous, it isn't luxury. This mirrors what happened to Coach several years ago, a company still struggling to grow its top and bottom lines. Rapid store expansion paired with declining same store sales (down 6 percent in North America) is evidence of this problem taking root, and could indicate oversaturation.
Fiscal 2016 EPS guidance of $4.40 to $4.50, including a -$0.20 per share impact from currencies, fell short of the consensus estimate of $4.72. For the next quarter, the company guides for revenue of $930 million to $950 million, well below the $1.1 billion in sales expected by analysts. The strong dollar will continue to hurt Kors' results, and the company may have sabotaged its own brand identity.
Conclusions
Reported results were roughly in line with analyst estimates, especially considering the impacts of currency. Still, poor same store sales figures and uninspiring guidance have shaken investors. Share prices fell more than 24 percent on the day earnings were released. Concerns about over-extension and brand dilution for a luxury apparel company are very serious, but the drop in share price might be an opportunity for value investors.
Prudena's models, reflecting the new earnings guidance and a more modest growth outlook, help to make sense of the increased uncertainty. It appears likely that KORS is appropriately valued at $45.93, maybe 5 percent above intrinsic value. If fears about brand identity are overblown and the recent results are mostly the result of currency headwinds and poor mall traffic, shares could be worth the values near the high end of the distribution from Prudena's Monte Carlo simulation, approaching $65.
NOTE: The Morning Monte is high-level, and any investment requires a deeper analysis than is presented here. The comments in the Morning Monte are intended to help guide your research and ground you in the fundamentals of the company. In no way should the comments in The Morning Monte be taken as advice to buy or sell a particular equity. Some of the statements are forward looking. As such, these statements are speculation--so beware! The comments represent the views of the author and are not necessarily the views of PRUDENA™.
Have a comment? Please Contact Us.
The following article is from one of our external contributors. It does not represent the opinion of Benzinga and has not been edited.
Posted-In: Kors stock Michael Kors Michael Kors valuationTechnicals Trading Ideas Best of Benzinga
View Comments and Join the Discussion!