Chart Of The Day: More Green In The Greenback?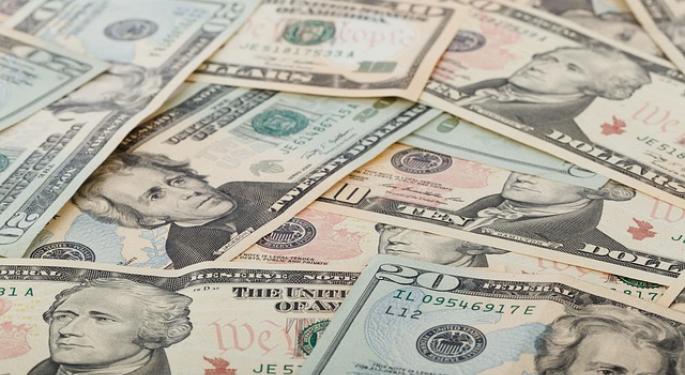 The US dollar has vaulted nearly 19 percent since the middle of last year.
Stronger US growth, compared to the rest of the world, coupled with expectations of tighter policy from the Federal Reserve, have lifted the dollar rather notably from its most recent lows.
The question here is: Can the Greenback regain former glories and, if so, is that a good or bad thing for the US?
The dollar's most recent secular peak was more than 20 percent higher than it is now, when the US economy was poised for lift off. Rather ironically, in the ultra-prosperous 1990s, the dollar declined nearly 30 percent from its peak, helping to reflate the economy, not hurt it.
The dollar's 20 percent jump, using an old rule of thumb, equals a nearly full-point rate hike from the Fed.
Related Link: COTD: The Fed's Latest Conundrum
So, does the Fed need to tighten at all if the dollar keeps going up? A rising dollar could slow economic growth by making US exports more expensive overseas and cutting into the profits that multi-national companies earn outside of the country.
Put simply, though, there doesn't seem much in the way of the dollar rising further. An important question going forward is…do we really want it to?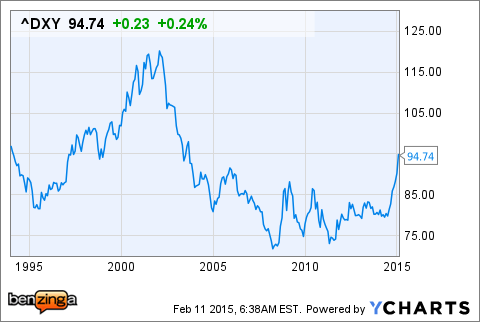 Image credit: Public Domain
Posted-In: Technicals Forex Markets Trading Ideas Best of Benzinga
View Comments and Join the Discussion!