Apple Inc. Following Technicians' Playbook: Where To Next?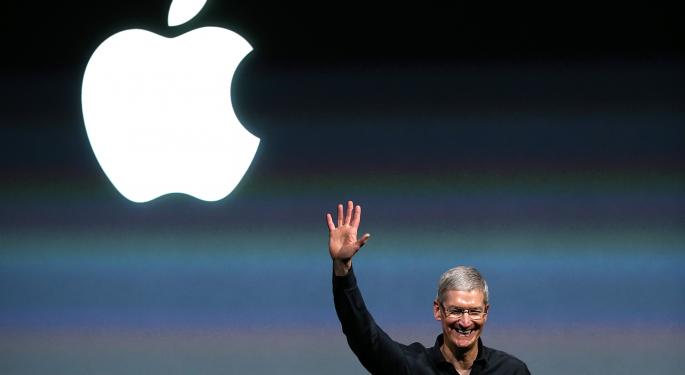 Apple Inc. (NASDAQ: AAPL) has reacted sharply of late.
The stock is up more than 2 percent since September 10. The move played out just as technicians thought, and now a move down to the mid-$90 range seems to be in progress. The estimated downside target for this move ("c" leg of an "abc" downside correction) is now $94.06.
From there, the technicians are of the opinion that Apple shares should make another up move that should challenge one or both of the Fibonacci price projections at $105.53 and/or $111.51.
Fundamentally Speaking…
Although not as prolific as it used to be in the Jobs days, Apple still captures the imagination of the media and perhaps a majority of the investing public when it is made known it will be rolling out new products.
The most recent announcement of the iPhone 6 and its new smart watch generated some volatility, but not much net movement in the shares of the stock. Aside from the hype, the bulls love the company's modest price-to-sales of only 3.42 and net profit margins of 21.64 percent that lead to annual positive levered free cash flow of over $37 billion.
All that cash inflow has helped Apple build a cash hoard of $37.93 billion, compared to only $31.04 billion in total debt.
Related Link: Apple's Technical Playbook Ahead Of The Big Announcement
Needless to say, the company has a clean balance sheet. Valuation-wise, Apple actually isn't that expensive when measured by the price-to-sales (noted earlier) and the price-to-earnings of just under 15, as compared to 10 percent - 11 percent estimated revenue growth, and 12.80 percent EPS growth for next year.
Technically Speaking…
Technically, the short-term could see Apple shares drop to just under $95.
However, technicians are theorizing that such a move would simply be a precursor to further gains, perhaps up to as high as $111 or so in the not-so-distant future.
Overall...
A pullback in Apple shares could give those who are under-invested in the stock a chance to load up at a level nicely off the recent highs.
For the bears, this pullback may be like getting a few drops of water to drink in the middle of the desert -– great for a very short-term fix, but leaving you thirsting for more over the long run.
Stock chart:


Posted-In: Apple stock technical analysisTechnicals Trading Ideas Best of Benzinga
View Comments and Join the Discussion!