Pfizer Inc. Trying To Claw Its Way Back Up After Pullback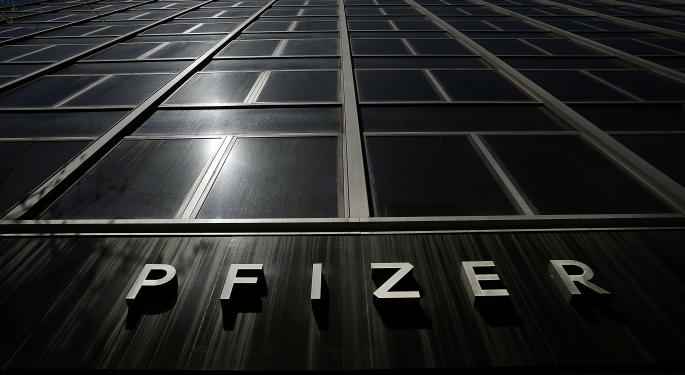 Pfizer Inc. (NYSE: PFE) stock has bounced off the August lows and is now working to challenge the short-term downtrend line resistance at around $30. Do the company's fundamentals call for higher prices?
Pfizer shareholders, like so many in the big pharma sector, long for the days of "explosive growth" when the company was releasing its then-new wonder drug, Viagra.
Now, it seems as though prospective Pfizer longs are content to wait for the inevitable swoons that occur in the stock to buy, only to dump shares as the upper edge of trading ranges are approached.
Related Link: Cisco Systems, Inc. Off Its Highs And Failing To Show Any Real Fight
Seemingly gone are the days when you bought Pfizer shares high only to see them go higher. Is this range trade a permanent state of affairs, or is Pfizer working on things that can create that type of explosive growth once again?
The Bullish View
The bulls look at Pfizer and see:
3.6 percent dividend yield
Price to Book of 2.43
Price to Sales of 3.70
Enterprise Value > Market Value
Profit margins of greater than 20 percent
Current ratio of 2.66
Cash reserves of $34 billion
Debt to equity ratio of only 49.27 percent
A stock that has plenty of room to run before even coming close to catching up to the broader market
The Bears' Response
The bears, by contrast, see:
A company struggling to generate growth
Revenue growth estimates for 2015 of -2.3 percent
EPS growth estimates for 2015 of -0.4 percent
A PE ratio of more than 10, which can be viewed as expensive when compared with non-existent revenue and EPS growth
A stock that is a laggard versus the broader market and its peers
A stock that faces both horizontal line and downtrend line resistance just above current price levels, potentially limiting upside
Who Has The Edge?
Technicians would give Pfizer shares a good chance to move from current levels above $29.00 up to just above $30. The problem is that the stock would still be in a downtrend even then. A close above $30.10 will give the bulls a bit of a short-term advantage, while a close below $27.81 would spell real trouble for them.
Disclosure: The author is long PFE for a trade.
Stock chart:

Posted-In: Pfizer Inc technicalsTechnicals Trading Ideas Best of Benzinga
View Comments and Join the Discussion!