Applied Materials, Inc. Rapidly Approaching A Projected Upside Target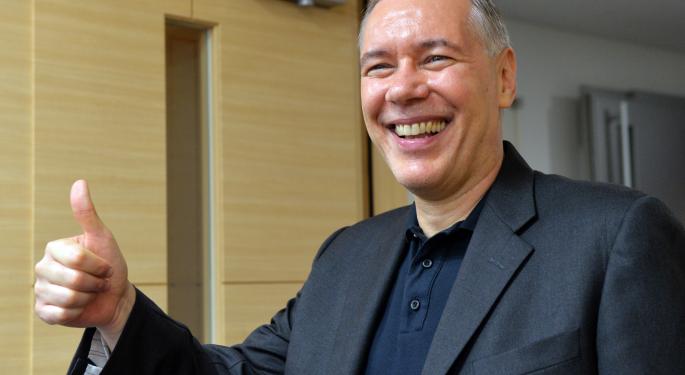 After a nice run off of the 2011 lows, Applied Materials is facing a potential pausing point just ahead at $24.29.
Will the market and the company's fundamentals align for an eventual break of that resistance?
Applied Materials, Inc. (NASDAQ: AMAT) stock has moved from $9.70 in 2011 to current levels just under $23. Technical analysts say that much higher prices may eventually be in store, but that a pause after an anticipated test of resistance may occur first.
The broader technology sector has been on fire of late as well, providing a nice tailwind for AMAT shares. The increasing move toward mobile computing is affording companies in the tech sector, especially the semiconductor sector, a new and growing source of revenue. Now it's up to Applied Materials' management to execute.
What The Bulls Are Seeing In AMAT…
The bullish crowd around Applied Materials stock points to the aforementioned explosion in the mobile computing and mobile commerce space.
Related Link: FedEx Shares Catch A Tailwind In The Form Of Crude Oil
Additionally, they see an industry leader with a reasonable valuation (P/S more than three, P/B more than three and P/E around 20 based on 2015 estimates), a strong balance sheet and great cash flow.

Finally, the technical trends have all been positive for the stock and look to continue that way despite any normal, healthy corrections that may come along.
What The Bears Are Seeing In AMAT…
The bearish contingent in Applied Materials stock maintains that the company is severely overbought on a technical basis and should pull back to the upper teens.
Fundamentally, the normal concerns pop up regarding a crowded semiconductor space, but those are old arguments. Outside of that, there is not much onto which the bears can hang their hats.
Overall…
Applied Materials appears to this technician to have the potential to move up to the Fibonacci-generated target at $24.29 (from $22.90 currently) before it will likely take a break and consolidate/pullback, likely along with the broader market.
Rather than looking to short this stock, which has been an exercise in futility for multiple years now, the best play may be to simply wait for the pullback to occur and to look to buy AMAT shares at either horizontal line support at $21 or the lower edge of the upside gap from May 15 at $18.69.
Posted-In: FibonacciTechnicals Movers Trading Ideas Best of Benzinga
View Comments and Join the Discussion!