Paychex, Inc. Lagging Peers & The Market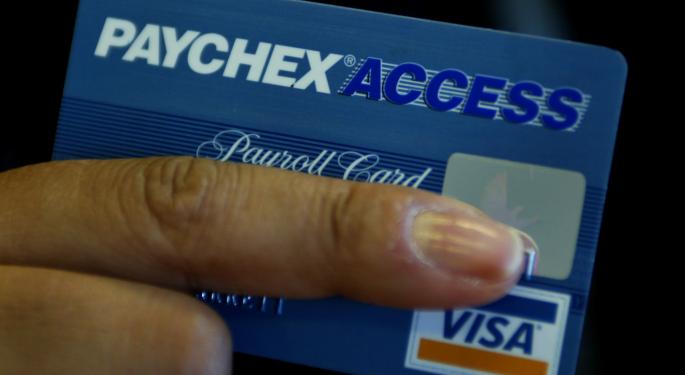 Paychex, Inc. (NASDAQ: PAYX) has risen over the last few weeks but still is badly lagging the broader market and its main peer, ADP. What is this lagginess telling us about the company's internal issues?
Paychex Should Be A Market Leader – In Theory
If all is going well –- or at least neutral -– for Paychex, the company's stock should be trading at or very close to new all-time highs right along with the broader US markets.
However, with the stock trading more than 10 percent below just its 52-week highs while the S&P is setting records and while Paychex's main peer, Automatic Data Processing, is trading right at its own all-time highs, we have to wonder what may be going wrong inside the company.
What Bearish Bullet Points Are The Bears Seeing?
In Paychex, Inc., the bears see a company that is playing second fiddle to ADP in the payroll processing and employee leasing space. They see a company that simply is not cheap, with price-to-sales at six, price-to-book at 8.5, market capitalization exceeding enterprise value and a price-to-earnings ratio north of 20 while its revenue and earnings growth projections for next year are well below 10 percent.
Related Link: Automatic Data Processing Holding Its Own Vs. The High-Flying Indices
Finally, the bears see a company that technically is a laggard both versus ADP as well as the broader market. The operational issues –- namely the company's ability to steal customers from its peers and gain market share –- seem to be the main culprit in this mystery of PAYX stock's underperformance.
What Might The Bulls Be Able To Grasp Onto?
Those bullishly inclined on Paychex's stock would be looking at a company with zero debt, a healthy cash position, strong profit margins on the business they do have, and good operating and free cash flow numbers.
Short-term, the bulls may see some movement higher in price, but there's not much to be excited about in Paychex's chart if you're playing the stock from the long side.
What Does The Chart Tell Us About PAYX's Future?
Technicians note that while the stock is a laggard, the chart indicates that PAYX may actually see a little upside in the near future, perhaps up to the $42.74 to $43.33 price range.

However, they are quick to point out that the stock should, in theory, trade back down to the long-term uptrend line at around $38 - $39 after testing out that resistance range. This would seem to fit in the general market call for a bit more upside before a market correction is due.
Overall…
With very limited upside potential in the short-term, it would seem wise for the bulls to sit this one out and wait for the technician's anticipated correction in PAYX shares.
Those willing to play PAYX from the bearish side of the fence can look to do so near the technical resistance range at $42.74 to $43.33 with stops in place on any close above $43.35.
Posted-In: Technicals Movers Trading Ideas Best of Benzinga
View Comments and Join the Discussion!