FedEx Shares Catch A Tailwind In The Form Of Crude Oil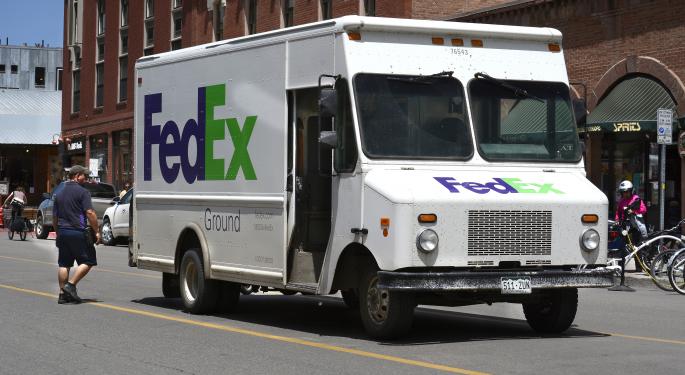 FedEx Corporation (NYSE: FDX) shares have come under pressure recently, despite the tailwind of falling crude oil prices and a supposedly growing global economy.
What gives, and what is next for this leading transport?
FedEx shares got a big lift on Tuesday thanks primarily to the massive drop in crude oil prices. Prior to that drop in crude, FedEx stock was right on the brink of a technical break of uptrend line support, which likely would have meant much more downside. However, with the lift provided to the stock by the falling energy prices, a stay of execution may have been granted to FedEx shares.
What will win out: the benefits of falling fuel costs, or the possible macro effects of troublesome geo-politics and an iffy global economic picture?
Related Link: Mastercard Lagging The Market As It Consolidates - Is A Big Move Coming?
What The Bulls Are Seeing
The bulls see a cheap stock in many ways: a price-to-book at 2.76, a price-to-sales at 0.93, enterprise value greater than market capitalization and a price-to-earnings/growth in earnings ratio at one (unlike so many blue chips that are trading at PEGs greater than one). FedEx is also sporting good cash flow numbers and a relatively benign balance sheet.
The bulls are also quick to point out that FedEx is one of two "premier" names in in the package transport and delivery business whose earnings could easily benefit by another seven percent to 10 percent drop in crude oil prices in the near future.

Technically, Tuesday's rally saved the stock from a breakdown below the long-term uptrend line. That breakdown may still occur, but the execution has been delayed.
What The Bears Are Seeing
What the bears see in FedEx is a company with pretty narrow profit margins that would erode quickly were a news-driven spike in oil prices to occur. They also take note of the company's price-to-earnings ratio of 22, even though the revenue growth projections for next year are only in the mid-single-digits. Any rise in oil back up into the upper $90s to low $100s would only add to the bears' case.
Which Side Looks Like A Winner?
Right now, the bulls may be in a position to benefit from the continued pressure on oil prices. If that pressure continues, as many technicians believe it will, FedEx's stock may well continue on up to the area around the previous high at $154-$156.
However unless a new high is made in the stock, technicians note such a rally would have to be treated as a counter-trend move. Such a counter-trend move could very well be followed by a resumption in the downward price action with the eventual stopping point in the $140-$144 range.
Posted-In: fedexTechnicals Top Stories Movers Trading Ideas Best of Benzinga
View Comments and Join the Discussion!