LinkedIn Rally Morphs From Short-Covering To Market-Leading In A Hurry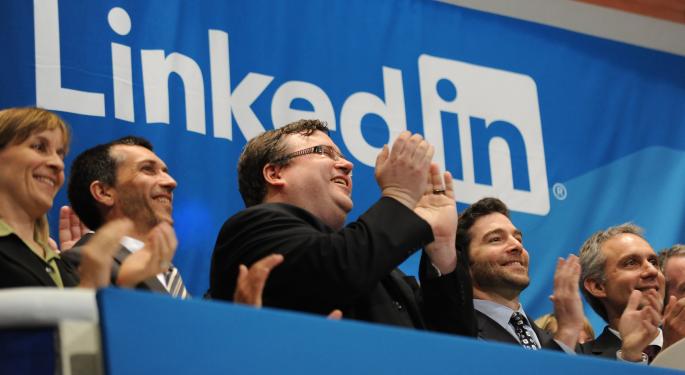 LinkedIn (NYSE: LNKD) shares may not yet be hitting new all-time highs, but the 70 percent rally off of the May lows may be considered more than just a short-covering rally.
The stock of LinkedIn was like the rest of the social media sector in that it was getting clobbered throughout the latter part of 2013 and early 2014. Like most of the sector, LinkedIn shares bounced off the oversold lows of early May and commenced what appeared to be a bear market rally.
The bears were convinced that the rally was likely to stop in the $180-$190 range, which would have represented a perfect "abc" upside correction and a failure at the strong downtrend line on the stock's chart. LinkedIn proved to be a sector and market leader to the upside, however, by blasting through that resistance area as well as many others that have thus far come into play recently.
What The Bulls Are Seeing Now
The bulls point to the obvious short-term market leadership and note that such strong trading does not persist as long as it has. Bulls push the stock through multiple key resistance levels without it being something much more than a bear market bounce.
Related Link: When Will Google Stock Reemerge As A Market Leader?
In terms of fundamentals, the bulls point to the fact that of all the social media companies, LinkedIn has the greatest chance of seeing long-term lasting and growing profits because of its clear utility for all sizes of businesses around the world. The bulls also latch onto the fact that LinkedIn sports a beautiful debt-free balance sheet with several billion dollars in cash, ready for deployment.
What The Bears Are Seeing Now
The bears are gnashing their teeth. They quickly point out that LinkedIn may be great, but that the company would have to be perfect in its execution for many years to come in order to justify current, lofty valuations.
The company currently sports a price-to-book ratio of more than nine and a price-to-sales ratio of more than 15, both of which are very lofty compared to "fair valuations" of three and five, respectively. Additionally, LinkedIn's price-to-earnings ratio comes in at nearly 90 based on next year's consensus earnings estimates, while its actual earnings growth comes in at 46 percent; this gives it a Price-to-Earnings Growth (PEG) ratio of nearly two.
Technically, the bears do not have much on which to hang their hats except for a short-term overbought condition and perhaps a few layers of horizontal line resistance just ahead. Those two technical issues, they note, can easily be overcome by a brief period of consolidation.
How To Know Who Wins
The only chance the bears have to regain control of the situation would be for LinkedIn shares to close back below the $180 level. For them to even have any hope, the stock would need to violate the first two layers of support at $213.77 and $201.67 on the downside.
According to technicians, unless and until all three of those technical breakdowns occurs, the benefit of the doubt has to be given to the bullish camp. Technicians note that the next projected resistance level based on Fibonacci calculations would not come into play until the 261.8 percent projection line at $255.65 (see chart below).
It certainly looks like institutions placing bets in the social media space are being attracted to LinkedIn shares on the long side. Until the current, short-term trends change in a meaningful manner, LinkedIn bears may want to find another sandbox in which to play.
Stock chart:

Posted-In: LinkedInTechnicals Movers Trading Ideas Best of Benzinga
View Comments and Join the Discussion!