Twitter Rallies To Resistance - What Now?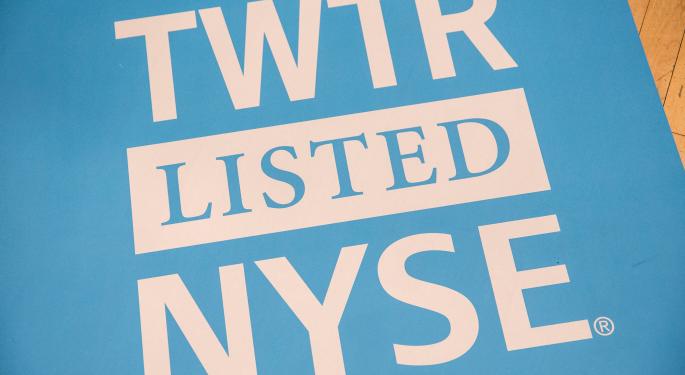 Up more than 40 percent from the May low and bumping right into projected "correction resistance," what can traders and investors expect from Twitter now?
A Rising Tide Lifts All Boats – Twitter Is Included
Shares of social media darling, Twitter, Inc. (NASDAQ: TWTR) have been flying high –- relatively speaking -– since making a low in May of this year.
The stock rose from a low of $29.51 on May 7 to Friday's intraday peak at $50.35 –- a huge relative outperformance versus the broader market during that time. However, with technical resistance facing the shares right here and right now, what can we expect to see going forward?
Bears Have Fundamental Questions And Technical Evidence
The bearish cabal out there loves to pick at the social media sector as the Internet bubble redux. Certain companies, they say, will have staying power while others will simply go away. In looking back at the internet bubble, who with any accuracy would have been able to predict the few companies that have managed to stick around (and be profitable -– sorry Mr. Bezos)?
The bears point out that the companies that went away the quickest were those who simply bragged on their eyeball count and unique visitors, and blew off the profitability questions. Twitter, they say, is in that same boat.
Twitter is unquestionably the most popular way for the world to share instant thoughts, news and opinions. However, how well will they be able to monetize the business? The bears claim, "Not well at all!"
For all the questions, they note, the stock carries with it a valuation that would suggest that it is a money printing machine. As of recent reports, the price-to-book ratio for Twitter comes in at just under 10 ("expensive" is normally assigned to readings of three or higher) and its price-to-sales ratio is more than 30 ("expensive" in most cases would be five or higher).
Related Link: Could Lennar Be Building The Foundation For A Rally?
The bears do not rest their current level of skepticism on the fundamentals alone, though. Twitter's shares have risen by more than 40 percent since May and are smacking their head on the resistance created by the 100 percent Fibonacci price projection for what they claim is an "abc" upside correction.
That specific price comes in at $50.24 (and the stock just went out for the week at $49.70 after hitting $50.35 intraday today). An overbought stock with persistent questions on their ability to make money and stretched valuations all factor into the bears' current fervor.
Bulls Say The Best Is Yet To Come For Social Media And For Twitter
The bulls would quickly point out a few things.
First, Twitter's valuation metrics quoted above are on current year's numbers and are not factoring in the 100 percent growth in earnings expected in the next 12 months and the 66 percent growth expected in the following year.
Second, the technicals can change for the better in a hurry if Twitter shares can simply managed to close above the $50.24 level.
Finally, they go back to the point that "Tweeting" has become a part of our society and a part of our lexicon, just as "Xeroxing" did decades ago. You can't bet against something that has become part of everyday life like that -– or so the bulls hope.
Technical Take
Technicians point to the obvious proving ground at $50.24. A close above that will open up the flood gates to the upside and force the bears to run for cover in a hurry.
On the other hand, a staunch hold of resistance there will further embolden the bears and steal hope from the bulls, and could easily lead to the next massive leg down for Twitter.
Stock chart:

Posted-In: FibonacciTechnicals Movers Trading Ideas Best of Benzinga
View Comments and Join the Discussion!