Tesla Leaves Treadmarks All Over The Bear's Backs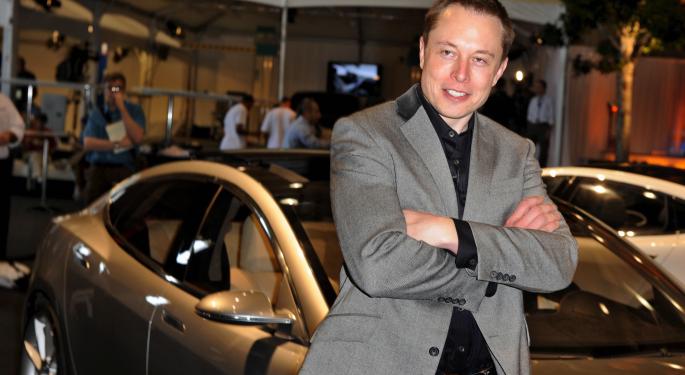 After looking like it was coming back to earth this spring, Tesla (NASDAQ: TSLA) stock has once again turned the heat way up on the bears.
"It's too expensive," "There's no way the company can grow that fast for that long so as to justify the current valuation" and many other similar sentiments continue to be expressed by skeptics when discussing Tesla stock.
Unfortunately for the bears, while valuations certainly matter in the long run, the short term is much more about corporate and stock momentum.
What The Bulls Are Seeing
Tesla shares are giving the bulls plenty of material with which to build a bullish investment thesis. The stock ripped through "correction resistance" (which should have held up if the stock were truly destined for lower prices in the short-term) at $239.88 early this month after successfully holding key support (created by Tesla's long-term uptrend line) at around $180 in May.
The stock has run all the way up to its next Fibonacci target at $263.10, which is just below the stock's all-time high from February at $265. While the combined resistance may be cause for a pause, they note, the stock appears poised to blow through that ceiling as well and to work its way toward the $300 plateau.
What The Bears Are Seeing
The bears, with their nails bitten and knees knocking, note that Tesla does face the dual resistance at the $263 - $265 area and that the stock is sporting overbought readings on both the RSI and %R indicators. Outside of that, there's no way they can rationalize –- from a technical perspective -– maintaining an overly bearish stance on Tesla stock.
Related Link: Are Apple's Technicals About To Sour?
Is The Tesla Bears' Fate Sealed?
It looks like the rest of this story has been written, and that it is just a matter of readers getting through the chapters one at a time. Technicians say the next chapter for Tesla may be a boring one –- where a pause or consolidation phase plays out before the next big move is made by the bulls.
However, if the stock closes at new all-time highs, it is very conceivable to see a run from $265 up to $300 in very short order. At this point, the bears are just hoping that Tesla pulls back to the $240s before making the next big up move -– giving them a chance to at least minimize their losses.

How To Trade Tesla From Here?
Technicians acknowledge the possibility of a "pause that refreshes" for Tesla shares –- one that might take Tesla down to around $240 - $245. For those adventurous types, shorts can be initiated in Tesla at around current levels with stops in place on any close above $265.
However, the trading target would be $245 –- a drop of around $10 from current levels. Meanwhile, the stop loss on a bearish bet would be $10 - $12 above current prices, which presents a less than desirable 1:1 reward / risk ratio for the bearish trade.
Technicians say that those looking to buy into this Tesla phenomenon may benefit in the short run by a gentle pullback to the mid-$240s.
Any entry down there would have a stop loss on any close below $239 and an upside target of $300 -– nearly a 10:1 upside to downside ratio for the bulls.
Posted-In: FibonacciTechnicals Trading Ideas Best of Benzinga
View Comments and Join the Discussion!